Journeying to help the needy
Posted on November 24th, 2017
By Dr. Tilak S Fernando Courtesy Ceylon Today
We arrived at the Angunna Badulla Junior School in Matara, where 139 students from poor village families get an education. The school Principal M.A Jayasiri, introduced us to three deserving students in need of medical attention.
Among the three was a six-year-old boy, Dilshan, whom we were especially interested in, after seeing him on a TV programme and the way he did his homework, on the floor under a kerosene lamp. Then there was seven year old Deduni and nine-year-old Sajini, who has suffered a sudden stroke and has been confined to a wheel chair.
The school Principal has taken upon himself to ensure that these poor youngsters get their school uniforms supplied to them, with the kind generosity of his staff members and with voluntary philanthropic assistance to the "Angunna Badulla Junior School Development Fund" He has already arranged a full supply of books for all of the 139 children, covering the academic year 2018.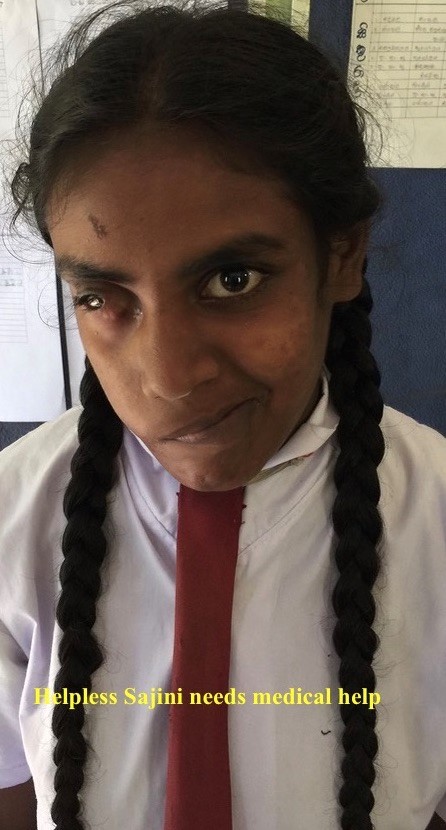 Deduni lives with her parents in a house built on crown land in Wellatota, Paalatuwa. Her parents find it difficult to pay for her medical expenses out of her father's income as a labourer. Up to May 2016, she had been attending school as a normal healthy girl, but after a sudden illness, she had been rushed to the Karapitiya Hospital for treatment. After the initial treatment in Galle, she had been taken to Lady Ridgeway Children's Hospital in Colombo, with the financial assistance from school Principal and his staff and, including the small kind donations from Deduni's schoolmates. Deduni was treated at the Lady Ridgeway Children's Hospital for five continuous months during which period her mother had to be with her 24/7, attending to her personal care, while the medical care was provided by the hospital staff.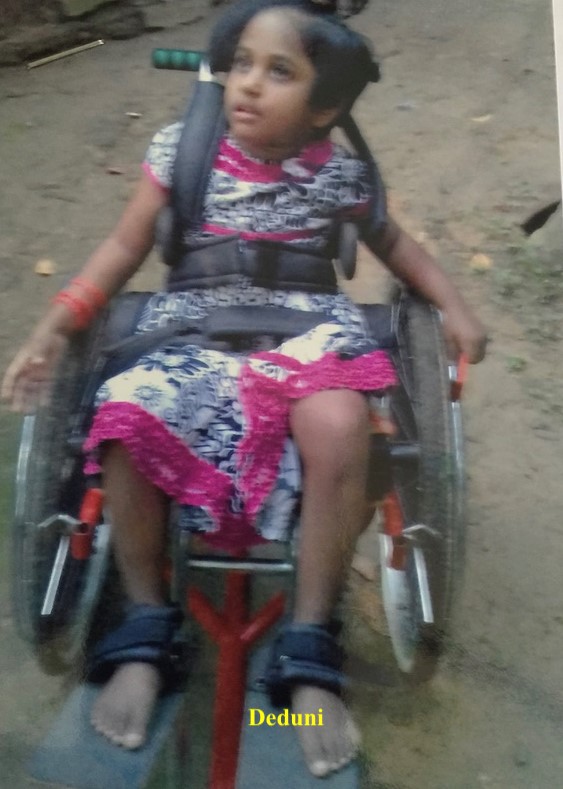 Deduni's medical history shows that she was seen by Neurosurgeon Professor Geethangi Wanigasinghe at the Lady Ridgeway Hospital and on 8 November 2016, Dr. Mrs. S.H. Monika de Silva, Consultant Rheumatologist, at the Lady Ridgeway Hospital, has confirmed Deduni as 'a child with development regression, seizures disorder and visual impairment, following an acute episode of encephalitis'. She was due to visit the hospital again for "follow up procedures on Rehabilitation in the DDR clinic", however, it was not clear whether her parents managed to take the child as requested, due to high transport costs, from her village in Matara to the Lady Ridgeway Children's Hospital in Colombo.At the time of the writer's visit to the village school, a letter of appeal, dated 10 October 2016, by Deduni's father, was on display for the benefit of all enthusiastic volunteer donors. It specifically mentioned how the Principal of Angunna Badulla Junior School and how staff members and a few of Deduni's school mates had assisted the family during the initial treatment; also highlighted the parents inability to cope financially with their daughter's medical expenses and welfare, due to their poor income. Deduni's eyesight was getting affected gradually, and the need for her to attend the eye hospital in Colombo for treatment appeared to be vital. The letter was validated with signatures of Sarathchandra Witharana, Divineguma Development Officer (312 Wellatota), Grama Niladhari (349B Division, Meegoda), Matara, and Principal M.A. Jayasiri.
The poor family lives in a house built on State land in Wellatota, up on an elevation with winding pathways full of pot holes and 'hairpin' bends. In an emergency, a vehicle or ambulance has no easy access to the house.The vehicle has to be parked a few metres below the house, and she has to be carried to the vehicle, along the craggy path, with her wheel chair, that is not at all easy even for the fittest.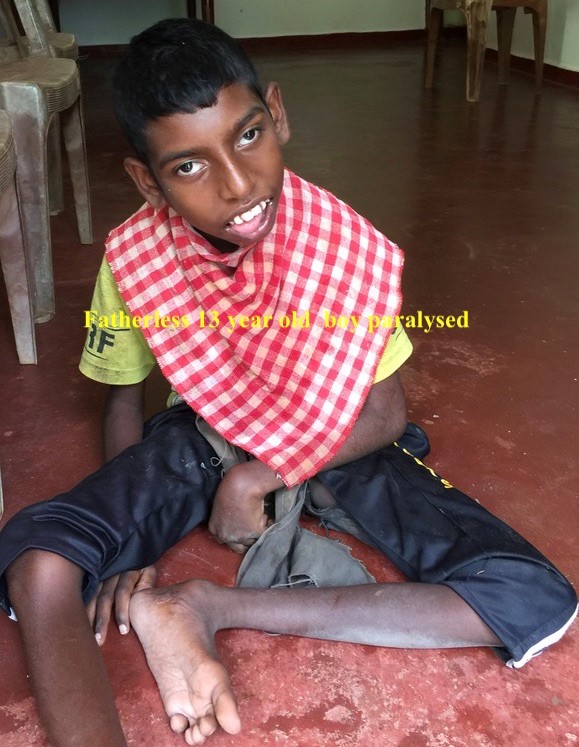 Sajini
Nine-year-old Sajini was the third student deserving assistance.She had been born with birth deformities of an imperfect mouth, hip, leg, and an eye. She lives with her single mother. According to the Principal, her mother, being illiterate and immature, is incompetent on how to seek medical assistance! The catch twenty-two question is, whether society will turn a blind eye to her pathetic condition and allow her to grow up in that manner, and even if she were to come out with flying colours at the end of her education, will she be exposed to social stigma and be discriminated? There are so many charitable and benevolent Sri Lankans and also expatriate associations who specifically concentrate on medical work to qualify for tax entitlements for any type of donations. Australia-Sri Lanka Medical Aid Team (AuSLMAT) and Sri Lanka Medical Association North America SLMANA are two such groups, who are involved in helping the deserving and the ignored in Sri Lanka.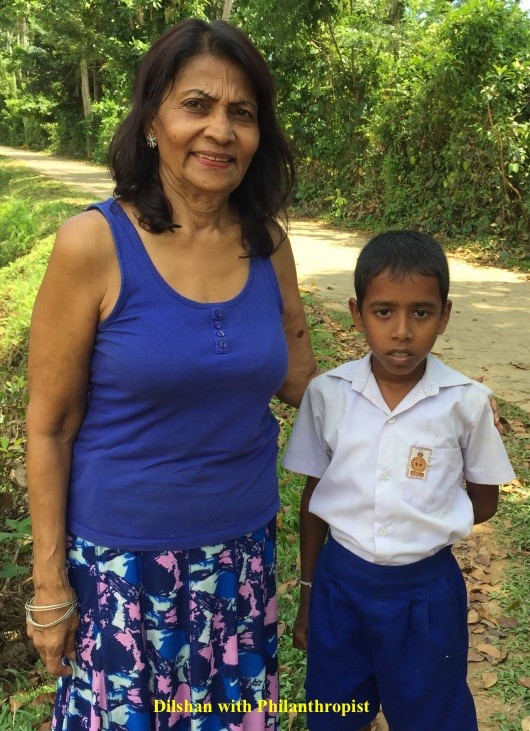 AuSLMAT has been helping Sri Lankans ever since the tsunami disaster. Usually a team of doctors arrives in Sri Lanka annually, and visits various district hospitals holding medical camps et al. They are due to arrive again, in July 2018. In response to the writer's Saturday Column (18 November) highlighting a family 'living in latrine conditions', a member of the SLMANA is expected to arrive in Sri Lanka shortly, and a tour of Matara District has been arranged, especially to visit this family in distress and need.
A big 'thank you', is therefore, due to the SLMANA for already finding '4 donors from LA, who are willing to help build a house for the family, living in a makeshift home in a latrine'. The writer will accompany the visiting SLMANA representative, on 1 December to facilitate the expatriate to see for himself, firsthand, the atrocious living conditions of this destitute family.
tilakfernando@gmail.com