Ministry says no 'Welcome Committee of British Royals'
Posted on February 4th, 2018
Courtesy The Daily Mirror
The Foreign Affairs Ministry and the British High Commission today said the document which is currently being circulated purporting to be a guide in 'royal etiquette' issued by a 'Welcome Committee of British Royals', was false.
In a joint statement, the ministry and the High Commission said no such committee has been constituted by either.
A document with the heading 'Welcome Committee of British Royals' which stipulated 18 guidelines to be followed when welcoming the visiting Earl and Countess of Wessex, is being circulated in social media.
The document has been signed by one D.F.P de Mel who is the supposed committee's secretary.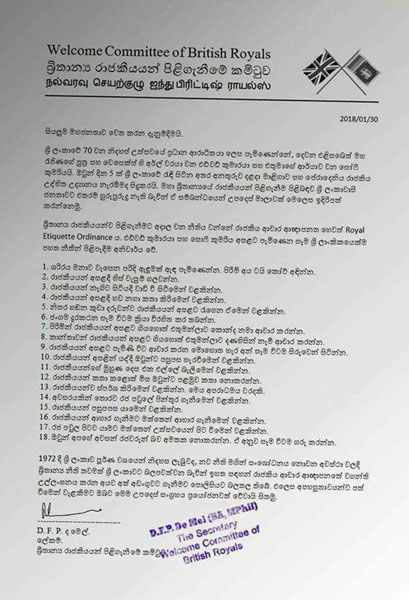 The document which is being circulated