HERE ARE SOME ELECTION RESULTS
Posted on February 6th, 2018
By Gomin Dayasri Courtesy The Daily Mirror
Mahinda likely to win the highest number of local authorities but it could read otherwise at Presidential Election
New vote will talk the result but still remains an unknown factor till the count.
Many will intentionally not vote or spoil the vote. Party that carries a bulk non – vote is the loser
UNP leader looks weak after the findings of the Central Bank Bond Inquiry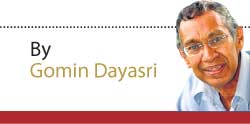 Political parties – carry no credible second strings or alternate leadership –are calibrated according to the leaders' needs. The problem lies in getting voters to walk a distance to a booth to vote for a dowdy politician.
Many will intentionally not vote or spoil the vote. Party that carries a bulk non – vote is the loser.
Many of the under-45 generation may spoil ballots or become home birds. One thing is for sure – counting of votes will take less time, percentages will be less than at previous local elections.
Colombians think the UNP can win because of the minority vote and the split in the SLFP vote. The UNP is, forever, in the realm of wishful thinking…
UNP leader looks weak after the findings of the Central Bank Bond Inquiry; Mahinda Rajapaksa is unable to address coherently to swing votes and leaves his more popular brother Gotabhaya in the lurch and hogs the limelight that does not endear him to the middle vote.
Mahinda might be banished from Parliament for supporting a party he does not represent.
President Sirisena and his cahoots without a whiff of a chance, trail as the third force even in his home district; relies on carrying a breakaway vote from the prime parties and the middle vote by trying to become a born again Good Governance disciple – does not appear convincing – looking at his record of three years in office.
Events have made Sirisena more competitive – he hopes UNP would look to him as their alternate leader. He finds he cannot walk his talk.
Urban voters desire not to contribute towards electing corrupt politicians witnessing their comfortable lifestyles: reinforced by the painful cry of the under-45 age group -All politicians are corrupt but for the JVP that talks mumbo-jumbo."
Mahinda Rajapaksa will gain a majority of the 'don't–care- a damn' senior voters from rural constituencies that are justifiably loyal to the Rajapaksas for making life secure and comfortable with less economic hardships, knowing little, how his financial Czars manipulated assets to a virtual zero.
Under – analysed under-45 voters, hold the key to the elections, watching television to acquire insights by shifting channels, as a family unit, constitute the silent majority of 2018 as in 2015, where a mighty Government was downed by pen and pencil.
It is the emerging pattern amongst the senior voters of the over-45 years age group, 20 minutes drive away from Colombo at a traffic-less time, in the urbanised hamlet of Hokandara ['Kopi Kade' is filmed and is poised for 'shooting' as the celebrated final 'village' closest to Colombo] in the Kaduwela PS that gave Rajapaksa a majority of around 25,000 in 2010 when Wimal Weerawansa [WW] roosted the Sinhala-Buddhist belt, where temples divide devotees as to their proximity to the temple to service them effectively –are poised to vote for Rajapaksa again.
That is the traditional blue stock vote minus the middle – floating vote.
Sirisena enacts the jocular element in his new role with a born-again synthetic image of 'A Johnny trying to look good belatedly'.
Rajapaksa and Wickremesinghe have gone beyond two generations of new voters and seek to go into their next generation. 
Green belts have gone underground where die-hards will surface at voting time.
Most want Ranil out of contention – to win next time, without him. Wimal Weerawansa carries a deflated image, living in a luxury home built within the electorate while Champika Ranawaka is deemed a worthless chump, where most monks are for a saffron- robed politics without the milky white usurpers in national dress (Gammanpila & Ranawaka) remembering the days when JHU sent 10 monks to Parliament without laymen.
Today in Hokandara, most kids are wedded to the temple via the Sunday School – routine.
Youth are genuinely more civic conscious than the doctrinal Buddhists– a factor in the coming election. Freedom and Rights on a righteous path means more than kamma and dhamma.
New vote will talk the result but still remains an unknown factor till the count.
Votes for Rajapaksa would have reached a near number majority as in 2010, if the 'buddy party' of the Rajapaksas carried the romantic name of Gotha (Remembered fondly for winning the war and for his urban development that gave Kaduwela two much-used walking paths).
But with the leadership in the Hands of slick Basil and doddering Peiris" – MR voters have zapped away from their leader.
He has sadly outlived his time: most voters believe he will not pass the baton to his popular brother to ensure his sons to gain ascendancy.
Youth (under-45 vote) will send their message loud and clear at the forthcoming election.
Rajapaksa and Wickremesinghe have gone beyond two generations of new voters and seek to go into their next generation. Will the grandchildren take to the odd couple! Vote for Rajapaksa is a vote against the present leadership and not for a mission with a vision.
Rural population overwhelm urban voters – rural family ties make elders rooted to continue a lifelong romance with the political party of their forefathers and kenneling them as famed names of SLFP/UNP families within the constituency.
Much depends on the rural under-45 voters as Rajapaksa wing of the SLFP needs hefty majorities reached in borough constituencies in the South to minimise the avalanche coming against them from the North, East and the Centre where minority voters vote more.
Senior citizens in Sinhala villages keep to family traditions and hardly make a shift in the vote other than for the rebellious youth. Much of the UNP/SLFP can be attributed to such.
Out of touch with reality, Colombians think the UNP can win because of the minority vote and the split in the SLFP vote. The UNP, forever in the realm of wishful thinking, tried to postpone Local Government elections with the Sirisena in toe, in fear of losing, now, walk the streets as if they are easy winners. People are more concerned in wielding the big stick to teach the rulers a lesson to remember at the poll.
Youth are more civic conscious than the doctrinal Buddhists– a factor in the coming election. Freedom and Rights means more than kamma and dhamma.
That was long before the Bond Inquiry findings clipped the wings of Ranil Wickremesinghe. If future elections are held on schedule, UNP will become a serial loser of many more, if this result shows a way forward.
A favorable result is compelling to Ranil Wickremesinghe and Mahinda Rajapaksa; otherwise they may have to retire gracefully with their oldies and baldies after internal party squabbles.
Beware of the politically minded Public Servants that shift their allegiance as well.
They are a motley crowd as named by the Auditor General.
They are ultimate careerists and desire to remain with the winning side, searching for a sure winner.
Presently on the edge, they will hunt with the Government/Opposition on their reading of the results. Many are in service, due intakes that were patently with political affiliations, which readily shifts with the turn of events.
Voters desire to punish a Government in power and to teach it a lesson for bringing hard times on them.
Results will show whether UNP voters desire to save Ranil or jettison him? If UNP fares badly, Ranil's days are numbered.
At most Local Government Elections – held mid-term – people vote with the party in power but it is unlikely this time as support is waning for the Government rapidly.
Rosy Senanayake with her good looks, the UNP's surest winner – not for being attractive alone (It is a disadvantage as green -eyed women cast less votes for beauty than the men) because her haunt is the Colombo Municipality- the last stop for a waning UNP.