Proscribed LTTE Tamil Tigers make a mockery of UK Terrorism Act
Posted on February 14th, 2018
Shenali D Waduge
According to the UK Terrorism Act of 2000 it is a crime to wear or carry any item portraying reasonable suspicion of support to a proscribed organization. In 2001, UK proscribed LTTE as a foreign terrorist organization together with 45 other foreign terrorist organizations. In 2009 Tamil demonstrators in London were carrying flags of Tamil Eelam and were arrested by the UK Metropolitan Police. If UK Metropolitan Police arrested Tamils for carrying LTTE flags in 2009 what stops UK taking action in 2018?
There are 2 factors that the UK Government & the UK citizens need to take cognizance of.
Firstly, terrorism & terrorists are not only Islamic & Muslim. None of Al Qaeda/ISIS terrorism come anywhere near to that committed by LTTE in over 30 years covering suicide, assassination, international illegal crimes including narcotics, human smuggling. Al Qaeda did not have its own airforce or naval force and Al Qaeda did not kill any foreign leader on foreign soil for contract – but LTTE did. The former Indian Prime Minister Rajiv Gandhi was said to be killed on a foreign contract by the LTTE. Can Britain feel safe when they know they have allowed hardcore LTTE cadres to seek asylum in the UK just to spite the former Sri Lankan Government? We are dealing with a group of people who have murdered babies, unarmed civilians, clergy, public officials, politicians, their own cadres and even a world leader. Does UK know exactly how many of these killers are presently living in the UK? According to Wikileaks 2007 LTTE operatives had stolen 130,00 Norwegian passports and sold them to the highest bidders including the terrorists of Al Qaeda.
The woman who trained children & women to kill and commit suicide happily lives in the UK while LTTE proudly operates its international office in London since 1970s.
https://search.wikileaks.org/gifiles/emailid/1234033 / http://www.asiantribune.com/index.php?q=node/5761
Secondly, it's one thing to chide the Sri Lankan Government about various issues but if LTTE has been proscribed in the UK then the UK cannot allow ANYONE (white British, Asian British or Sri Lankan asylum seekers) to carry anything associated with LTTE or allow anything associated with the LTTE to be held in the UK. Is this too difficult for the UK Government to comprehend? Afterall, UK is spending taxpayers money to even establish a unit under the Scotland Yard Anti-Terrorism in London to monitor LTTE activities.
Let us remind UK that the LTTE lasted 30 years because of the foreign funding and material support provided to purchase arms/ammunition/communications equipment & training & the monies were raised from every country that LTTE has been banned. Moreover, it is not that these LTTE fronts have been ONLY innocently raising money to a 'cause' in Sri Lanka – they have been swindling these foreign countries & their citizens – credit card scams, registering as charities to enjoy tax free exemptions, money laundering, hawala system of money transferring – in short they have mastered the art of creeping through every loophole in foreign systems and every country has enough of reports on these actions & the culprits. Why has no action been taken against them?
What is the use in spending for a unit that does investigations and meekly watches a banned LTTE make fools of British law enforcement & make the world laugh at the British Government?
For the benefit of all, let's just look at some of the clauses in the UK Terrorism Act relevant to the inaction by UK against LTTE supporters.
Section 12 (1) A an offence is:
a) inviting support for a proscribed organization
b) Support, is not / not restricted to the provision of money or other property as per
section 15
Section (2) A an offence is committed if he arranges, manages or assists in arranging or managing a meeting which he knows is-
Supporting a proscribed organization
To further activities of a proscribed organization
Addressed by a person who belongs or professes to belong to a proscribed organization
Section (3) A an offence is committed if he addresses a meeting and the purpose of his address is to encourage support for a proscribed organization or to further its activities
Section 13 (1) A an offence is committed
Wears an item of clothing
Wears, carries or displays an article in such a way or in such circumstances as to arouse reasonable suspicion that he is a member or supporter of a proscribed organization
In case people have forgotten LTTE stands for Liberation Tigers of Tamil Eelam, their leader was Velupillai Prabakaran & this is their flag. So by virtue of the UK proscribing LTTE in 2001 everything associated with LTTE will automatically be proscribed including its flag & other emblems. In other words glorifying a terrorist organization is an offence. So when any protestors cry Our Nation – Tamil Eelam, Our Leader – Prabakaran, what were the British law enforcement authorities doing?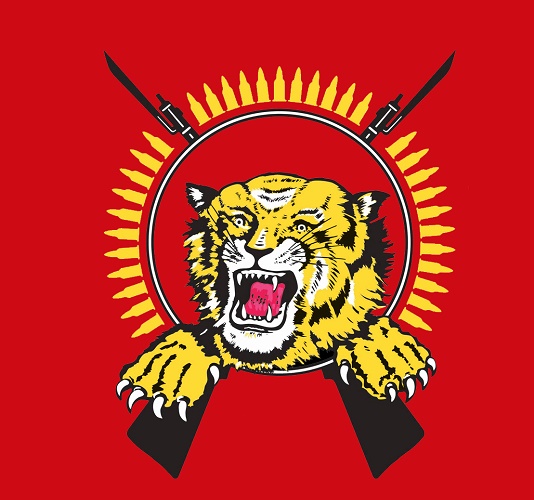 However, before & even after 2001 the LTTE supporters in the UK have been flouting all the British anti-terror laws & getting away with it. This makes LTTE proxy the TNA included into the list. Giving visa to TNA to participate in pro-LTTE events is thus questionable. To be removed from even guilt by association the UK and certainly the Sri Lankan Government need to launch a thorough investigation & exonerate TNA leaders from association with LTTE. So far both UK & Sri Lankan Governments have not done so.
They have held LTTE events, they have put up massive cut-outs & posters of LTTE leader on stages where UK politicians have also spoken. UK police even launched an investigation into MPs Keith Vaz & Virendra Sharma attending a pro-LTTE rally in 2007 to which messages of 'support' was received by London Mayor Ken Livingstone & MP Simon Hughes. http://www.thehindu.com/todays-paper/tp-international/British-police-launch-probe-into-pro-LTTE-rally/article14900948.ece so what was the outcome of the investigation or was it just to satisfy the complaint made? The list of UK MPs openly associating with organizations associated with LTTE are many. An investigation & look into their bank accounts will reveal the reasons why.
In 2009 UK Metropolitan Police Commissioner Sir Paul Stephenson said
During the last 43 days these pro-LTTE supporters had been there around the clock, waving flags with the Tiger insignia in violation of the UK anti-terrorism laws. In addition, they had been creating cacophony of noise, beating drums and taking over the streets surround Big Ben and the Parliament. These actions cause traffic chaos, crippled the transport system and caused untold suffering to the general taxpaying British public".
According to UK Independent newspaper the Metropolitan Police had even confiscated LTTE flags which represented the proscribed group. A police spokesman said they had issued "repeated requests" for flags bearing images representing the Tamil Tigers – a proscribed organisation in the UK – to be removed." Two protesters were held on suspicion of carrying a flag supporting a proscribed organisation, under the Terrorism Act 2000.
If this was the case in 2009 wherein the UK Metropolitan police took action against LTTE flags going so far as to even arrest supporters why was no action taken on 4 February 2018 outside the Sri Lankan High Commission? The issue of the Sri Lankan Defense Attache is a totally different matter, the main issue is that LTTE is banned in UK and UK Terror Act explicitly says nothing associated with the proscribed terrorist organization is to be allowed, so what is the UK Government & Metropolitan/Scotland Yard doing allowing terrorist supporters to disrupt and disturb the peace?
Here's some homework for the UK Government & Metropolitan Police/Scotland Yard
How many pro-LTTE organizations operate in the UK with websites that carry the LTTE logo & other LTTE insignia?
How many of these pro-LTTE organizations have been investigated for links & whether they have breached UK laws or swindled UK tax payers
How many of the pro-LTTE organizations are directly or indirectly connected to Tamils that had been arrested & charged for aiding & abetting terrorism by UK
How many UK MPs have been investigated for monetary handouts by LTTE which would explain why they are so interested in the affairs of Sri Lanka other than attending to their own constituencies.
In time to come the other terrorist organizations on the UK proscribed list are going to use the example of LTTE and say 'if they can brandish terrorist flags & honor their terrorist heroes, so bloody well can we' and the UK Government & police will be left gobsmacked and left to keep a stiff upper lip only.
For any British wanting to know the truth there are simple questions to ask & find answers
Genocide – take the Tamil population statistics & wonder how numbers can increase if people are being killed
War Crimes – where are the names of the supposed to be dead people, are there mass graves & where are the 40,000 skeletons. No one can answer but its great just to keep drilling 'war crimes'
LTTE missing – has the UK stopped to find out how many illegal Tamils are in the UK, they may find their missing cadres!
NGO reports – look at who is funding it, the persons they are associating with & then things will become a lot clearer!
Without falling prey to theatrics, drama and Goebells, just seek the truth yourself.
Shenali D Waduge
http://archives.dailynews.lk/2009/04/09/sec20.asp
http://www.dailymail.co.uk/news/article-1184251/Tamil-demonstrators-bring-central-London-standstill-protest-Sri-Lankan-military-offensive.html