China didn't put SL into a debt trap: Envoy
Posted on October 5th, 2018
Courtesy The Daily Mirror
The Chinese Government did not get Sri Lanka into a debt trap by lending money to it," Sri Lankan Ambassador to China Karunasena Kodituwakku has said.
If anybody is saying that the Chinese government lent money to us to put Sri Lanka into a debt trap, I don't agree with that statement. It's an absolutely wrong conclusion," Kodituwakku told CGTN's "The Point".
He said the Chinese government assisted Sri Lanka to build the Hambantota project and that it was up to the Government of Sri Lanka to decide whether to build on the basis of feasibility studies, then to make business decisions.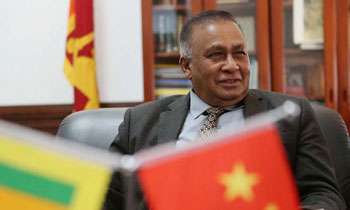 "Of course, we have difficulties in paying back the loan, however the Chinese government never asked us to hand the Port over to them or to the Chinese venture in question. It was a proposal that came from Sri Lanka, asking to enter into a partnership with China," he added.
As a response to media concerns that China is 'militarising' the Port, Kodituwakku pointed out that "in Sri Lanka's case from the very beginning we very clearly indicated to the Chinese side that it was only an economic venture."
He said Sri Lanka does not allow anybody to interfere with the security of Sri Lanka.We took a decision to shift a naval base to Hambantota Port in July, Kodituwakku explained, adding The security of the Hambantota Port, the territorial integrity of Sri Lanka in the Indian Ocean, is entirely a matter for the Sri Lankan security forces to worry about. China never asks us to compromise on this aspect."
Kodituwakku said he remains optimistic over the long-term prospects of the Port and the future of Sri Lanka's role in an emerging Asia.