President briefs UN envoy on political situation
Posted on October 31st, 2018
Courtesy The Daily Mirror
President Maithripala Sirisena today met UN Representative in Sri Lanka, Hanna Singer and briefed about the current political situation in the country.
President Sirisena had explained to the envoy that all the decisions had been taken in accordance with the Constitution, the President's Media Division said.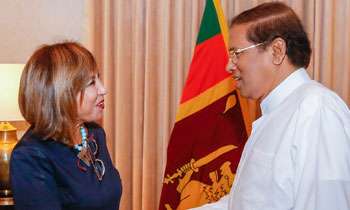 The President also said that the government is working within a democratic framework by protecting the law and order in the country.
Ms. Singer had informed the President that the UN would continue to provide assistance to Sri Lanka in future. The President appreciated the assistance given by the UN.