GOTA PHOBIA – Part VII C (Sri Lankans will not accept agreements signed on the deathbed)
Posted on November 2nd, 2019
By : A.A.M.NIZAM – MATARA
I thought that I have given sufficient coverage in my previous two articles GOTA PHOBIA – Part VII A and Part VII B and was planning to write another article in the GOTA PHOBIA series on a different subject.  But I was compelled to change my intention of finding a statement in the LankaCNews.lk that had been made by the former JVPer and bogus Buddhist Pa.Cha.Ranawaka insulting our great King Maha Parakramabahu and angry responses presented by over 30 readers of this article. 
This bogus Buddhist who grabbed power of the former political formation Sinhala Urumaya" and made it a racist outfit under the name of Jatgika Hela Urumaya" in his recent elevation to American slavish politics has said that the horrendous Millenium Challenge Corporation proposal is a proposal of King Parakramabahu and what Ranil is doing is a work of the king Parakramabahu.  He has said that saying that America will get several million acres of land of this country through this agreement is a blatant lie and identifying 4 corridors is for the future welfare of this nation. He has stated that there are plans to bring future settlements to incorporate in these corridors.  Speaking further this panchayat has said that initially this proposal was brought forward by king Parakramabahu.
Addressing a media conference in Colombo he has said that in the initial periodMr. Ranil Wickremasinghe was referred to as Don Juwan and the change of Ranil Wickremasinghe and in his opinion, it is highly admirable the change that has occurred to get him portrayed as the great Parakramabahu. 
Now let us see the 30 comments that have been made by readers:
Raterala says:
Pacha Ranawaka, you are insulting the great king Maha Parakrasmabahu. That King never betrayed the motherland to foreign countries.
Saliya says:
The wonder of these spit-lippers betraying their souls! Lies being said without any feeling.  God knows what these kind fellows will do to this country.
අපි ගොන්නු නේ….(We are bovines) says:
In this way, these guys would say that the statue holding an ola-leaf book in its hand is not an ola-leaf book, but a sanitary pad (Sajith's promised gift for females) And even at that time Pads were distributed,
සුරා (Suraa)says:
It is sad to note that this kind of politicians to have born in this country.  Fellows who eat water monitors as iguanas. These are guys who will take from their tongue even a cent in a cesspit.
සිරිතේක්කු (Sirikku)says:
This idiot has even distorted the history of this country.  It is to insult our great leaders that this kind of lies is being told.
අලව් යකා (Alaw Ghost)says:
Do not know why America is getting so much trouble about our country. It is sin – No! We have heard that someone plucks a bee-hive noto to lick the hands – Have you not heard such a thing?
Dp says:
You are a bone licker of the bankrupt aily news
ඩී ජේ prasada(S J Prasada) says:
Lies of this bugger….The great King Parakramabahi did not make such a proposal….He did not surrender to foreign countries but conquered foreign countries.
jayasiri says:
Oh God whappenedto this guy! Is this an inborn quality of this guy? This sodomised the pious ladies who placed the cross to Hela Karumaya.
Karu says:
Easily transferable government lands means any company will have opportunity to purchase them.
ඩී ජේ prasada (D J Prasada) says:
This guys lies…….
The great King Parakramabahi did not surrender to foreign countries but conquered foreign countries.
Lanka says:
UNP yamaplanaya know how to twist our history. Let's show these pathetic liars on 16 th where to go. Otherwise, not even god can help this time.
AJITH says:
All srilankans will be deprived their homes under this act.
Fernando says:
Mewage une ula teya mariya yutue menisune budimathwa x gasanna natnam rtak nati wei
(This kind of fellows should be killedpearsed by spears.  Men place your X wisely.  Otherwise, we will not have a country for us.
rdy says:
Tamat pruthugisi nam pawichi karana ayawat ula teya mariya yutue
It is those who still use Portuguese names that should be killed by piercing through spears.
JANATHAAWA says:
What a treacherous comment for their survival? They want to turn things upside down for their greediness for power. They seem to think that the people in our country are fools to believe such bullshit.
Sun says:
Please go and check your head. Probably it is disoriented after living with this type of crooks in politics. These are the leaders heading democracy without understanding the meaning even just following the leader,s footsteps like dogs following the boss. This is the mentality of people living in politics now like the real American politicians as leaders of unseen democracy.
Chandapala says:
This opportunist political worm destroyed all the political parties he associated with.  The UNP also will get destroyed after this election.  He misled the Buddhist monks of the Hela Urumaya.  He misled Mahinda and now he is targeting Ranil and the UNP.  This eunuch who does not have a vote base of his own is attempting to reign from the votes of other parties. Mr Ranil be careful.
Gamini Abaya says:
DID YOU HEAR THAT KING PARAKRAMABAHU TELLING THIS……….STUPID.
MJ says:
The great king made this country self-sufficient.   Like UNP he did not devour the country and sell the country to foreigners.
උපාසක (UpasakA – The pious)says:
With which country Jing Parakramabahu Attempted to enter into Agreements?
Saman says:
Please enlighten the people in your area about this guy.  He may even chase them out from their houses.
MD says:
Expel this of bloody Sinhalese from our country who do not even allow our great ancient kings to attain nirvana. (Those like Champika, Rajitha,Ranil, Chandrika, Wickramabahu)
Nandasoma Suriyaarachchi says:November 2, 2019 at 8:22 am
Alas, Shame on fellows like this!
Politicians who insult our great kings like King Parakramabahu!!
King Parakramabahu did not take steps to sell lands in our country to America!!! You fellows cannot deceive our people by telling lies!!!!
Nandasoma Suriyaarachchi says:
What will happen from this is that the people in the South will have to take from America and obtain Visa to go to the North.
ගමරාළ (village headman)says:
Champakayo without uttering nonsense like a lunatic keep on chewing the bone given by Ranil and remain silent for the next two weeks.
Nayani says:
Cardinal has quite rightly asked the government not to sign this agreement at this moment as the public and even most parliamentarians are not aware of the terms and conditions. He says it should be put to parliament and approved at a referendum. This is the opinion of the Mahanayakas also.
හෙලයා (Helaya)says:
Champukaya is a No,1 policy less opportunist. Don't ever vote for him.
The great betrayal severe than the barren lands Act is ready. America joins the government in the death bed for the millennium corporation agreement"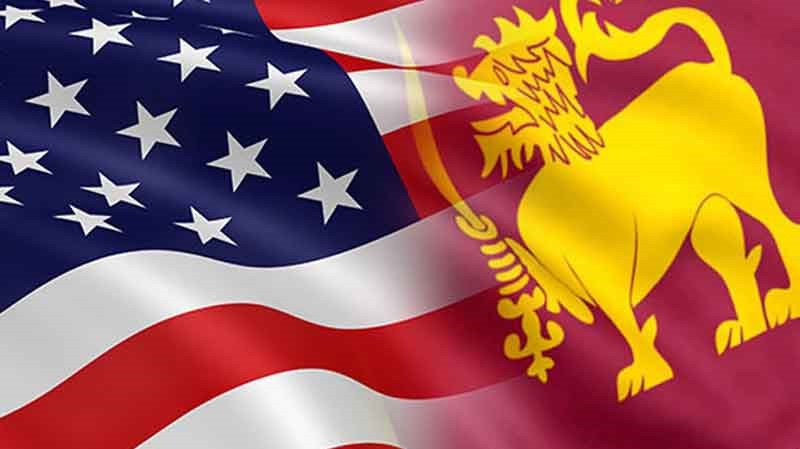 Attached is  a speech delivered by traitor Pa Cha Ranawaka's erstwhile colleague and now bete noire Attorney at Law MP Udaya Gammanpila at the Stop U, S, A" media conference
Last Tuesday (29th September) cabinet approval was obtained to sign the Millenium Corporation agreement which grants permission for America to acquire lands in Sri Lanka for a song. The Prime Minister says that this agreement will be signed prior to the Presidential Election. The President promised to us that he will not allow for the signing of this agreement prior to the presidential election. However, there is a possibility that the Prime minister and minister Mangala may get this agreement signed on the sly creeping through the ears of the President.
The Prime Minister has asked what is the fault in signing this agreement when we get the U.S.$ 480 Million as a gift? We ask the Prime Minister if he gets a good price for his mother, whether he will be ready to sell his mother?  We will tell the Prime Minister that although he may be ready to sell his mother, we are not prepared to sell out motherland at any cost.
In the Millenium Challenge agreement, there are two projects.  Transport project and the land reforms project.  We have no objection to the transport project.  Our objection is in respect of the land reforms project.  The business community of this country certainly objects for the land reforms projet.   The CEO of the.CC proposes that the funds from the land reforms project also to be used for the transport project and widely implement it.  However, Amerca is not agreeable to it.  If America does not have a hidden agenda of plundering our lands why it not willing to abandon the land reforms project?
The American War Expert Robert Kaplan states that this century is Asia's century and Sri Lanka which is located in the centre of Asia is the most important country in this century.  Therefore, the real intention of the MCC is for America to get settled in Sri Lanka, the most important country of this century. Accordingly, if America succeeds in getting the MCC agreement signed, Sri Lanka will become the centre point of the global power struggle and thereby will become a fire zone and a pool of blood. No one will be able to prevent this. In page No. 6 of the report sent to the U.S.Congress by the MCC, it is stated that two draft Acts based on land reforms have already prepared by the Sri Lanka government and MCC funds will be released on the progress of getting these Acts adopted.
The 1st draft Act was presented to the parliament about two months ago. We challenged at the Supreme Court and the Court has ruled that it should get the consent of all Provincial Councils and until that time presenting it to Parliament is inconsistent to the constitution.  As regards the other Act we have not even seen the colour of it. It is very clear that these are being done with the utmost secrecy. 
The British colonialists plundered the lands of the people of this country through the 1940 Barren Lands Act.  Thanks to Madam Sirimavo Bandaranaike we were able to get these lands back through nationalisation. What the British did by force in 1840, the Americans are trying to get the same thing achieved in 2019 through a puppet government. 
In conclusion, we would like to tell the Americans that this government is a perishing government in its death bed inhaling the last breaths, Therefore we do not consider agreements signed with corpses inhaling its last breath. Also, we would like to give the final and firm message to the Americans that the people of this country will not permit to acknowledge agreements signed with corpses.