GOTA PHOBIA – Part IX D (Massive victory predicted for Gota)
Posted on November 13th, 2019
In the inevitable humiliating the mud-masters of the Sajith camp would definitely resort to any form of election rigging this time.  The shameless American puppets Mangala, Rajitha et al are reported to have planned several misleading campaigns in the last two days and on the election deploying Nadesan's MTV network which include NewsFirst, Sirasa and Shakthi TV channels and som other TV channels under heavy payment to telecast news flash called 'breaking news' , 'just received news' and 'exclusive news' etc in TB channels and their respective Radio broadcast even on the election day regardless  of violating election laws.
An attempt made by them to pay a huge amount to a popular astrologer and get a prediction published by him predicting the victory of Sajith has backfired as the particular astrologer has refused to oblige them saying that he cannot barter his professional ethics for monetary inducements. As such there could be a prediction published from an artificial astrologer.
People should be very cautious about fake news that would be published by the Websites, particularly by websites operating from overseas. The pro-UNP Lanka E Mews is such a nasty website that has proved that it produces fake news and distorts news which is unimaginable.  Despite Mr. Gotabhaya Rajapaksa and his learned lawyers producing all relevant documents relating to his relinquishment of his U.S.citizenship and the Election Commission accepting the documents produced by them, this abhorrent website has posted a news item requesting the people not to waste their ballot by voting for Gotabhaya.  Within the next two days and even on the election day extremely vicious fake news items can be posted by this site as it is not possible to take legal action against the.  Similarly, some other websites sustained by the American puppet quisling Mangala Samaraweera would also follow suit.  It is reported that a large team of technicians and media personnel, under the guidance of Mangala and some other UNP stalwarts, including document fake expert Tissa Attanayake are working round the clock in producing fake news and distorting news to be published within the next two days.  
Despite all their vain efforts, the latest predictions indicate that Gota will get 7.4 million votes against Sajith Premadasa's maximum votes of 4.8million. It will be a huge Tsunami in Sri Lanka's election results. And the balance between the two will be 2,7 million votes. The political analysts who made this prediction after a thorough investigation on all aspects of the election state that there are 16 million registered voters in this election and there is the possibility of higher polling amounting to about 82 %.  The analysts have given breakdowns region-wise, party-wise as well as the trend found in the 1.1 first time voters.
The Intelligence Service units of the United States, Russia, China, and India have concluded that the winner in the election will be Gotabhaya and Sajith Premadasa cannot even obtain 40%.of the votes. The Colombo based Ambassadors/High Commissioners of these countries have phoned Mr. Mahinda Rajapaksa, the Leader of the SLPP, and have congratulated him over this victory.
Meanwhile, Foreign media reports state the following:
Times of India
Definitely Mr. Gotabhaya Rahapaksa will become Sri Lanka's President. Sajith Premadasa is limping far behind.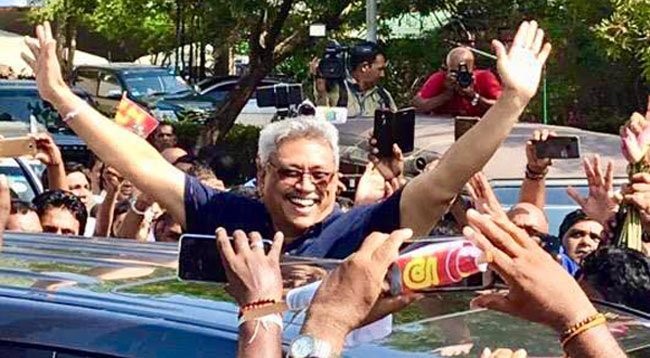 The Times of India report states that due to the slackness in the security situation Sri Lanka and due to the April bomb blasts at several churches and luxury hotels Sri Lankans have placed a very hope on Mr. Gotabhaya Rajapaksa. It says that his opponent Sajith Premadasais trailing very far behind Mr. Gotabhaya.
The text of the Reuter report:
After hiatus, Rajapaksa brothers set to dominate Sri Lanka again
COLOMBO (Reuters) – One brother is considered a shoo-in for the job of Sri Lanka's president in elections this weekend and another is eyeing the prime minister's post when that election becomes due early next year.
Two other brothers are political strategists for their Sri Lanka Podujana Peramuna party and one of them is considering a shot at becoming the speaker in parliament. Three men of the family's next generation are also in politics.
The Rajapaksas, best known for the brutal defeat of separatist Tamil rebels and then drawing Sri Lanka into China's orbit when the West and India shunned the Indian Ocean island, are back at the center of the nation's deeply divisive politics and it is stoking fear.
While there are no formal opinion polls, former defense secretary Gotabaya Rajapaksa is the hot favorite to win the presidential election this Saturday. His chief opponent Sajith Premadasa, a government minister, is seen to be trailing.
Gotabaya led the operations against the Tamil Tigers when his elder brother Mahinda Rajapaksa was president. Gotabaya has faced lawsuits in Sri Lanka and in the United States over allegations of staged killings of Tamil separatists, critics, and journalists during the war.
Both brothers deny the allegations as part of a Western conspiracy to interfere in the island nation of 22 million that sits astride vital shipping lanes and has long been a tinder-box of tensions between the dominant Sinhalese Buddhists and minority ethnic Tamils. In recent months, Sinhalese hardliners have also targeted the tiny Muslim community.
Mahinda lost the 2015 presidential election to a cabinet colleague who turned against him – Maithripala Sirisena. After his ouster, the family's fortunes fell into decline.
But Easter Sunday bombings on hotels and churches, in which more than 250 people were killed, derailed Sirisena's presidency, and he has announced he will not contest this year. The attacks, claimed by Islamic State, have rekindled support for the Rajapaksas and their brand of Sinhalese nationalism.
Mahinda is barred from running for president again, and is on the stump for Gotabaya, bringing an affable touch to the campaign against the rather gruff manner of his brother, more known for his military machismo.
Another brother, Basil, handles the party finances and striking deals with rival groups while a fourth brother and former speaker, Chamal, campaigns in the family borough in the south of the island.
The Hindu Report
Sri Lanka elections: In the south, hopes on Gotabaya run high
Updated: November 12, 2019
People here see in him a strong leader, who ended the war, built infrastructure.
I brought my child along just so he can see our leader, even if from a distance," said Sepalika Harshani, 29, carrying her toddler under an umbrella.
She was among thousands who flocked to Wellawaya town in Sri Lanka's southern Monaragala district on Saturday afternoon, braving the rain. They had come for the rally of Gotabaya Rajapaksa, a candidate from their favorite political clan, in the final lap of the November 16 presidential poll campaign.
I would be very happy if someone like him becomes President of this country. He got us freedom," Ms. Harshani said, referring to the war's end in 2009 under the Rajapaksa administration. Mr. Gotabaya, brother of former President Mahinda Rajapaksa was defense secretary, directing the military that defeated the rebel Tigers.
Nineteen-year-old A.P.D. Seuvandi, too, was there to catch a glimpse of the leader she has decided to vote for next weekend. They saved the country," the first-time voter said. She was barely nine when the war ended but has grown up listening to a popular story of its end; one quite different from what Tamils of the north and east would tell. He will make the country safe again, develop it and improve education standards for us." For many Sri Lankans, safety has become a major concern after the Easter Sunday terror attacks in April.
In the island's southern hinterland, almost every local, including those supporting Mr. Gotabaya's main opponent Sajith Premadasa, asserts that a majority here will vote for Gotabaya". Past election results are proof enough for that sentiment. Even in 2015, an election that former President Mahinda Rajapaksa lost, most of the southern districts gave him over 60% of the vote share. Historically a stronghold of Mahinda Rajapaksa's former Sri Lanka Freedom Party, the southern belt seems to have readily embraced his newly-formed Sri Lanka Podujana Peramuna (SLPP or People's Party).
Diverse reasons
The reasons pulling voters towards Mr. Gotabaya this time go beyond war victory". Some of them are looking for a respite from the everyday economic strain they associate with the incumbent government or are utterly disenchanted with it, like daily-wage laborer D.M. Jayaratne. This government came to power saying they would catch corrupt thieves. Nothing happened in the last five years. Instead, they robbed the Central Bank," he said, referring to the bond scam", in which a former head of the apex bank was accused of manipulating bond auctions in 2015, causing a loss of millions. The scandal was a major blow to the government that rose to power months earlier, that too on the promise of good governance".
Further, Mr. Jayaratne sees Mr. Gotabaya as a strong leader who will not give into Tamil demands" for war-time accountability and self-rule.
Election vs real issues
Many voters, across Monaragala [Uva Province] and the neighboring Hambantota [Southern Province] district, began their poll analysis with a reading of the two main candidates — and less often of the leftist Janatha Vimukthi Peramuna's contestant Anura Kumara Dissanayake. But invariably, they spoke about pressing local concerns.
They pointed to land hunger, in the wake of mega development projects in Hambantota – a Chinese-built port and an adjoining industrial zone proposed over 15,000 acres. They worried about the loss of livelihoods and falling incomes. There are no jobs here," was a common refrain.
The irony was glaring. While billions of rupees have been channeled into the Rajapaksa-era development projects over the last decade, locals repeatedly speak of prevalent poverty. To the outside world, Hambantota is a high-profile emerging district, and a site of a regional geopolitical tussle: with a Chinese-built port and the loss-making Mattala airport nearby, that India is interested in developing. But to many who live there, the development projects are at best distant and at worst, a threat.
Sri Lankans employed in foreign countries continue to arrive expecting to vote for Mr. Gotabhaya Rajapaksa in the election on Nonember16th.  Several Buddhist monks to have arrived at this crowd.  These Buddhist Monks held a media conference today with prominent local prelates and said that that this could be the last chance to save the country and they do not want to miss that chance and regret later.
In addition to this, given below are some sentiments expressed by Sri Lankans resident abroad about who should be made Sri Lanka's next President:
Prof. Yasantha Karubnaratne (U.S.A)
A computer and information technology Engineer – He says the country nerfs a long term for developing the country. These plans could be implemented if corruption could be shunned by governments that existed in Sri Lanka did not have a vision.  Therefore a President dedicated to a long term plan could save this country.
Dr. Sisira Vithanatchi – Germany.
He said that the next President of Sri Lanka should be a person who ensures democracy properly, who can work with all communities, all religions, who can ensure sustainable peace in the country, and an intelligent person with a proper understanding on environmental management.
Shanika Somathileke (New Zealand)
She says that the next President of Sri Lanka should be:
A truthful leader to his policy statement;
A person who listens to people's opinion;
Who do not permit racial, religious, caste and sexual discriminations;
Should have good ethics and characteristics;
And should be able to provide instant and lasting solutions for the problems facing the country