Why Gota's new face is likeable
Posted on December 10th, 2019
Ravi Nagahawatte Courtesy Daily Mirror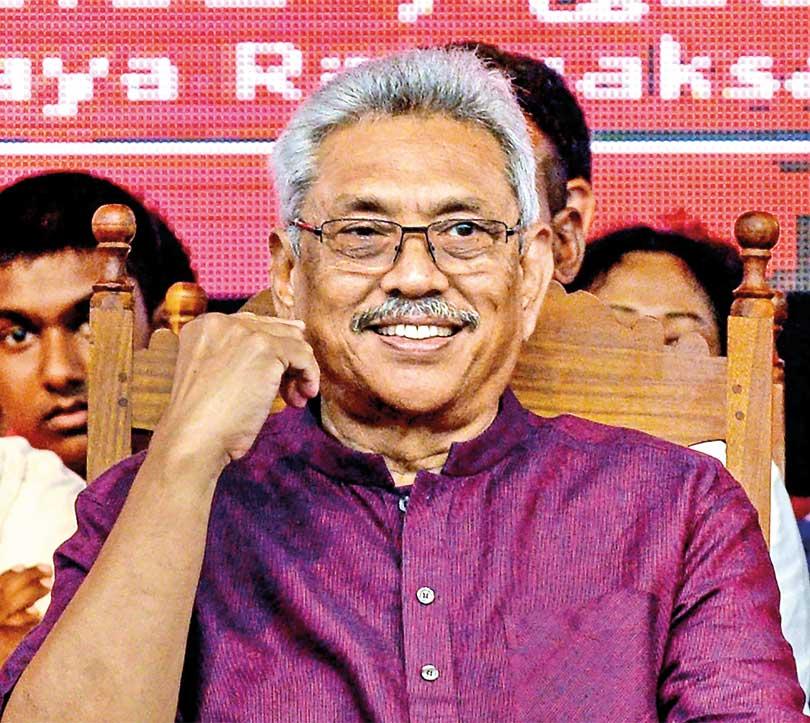 Sri Lankan President Gotabaya Rajapaksa's Indian tour concluded on a positive note. This was despite Rajya Sabha MP Vaiko staging a protest opposing the Sri Lankan president's visit to India.
What's striking about the former military man turned lawmaker is his show of calmness in the face of opposition. There is much talk about Gotabaya being a vegetarian and a Buddhist and these factors could be attributed to his composure.
Gotabaya's travels in and around India made him realise that there was an arm of hospitality extended to him. India being concerned about the last stages of the Sri Lankan civil war now wanting close ties with one of the island's chief defence officials, who oversaw military operations that crushed separatist rebels, merits note. It may be that India wishes to look to the future with its neighbour, Sri Lanka, at a time when some of the European countries are hell-bent on raking war crimes that took place in the island.
The only little issue which would not have been to Gota's liking would have been the many cutouts and posters that decorated the streets; put up to welcome the arrival of the Sri Lankan president.
---
It seems India wishes to look to the future with Sri Lanka at a time when some European countries are raking on war crimes
Gota has also set the example for the need for lawmakers to live like ordinary citizens
---
Back at home the Sri Lankan President has called for the complete stop of wasteful ways. He has also set the example for the need for lawmakers to live like ordinary citizens. The president used the entrance for ordinary passengers before boarding the flight to India. This culture is now catching up in the Rajapaksa clan with Basil Rajapaksa too using the entrance meant for civilians when boarding a flight to make a quick visit to USA days ago.
Though the Indian trip for Gotabaya seemed a mere courtesy call, he was presented with opportunities to discuss matters of great importance. One such issue was the existing mafia associated with the import of western medicine to Sri Lanka. A businessman who is reported to have sought an audience with the Sri Lankan president, while in the flight, had highlighted the fact that medicine of low quality is being imported to the island nation by certain individuals whose sole intention is to make profits. The president was informed that the problem also affected the State Pharmaceutical Corporation (SPC). The Sri Lankan President had vowed to sort out the issue.
One key highlight about Gotabaya's first few weeks as president is that he has not been ruthless and not used force; using force being a trait associated with ex-military men. He has set the trend by frist disciplining lawmakers and also allowing the country's law to take its course.
Brigadier Priyankara Fernando, the one-time Defence Attache of the Sri Lankan Mission to UK, was charged by a London Court for making a threatening gesture during a protest by a group of LTTE sympathisers in London. Though several monks and politicians have made comments that the Government of Sri Lanka (GoSL) shouldn't pay the fine, the president has remained silent over the issue. This is a positive sign for all law-abiding Sri Lankan citizens. It's important to note that the LTTE cadres who surrendered to the Army were later tried in courts before being sent to serve their jail terms. Even ruthless tiger rebels were given a fair hearing in a court before being convicted of committing crimes. This is confirmed in Thamilani Jeyakkumar's book 'Under the shade of sharp sword' (The book translated into Sinhala by Swaminadan Wimal sold like hotcakes). This is not the time to let emotions run wild. Giving the law due respect would immensely help in sending a strong message to citizens; especially when a nation that's being rebuilt also has indisciplined lawmakers and citizens.
In the backdrop of President Gotabaya stepping onto a path that encourages diplomacy and decency instead of force, the recent alleged white van abduction raises concerns however. But the secretive manner in which the Swiss Embassy has responded to calls by the Sri Lankan authorities for their employee to cooperate in investigations and this employee taking so long to arrive at the CID to give her statement raises suspicion as to whether the whole incident is politically motivated by a force in the opposition.
Another sector which is still functioning smoothly despite a change in Government is the media. Many expected restrictions on the media after the presidential elections. But Gotabaya seems to think its wise to allow media institutes to enjoy the freedom to report which is anyway tied to the string called self-regulation. If Gotabaya doesn't undermine the law like his brother Mahinda did it would strengthen the whole foundation on which the country is to be rebuilt on.
Gotabaya needs time to settle down as a politician. Earlier in his role as Defence Secretary Gotabaya only knew of a way of making subordinates stand in attention and take orders. Now we see the first citizen of the country mingling with crowds and attempting to shatter that image which suggests he is difficult to get-along with. It may be that this is the perception people have of him and he has now moved away from that past; willingly or unwillingly.
When NDF candidate Sajith Premadasa was defeated at the last presidential elections people thought that the country would be isolated in the international scene. But these perceptions are slowly being proved to be false with countries like India, America, Australia, Japan, China and Norway offering support and blessings to the new Government.
Just after Gotabaya secured support from the Sri Lanka Podujana Peramuna as its elections candidate, Sri Lanka's total market cap weighted index, the All Share Price Index (ASPI), was up 1.2% in response. Business elsewhere too is showing signs of picking up after he clinched the presidency with his 'development talk'. It seems like this stock market friendly lawmaker would now go about extending his hand to anyone with potential to join his team whose members have been set lofty targets that have to be achieved within a very short time.