Sheep clothed Sumanthiran's tiger spots exposed
Posted on May 25th, 2020
By : A.A.M.NIZAM – MATARA
Sumanthiran, the protégé o9f Tamil separatists, since 2012 Singapore Agreement was signed with quisling Mangala Samaraweera was making all efforts together with Terrorist Grandpa Sambanthan against whom visual evidence of fund raising for the terrorists in Canada are available, to get a new constitution, a federal and secular constitution adopted and to repeal the existing constitution. It was almost ready to be adopted but calling of the presidential election obstructed the sinister move and then this separatist promoter vigorously campaigned for Sajith Premadasa (SP) brazenly calling on Tamil voters to vote for SP to defeat the Sinhalese.(repeat to defeat the Sinhalese).
Having failed in all sinister moves from 2012 to 2019 this separatist Clone, sporting a sheep\s cloth has recently attempted to pretend that he is opposed to megalomaniac Prabhakaran's ideals and his terrorist struggle and gas said that he does not acknowledge Prabhakaran's armed struggle for a separate state, and he abhorred Jaathivaadaya and extremism.  His primordial allegiance with separatist policies is however well known even to elementary students.
If this hypocrite was genuinely opposed to Prabhgakaran's strategies, being in the safe zone of Colombo during the 30 years of terrorist aggression why he remained silent without opposing Prabhakaran's horrendous terrorist aggressions, closing of Mavil Aru anicut and depriving the innocent farmers' cultivation and drinking water, suicide bombings targeting strategic places and buses and abduction of students in the North to be used as child soldiers and commend our war heroes for rescuing nearly 300,000 Tamil civilians who were being ferried by the terrorists using as human shields. 
The man who strongly urged to defeat the Sinhalese is now attempting to fool the Sinhalese (Gonaata Andanna) thinking as Prabhakaran said that Sinhalese will forget anything in one or two weeks and hence any atrocities can be caused to them as they will vanish into thin air.  
An important question that Chamuditha Samarawickrema has missed to ask was where was Sumanthiran all the years of terrorist aggression and who was responsible for bringing him to politics and the agenda that has been assigned to him?
Sumanthiran who was considered as the leader of the TNA in waiting as Sambanthan is in a Wala payay goda payay (one foot in the grave and the other on the surface) status has created a thundering storm in the TNA and Tamil political circles by the statements he made in the interview.  Four former TNA parliamentarians – Charles Nirmalanathan (Wanni), S. Sivamohan (Wanni), Easwaran Saravanapavan (Jaffna) and Mavai Senathirajah have written a letter to their leader Sampanthan, protesting against the remarks as to their view reportedly is that Prabhakaran had made a great sacrifice to win the rights of the Tamil people and Tamil youth had laid down their lives. These former MPs have said that Sampanthan should take whatever action he deems necessary and Sumanthiran should immediately be dismissed as the party's media spokesman.
Samnbanthan in turn for reasons unknown has defended hypocrite Sumanthiran saying that the remarks have been made in his personal capacity although, in the nearly 22-minute interview, Sumanthiran does not say so. In this interview he has answered a variety of questions and continued to acknowledge the key role he played in the TNA and has said that  Sampanthan contacted him on all matters" related to the alliance before making decisions. He has also stated that he accepted the Sri Lanka national flag and the national anthem.
Charles Nirmalanathan yjr former MP for Wannidisreict has written a separate letter to Sampanthan stating that Sumanthiran has been expressing views opposing the ultimate sacrifice made by the LTTE for the sole purpose of the liberation of the Tamil people in the recent past. He has said that Sumanthiran should stop expressing critical views against the LTTE and has asked the old man to call for the Central Committee meeting of ITAK immediately to take a decision in this regard."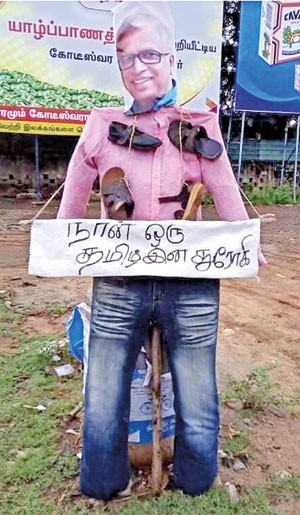 Sumanthiran's effigy tied to a lam[ [pst near the Nallur Kandaswamy Kovil which says that I am an enemy of the Tamil race". It was reported that similar effigies were found in some other parts of the North as well and even in Chennai, Tamil Nadu put up by the staunch LTTE supporter film producer Seeman who attended the Maavir day commemorations in Jaffna last Novermber..
Northern political sources claim that he was trying to cut a deal with the ruling alliance. The furthest is that he has moved away from his former Yahapalana partners and ambitiously leaned on the government. An Intelligence source said that when the Tiger guerrillas dominated the ground in the north during the separatist war, a close relative of Sumanthiran had been tied to the same lamppost and assaulted for being critical of them. Northern political sources also indicate that the lamp post effigy instances clearly show that there still remains a deep-rooted affinity in the minds of some of the people towards the former Tiger guerrillas. Most of them have lost a brother, sister or a relative to the movement and still regard them as martyrs."
Making matters worse for Sumanthiran with northern voters was a meeting he held with Prime Minister Mahinda Rajapaksa on May 13th It was to be slotted originally for the previous day Tuesday, but two TNA former MPsSelvam Adaikalanathan and Dharmalingam Siddharthan had raised issue with those at the Premier's Office claiming that Sumanthiran alone cannot represent the TNA and the meeting should therefore be disallowed. Later, the matter has been resolved with other TNA leaders agreeing that Sumanthiran could go for the meeting since he was in Colombo.
Sunday Times Political Editor (STPE) on 17th May reported that by then Minister Douglas Devananda, having come to know about that Sumanthiran had sought a meeting with Premier Rajapaksa., he met the PM together with a group of his Central Committee members prior to Sumanthiran's meeting and discussed a number of issues including the release of more private land to their owners in the Jaffna peninsula, the release of LTTE suspects and the conversion of the Oluvil Port in the east as a fisheries harbour. He has said that the port not fully operational, sand bars were forming and from the meeting, the Premier telephoned his Secretary Gamini Senarath and asked him to formulate a Cabinet Paper for this purpose.
STPE said that it was at 7.30 p.m. on Wednesday when Sumanthiran had a one-on-one meeting with Premier Rajapaksa at the latter's Wijerama official residence. He had brought along with him a list of Tiger guerrilla suspects who have remained in custody for more than twenty years. This is a sequel to this issue being raised at Premier Rajapaksa's May 3 meeting with former MPs. The Premier has told Sumanthiran that he would place the matter before President Gotabaya Rajapaksa whose task it was to take a decision on the matter and the government is not averse to releasing at least some of the cadres after a whetting process. The Premier has also told him that he wished to have a meeting with women who have been widowed by the separatist war when he visits Jaffna soon.
Sumanthiran has also discussed matters relating to a new Constitution and opined that the issue was whether the country should have a presidential system or revert to the parliamentary form of government saying that he preferred the latter. The Prime Minister has explained that it would depend on President Gotabaya Rajapaksa who had won the people's mandate at the November presidential election and he would brief the President on the issues discussed.
Commenting on the constitution issue the STPE says it is noteworthy that Sumanthiran should now talk of a return to a parliamentary system of governance but under the previous yahapalana" government, Sumanthiran was a principal architect when the 19th Amendment to the Constitution. Together with Jayampathy Wickremeratne,, they were responsible for drafting many a provision with the acquiescence of the UNP. That is not all. At his, and Sampanthan's behest, the TNA supported legislation under the previous regime to put off elections to Provincial Councils (PC). It was paradoxical from a party that had demanded more devolution of power to make the PCs stronger. Even today, not one PC is functioning.
STPE further states that Sumanthiran's remarks, which he has now claimed are personal, will nevertheless impact on the voters at the impending parliamentary elections and in a bid to do some damage control, Sumanthiran has now told Tamil social media that he did not criticised the Tiger guerrillas or Velupillai Prabhakaran. However, the recorded video interview in Sinhala, has gone viral.
Reoports said thatcriiticism against him in the Tamil social media has been on the increase and there is little doubt it will place him on a confrontation course with the Tamil diaspora. Sections of them are demanding a public apology that should also endorse the contribution or sacrifices the guerrillas and their leader have made for Tamils.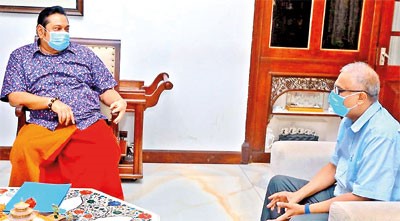 Sumanthiran's meeting on Wednesday with Premier Rajapaksa at his Wijerama Road residence
The foreign based pro-terrorist racist scribe D,B,S,Jeyaraj stated that the past week or more saw Sumanthiran being attacked viciously by many in a heated exhibition of 'manufactured rage' over the mainstream Tamil media and social media within and outside Sri Lanka. A number of media statements were issued by Tamil politicians condemning Sumanthiran.
He said a common factor in most of the rants and raves was the labeling of Sumanthiran as a Tamil traitor.and effigies of Sumanthiran were displayed with a placard around the neck saying Naan Our Thamizh Thurogi" (I am a Tamil traitor)

In a desperate attempt to defend Sumanthiran Jeyaraj says that Sumanthiran himself released a 12-minute YouTube video where he gave an 'explanation' of what had actually transpired and how his interview in Sinhala was being distorted by interested parties to vilify and attack him and the ex-MP from Jaffna stated that he had responded with restraint to many hostile questions by the interviewer as he wanted to explain some points rationally to a Sinhala audience.
Jeyaraj says that Sumanthiran pointed out that a TV aligned to the ruling regime had taken a few of his comments out of context and publicized them in Tamil in a distorted manner and to his credit Sumanthiran defiantly stood by all that he had actually stated in the interview while denying the unfounded accusations of his critics. Jeyaraj adds that this YouTube video by Sumanthiran turned the tide in his favour as far as sensible people were concerned.
In further defense of Smanthiran, Jeyaraj says the targeting of Sumanthiran as a 'Tamil traitor' indicates that the recurring phenomenon of 'traitorisation' is occurring again within the sphere of Tamil nationalist politics in Sri Lanka and reminds that he has written about this tragic curse afflicting the Tamil people in the past and – given its longevity – he may have to write about it in the future too. It is against this backdrop therefore this pro-terrorist scribe says that he makes some specific observations on the traitorzing tragedy in the Tamil polity relying to some extent on his earlier writings.
This pro-terrorist scribe says that in this writing he uses the word traitorisation instead of treachery or treason in order to differentiate between those who are actually treacherous or really are committing treason as opposed to those being falsely accused or labeled as 'traitorous' or traitors. The reality is that most persons dubbed as traitors or 'thurogigal' by their political opponents are not 'guilty' as charged and do not deserve such a description. 'Traitorisation' is a terrible 'Goebbelsian' process by which political rivals are falsely portrayed or depicted as traitors.
The 'traitor' label in contemporary Tamil political discourse refers generally to Tamils accused of working against the so-called Tamil cause and/or collaborating with the enemy. Concrete proof of such conduct is not necessary. What is required is a massive propaganda effort by which the cry 'traitor' is repeated incessantly at multiple levels as advocated by Herr Goebbels in Nazi Germany and the s Goebbelsian approach is patently visible in the orchestrated attacks on Sumanthiran. Tamil nationalist politics made use of the Goebbels technique liberally in dubbing those perceived political rivals as traitors. Merely holding a different political view was sufficient to be called traitors to the cause or collaborators with the enemy. The problem was that both the cause and enemy were difficult to define clearly. Moreover, the nature of the cause as well as the identity of enemy underwent changes periodically. Despite these variations, what has remained constant is the practice of traitorisation.
In order to justify his attempts to protect Sumanthiran this pro-terrorist scribe presents long narrations from the past political activities covering the periods of G.G.Ponnambalam. Chelvanayagam and up to Neelan Thiruchelvam which I have omitted mentioning here as they were  irrelevant to Sumanthiran's issue. 
Meanwhile the Tamil Guardian published from London reported that Sumanthiran has denied that was critical of the LTTE and Prabhakaran and said that his statements in the interview with Chamuditha had been mistranalated and misquoted by the Tamil media and the vested interests.