VEN. RAMBUKWELLE SIDDARTHA
Posted on May 31st, 2020
KAMALIKA PIERIS
Ven. Rambukwelle Siddhartha has played a significant role in the preservation of indigenous culture in Sri Lanka. But his contribution has not been recognized and not much is known about him. I searched the literature for references to Ven. Siddhartha, and also asked a friend in Kandy, to find out something about Ven. Siddhartha.
My friend, who has a distant kinship connection to this family, had gone to Rambukwelle temple, situated in the old Teldeniya area. She was shown the grave of Ven. Siddhartha containing his ashes and giving his years of birth and death. She has also met descendants of Ven., Siddhartha in Rambukwelle village. She was told that that a nephew of Ven. Siddhartha, the son of Siddhartha's brother, (name with held) had manuscript material on the Ven. Siddhartha. She conveyed this information to me.
Ven. Rambukwelle Siddhartha was born on 12th December 1889 and died on 8th November 1941. Nothing is known publicly of his childhood, youth or his ordination. The family may be having this information.
What we do know is that he had gone to Calcutta with Anagarika Dharmapala where he came under the influence of Tagore.He obtained a degree in Calcutta, returned home and joined the University College in Colombo where he taught Sinhala. He lived in Horton Place when teaching at University.
K.N.O.Dharmadasa, writing on the origins of the Department of Sinhala of the University of Ceylon, observed, that there was a high standard of written Sinhala in Sri Lanka in the first half of the 20th century. That is because bhikkhus such as Hikkaduwe Sri Sumangala and Ratmalane Dhammarama and lay scholars such as W.F .Gunawardhana had set high standards for Sinhala. There was also an active Pirivena education system at the time, led by Vidyodaya (1873) and Vidyalankara (1875) which insisted on good Sinhala.
This tradition of Sinhala scholarship, nurtured in the Pirivena was transferred to the Sinhala Department of the University, said Dharmadasa. The first two lecturers in Sinhala in University College in the 1940s were Ven. Suriyagoda Sumangala and Ven. Rambukwelle Siddhartha, both from the Pirivena tradition.
The first lecturer to be appointed to the Department of Sanskrit, Pali, and Sinhala was Rev. Suriyagoda Sumangala who held an MA from the University of Calcutta, continued Dharmadasa. His career which started with much promise ended suddenly with his resignation during the mid-1920s. The next noteworthy lecturer who joined the department was Rev. Rambukwelle Siddhartha who also held an MA from Calcutta. Unfortunately, his career too ended with his sudden demise before the University came into being, concluded Dharmadasa.
There are scattered references which indicate that Ven. Siddhartha was influential in the University. An appreciation of Ven. Narada of Vajiraramaya, Colombo, said that Narada studied ethics and philosophy at the University College, Colombo, as an external student, where he was able to associate closely with Ven. Rambukwelle Siddhartha , an oriental scholar monk of repute". Olcott Gunasekera confirms this. He stated that Narada had studied ethics and philosophy at University College, Colombo and met Rambukwelle Siddhartha, an oriental scholar monk.
An appreciation of Prof. O.H.de A Wijesekera included a reference to Ven. Siddhartha. Venerable Rambukwelle Siddhartha, Senior Lecturer in the Department Sanskrit, Pali and Sinhalese was inculcating in his pupils a love for indigenous literature and the culture of the land, said the writer of this appreciation. Similarly, an appreciation of Ediriweera Sarachchandra also included a reference to Ven. Siddhartha. 'Some academics serving at the university led by Ven. Rambukwelle Siddhartha and Prof. G. P. Malalasekara succeeded in inspiring a feeling for the indigenous culture among university students' it said.
But Ven. Siddhartha did not escape criticism. The Sinhala standard at the University College was heavily criticized by Sinhala scholars outside the University , said Dharmadasa. Hela Havula group carried on a relentless campaign against the teachers and teaching of Sinhala in University College. Hela Havula attacked them, specially Rev Rambukwelle Siddhartha who was lecturing there. When Ven. Siddhartha passed away, they criticized the grammar in the obituary poem published on Ven. Siddhartha, as well.
Here is a formal photograph of the teaching staff of the University College. The date is not given but it can be easily obtained from University records. It is probably early 1930s. Ven. Siddhartha is in the second row.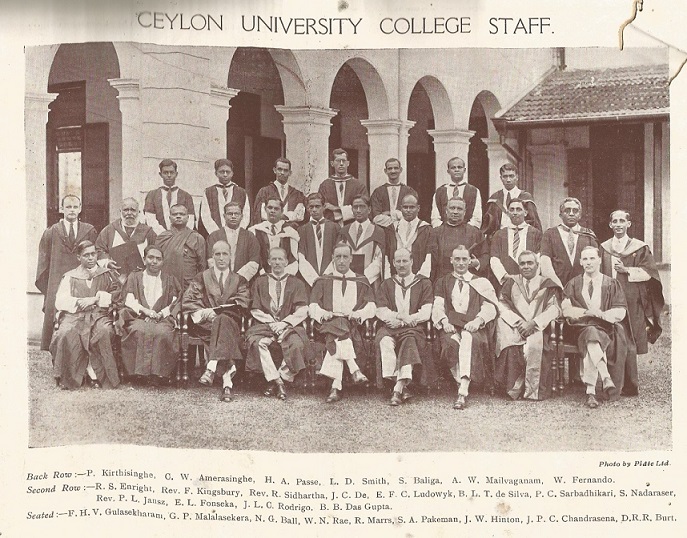 A Sinhala literary society was started in University College in 1923. It appears to have been a shaky organisation. In 1932, there weren't even five students to make up the quorum and the meetings were cancelled, recalled Tissa Kariyawasam. However, in the 1930s, the University College Sinhala Society was interested in Kandyan dancing due to the teaching of Rambukwelle Siddhartha there, continued Kariyawasam. Malalasekera watching the activities of this society wanted to initiate practical classes in Kandyan dancing but this never materialised, concluded Kariyawasam. The biographer of Pani Bharatha, Anura Priyalal Sirisena added that Ven. Siddhartha had tried to link Udarata dance and Indian dance.
The Oriental Faculty of University College had held an annual Mela which showcased indigenous culture. This was intended as a corrective to the Eurocentric approach favoured by the University .My recall is that Ven. Siddhartha's name was mentioned in connection with the Mela too.
Ven. Siddhartha's family in Teldeniya had told my friend that Ven. Siddhartha had known nine languages. This is possible. He would have known Sanskrit, Pali, Sinhala, probably Bengali. He definitely knew English. There is evidence of this. Ven. Rambukwella has edited and translated the Letters of J. D'Oyly. This was published by the Historical Manuscripts Commission in 1937.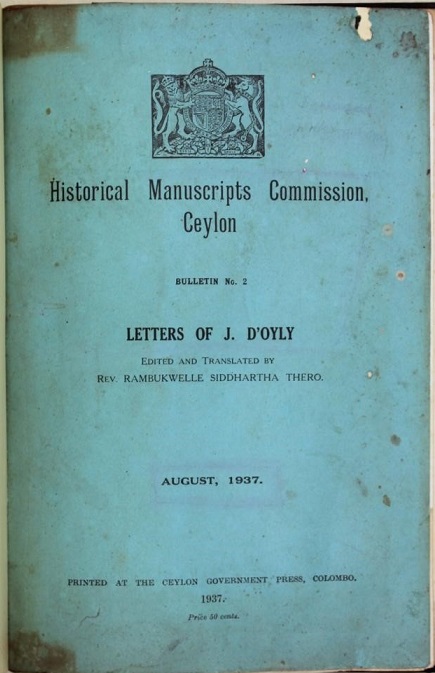 Ven. Siddhartha, unlike most Bhikkhus of the time, was well travelled. He has spent several years in each of the two international centers, to which the intelligentsia of the time flocked , Calcutta in India and London in the UK. In addition to Calcutta, Ven. Rambukwelle has also lived in London. He was the incumbent bhikkhu at London Buddhist Vihara from 1933-1937. G.Uswatte arachchi says Ven. Siddhartha was at the School of African and Asian studies (SOAS).
This writer, Kamalika Pieris, writing on indigenous dance stated 'Ven. Rambukwelle Siddhartha knew to dance, sing vannam and play the udekki. He composed a new Gajaga vannama.' This was based on a statement by Tissa Kariyawasam.
Rambukwelle Siddhartha, with the assistance of Urapola Kiribanda used to sing vannamas playing the udekki, recalled Tissa Kariyawasam. Siddhartha thera was a clever singer and dancer too. He was the composer of the new Gajaga vannama, added Kariyawasam. Uswatte arachchi supported this view. Rambukwelle Siddhartha was reputed to be able to sing Vannam beautifully, said Uswatte arachchi. This is all I have been able to find out about Ven. Rambukwelle Siddhartha.