Countering The Diabolical and Baseless Internationally Orchestrated Allegations of Excessive Tamil Civilian Massacre Amounting to Genocide, During the Last Stages of the War In May 2009
Posted on August 30th, 2020
Dr. Chula NA Rajapakse MNZM Panellist, At Webinar  On Countering  Allegations of Tamil Genocide In Sri Lanka
To: Your Excellency Gotabaya Rajapakse,
President,
The Democratic Socialist Republic of Sri Lanka.
Your Excellency,
Countering The Diabolical and Baseless Internationally Orchestrated Allegations of Excessive Tamil Civilian Massacre Amounting to Genocide, During the Last Stages of the War In May 2009
I write to you as a panelist contributing, to a Webinar organised by the  Ontario Centre for Policy Research" Canada,   conducted on Sunday 16th August, to discuss the implication of the ongoing internationally orchestrated campaign of Tamil Genocide". As revealed during these deliberations, I wish to appraise you of the significant potential of this campaign to derailing your government's program to guide Sri Lanka to prosperity and security and to once again threaten it's structural integrity. I wish, therefore, as determined during the webinar, to request that Sri Lanka provides leadership to counter internationally, this baseless campaign of misinformation, as you did so successfully and against all odds,  in the battlefields in Sri Lanka ending in May 2009.
The Diabolical and Baseless allegation of Tamil Genocide was initiated & is being orchestrated internationally by the International Tiiger Diaspora who has dramatized it even more recently, as the Mullivaikkal Massacre of Tamils", The allegation, as you may well know, is that anything from 40-100 thousand Tamil civilians was victims of SL security forces fire in the last weeks of the war that ended on 19th May 2009 and hence a genocide.

While the evidence is overwhelmingly in favour of a civilian casualty rate of around 7000, the International Tiger Diaspora, that has been left unaffected by the defeat of the tigers on the battle field, is continuing to orchestrate this inflated figure with increasing vigour and zeal.
It is particularly rife in Canada, where the Ontario state legislature has concluded the second reading of Bill 104 2019, proclaiming that annually, the week leading to 18th of Maybe designated the Tamil Genocide Education Week", releasing significant amounts of state funding that could be used to propagate this misinformation even more. In the UK, many powerful Tamil diaspora organisations peddling the same message have close contact with MP's on both sides of the isle. They meet regularly in the premises of Parliament in Westminister, under the auspices of these MPs..
It is inevitable that if this movement is not countered effectively and in a organised and structured way, the structural integrity that was protected on the battlefield successfully by the Ranaviru in May 2019 , would once again come under threat  from international pressure this movement is garnering. So would your  program for development of SL.
This subject was discussed extensively at the webinar and I wish to summarise the conclusions, for your kind consideration and help in implementation.
1. Reinforce repeatedly, using modern methods of communications like email and social media, the message that Tamil Genocide is baseless and a construct of the Tiger Diaspora to secure permanent residency for several thousands of their diaspora to pursue their life in the west, still doing so only as refugees, in addition to securing the dream of Elam. The targets should be international politicians and media.
2. Explore legal avenues to stifle these ongoing baseless orchestrations, perhaps on the basis that these allegations are violating the Human Rights of twenty million Sri Lankans who stand accused of doing something that never happened and they never did.
3. The Tamil Tiger Diaspora funded three decades of terror in Sri Lanka that led to the loss of lives of a hundred thousand and many times more maimed. Many, with close connections to Tiger leader Prabakaran are still at large enjoying western comforts and security now free to keep churning up misinformation like Tamil genocide". The Sri Lankan government initiates legal inquiry and proceedings to identify those guilty of so funding terror and have them brought to justice.
4. The SL government uses diplomatic and political pressure to effect items 2 & 3.
5. The SL govt leads and directs a programme to achieve these and incorporates SL expatriate groups like ourselves, to help drive these efforts in different international locations. The program should be executed with the same professionalism & zeal that the sucessful war effort was exercised with.
I attach also my presentation at the webinar that makes the case for all of the above ,in more detail.
I thank you in anticipation of your favourable response to this appeal. I remain available for further dialogue as required .
Yours Sincerely,
Dr. Chula NA Rajapakse MNZM Panellist, At Webinar  On Countering  Allegations of Tamil Genocide In Sri Lanka
cnarajapakse@gmail.com; +64274768797
19.8.20
cc. Prime Minister. Hon Mahinda Rajapakse
Minister of Foreign Relations. Hon. Dinesh Gunawardena
How the 290,000 victims waded into the hands of the Sri Lankan Troops at the end of the war in May 2009, straight after the alleged Mullivaikal ( Mullativu)Massacre of Tamils by the Sri Lankan troops, that the Toronto canadian's have been able to dupe the Canadian Ottawa state parliamentarians into believing , was true.
How credible is it that if they were the victims of a Massacre, they would stream back into the arms of those who were responsible for the massacre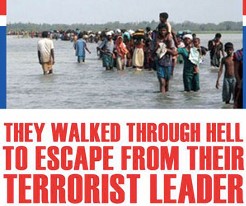 & What the Sri Lankan troops really did for these civilians , including Prabakarans parents ,w hom they looked after for several years thereafter, till they passed away from natural causes.