MCC – A Crime like no other!
Posted on September 14th, 2020
Sarath Bulathsinghala
14 Sep 2020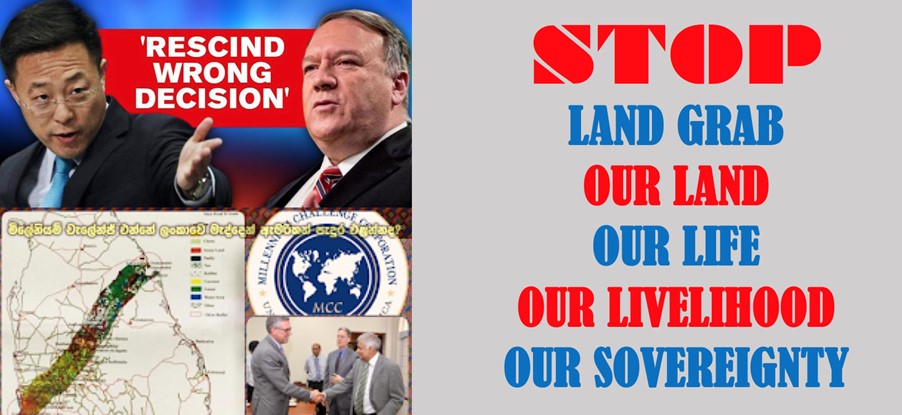 What is the use of all the sacrifices people have been asked to go through and are making if the likes of MCC come to pass. People will be made vassals in their own country. The nation is being encouraged to save, to grow, to be more self-reliant, to be more disciplined. All these for whose gain? Can the authorities be more honest with the people and let them know the specific advantages and benefits they will receive in the event MCC and the sister agreements come into effect? They have no moral right to talk with foreign powers behind the back of the people like the previous regime. They have no right to engage dubious individuals with shady pasts to decide on the future of our Motherland.
It is obvious the Americans want to use Sri Lanka as a staging post for their war like activities in the region according to the Indo-Pacific Strategy, they intend setting up to counter the Chinese influence in the region. If all these come to pass Sri Lanka will be left a desolate land desecrated and violated by the US soldiery as has happened in so many other countries before. China too has a role to play by not unnecessarily involving Sri Lanka in a power struggle not of their making.
The world has witnessed similar before when the US went to Vietnam, Cambodia and Laos to save the East from Communism. We saw what happened when Yugoslavia was destroyed and the resulting carnage – all in the name of restoring democracy. We saw what happened when the US led forces invaded the Middle East to save the world from Saddam Hussein that finally led to 9/11 and another invasion of Afghanistan and Iraq leading to ISIS destabilizing a swathe of countries and their citizenry. We saw the effect of 'colour revolutions' that ultimately ended up creating divided nations and more human misery. The established order however distasteful has now being replaced by a state of disorder leading to more human misery than ever before. Now we see all those people affected by the US led Western Christian Powers, invading the European heartland as refugees. In other words, they have messed up the world and now they are reaping an immigrant invasion.
We have to ask the people of Okinawa, Subic Bay, the Panamanians, Honduras, Chargossians, Haiti, Hawaii Porto Ricans and similar others how much they love the Americans. Have they left any of those countries in any better shape since the American involvement in those countries? Finally, we have to ask if all those people who shout to heavens Black Lives Matter" how they feel about their own country?
The US intend setting up a land corridor from Colombo to Trincomalee through which they can move all their war logistics and Sri Lanka will never be the same again. The reason for land titles and improvements to the road infrastructure are all to benefit the invader – for him to buy land and then use the road facilities to move about freely all over Sri Lanka – no passports. no visas, not subject to Sri Lanka law. Even the British during World War II referred to the Americans as – "overpaid, overfed, over dressed, oversexed and over here"!
This very same thing happened to Hawaii and today the Hawaiians are second class citizens in their own country. To sell country down the drain for a mess of pottage amounting to less than $500 Million Dollars is a crime like no other in the history of Sri Lanka!
Furthermore, this is an issue which should be tackled in consultation with all other countries in the region. Definitely an American presence of this scale does not bode well for anybody – not in Sri Lanka – not in South Asia!
The reason the previous Yahapalanaya led by Ranil W sold Hambantota to the Chinese is a fait accompli to make MCC happen! This to give an excuse to the Americans, Indians and others of their ilk to ask for a pound of flesh from Sri Lanka to even out the balance of forces.
The Chinese loan for the construction of the Hambantota Port was ~$1.5 Billion. Now for a consideration of less than that amount we have handed over not only the Port per se but also an indescribably a valuable piece of real estate on which the port sits on a supposed to be lease that can go up to 198 years! There is nobody living today to witness what will happen to this land with a title that goes in history beyond 2600 years. What sort of a deal is this? Those involved must be brought to book and sent to prison!
RANIL W WAS TASKED TO MAKE SRI LANKA A FAILED STATE. DURING THE LAST 5 YEARS THAT WAS HIS MAIN JOB SET UP BY HIS TASKMASTERS IN WASHINGTON AND TO WHICH HE AND HIS COHORTS SO WILLINGLY SUBSCRIBED IS NOW MORE THAN OBVIOUS. HE MADE ARRANGEMENTS TO BRING DOWN THE ECONOMY WITHIN WEEKS OF GRABBING POWER – RESULT BOND SCAMS! HE MADE ARRANGEMENTS TO DESTROY SRI LANKA'S SECURITY STRUCTURES – RESULT EASTER SUNDAY ATTACKS AND RISE OF JIHADISM! ATTACK ON AGRICULTURE – RESULT IMPORT DEPENDENT NATION. ALL THIS CAME TO PASS. FORTUNATELY FOR SRI LANKA, THE ORDINARY SRI LANKANS – MAJORITY SINHALA BUDDHISTS PREVAILED AND BROUGHT ABOUT A CHANGE OF GOVERNMENT AND A RESOUNDING WIN FOR POHOTTUWA AT THE PRESIDENTIAL ELECTION AND LATER AT THE PARLIAMENTARY ELECTIONS NOT WITHSTANDING THE PANDEMIC! ARE ALL THESE SACRIFICES TO NO AVAIL!
All those who voted for Pohottuwa never envisaged that they will have to face an issue so dire and traitorous such as the MCC sell out so early in this administration. This would out rank even Ranil W's Central Bank Bond Scam several fold if it ever come to pass! May wise counsel prevail!
Only way is to strengthen Sri Lanka's armed forces and begin national conscription. Only a strong Sri Lanka that can withstand the outside forces as well as provide security guarantees to India on her southern flank and to other nations in the region. It is strange how India is going to benefit from going into a partnership with the US, Japan and Australia to counter China. India should very well understand that the ultimate end game of the US led Western Christian Powers is to balkanize India – a country that is aspiring to be eventually as powerful as China in the coming decades.
It is in the best interests of India and China to keep Sri Lanka neutral. Sri Lanka, just like Singapore should be afforded the wherewithal to become powerful militarily and keep the sea lanes south of Sri Lanka in the Indian Ocean safe for all comers including the US, Japan, Australia and other nations of the world.
CHINA IS NOT HELPING ANYBODY INCLUDING THEMSELVES IN HER STEAMROLLER DRIVE TO 'COLONIZE' OTHER NATIONS USING HER ECONOMIC STRENGTH. WHAT HAPPENED TO OTHER EMPIRES WILL BEFALL CHINA TOO IN THE END. BEING A NATIONS WITH MUCH WISDOM AND A KNOWLEDGE AND EXPERIENCE FROM HISTORY, CHINA SHOULD REFRAIN FROM BECOMING ANOTHER BULLY AND A FOLLY!
All compounded things are impermanent! Anichchawata Sankhara! – Lord Buddha