Coronavirus: Chinese embassy accuses US of 'importing' risk to Sri Lanka ahead of Mike Pompeo visit
Posted on October 27th, 2020
Keegan Elmer  Courtesy The South China Morning Post
Secretary of State is visiting at a time when Covid-19 cases are surging, prompting fiery statement from Chinese diplomats
US is accused of sending a 'huge' delegation to prepare for the visit and even demanding that new roads be built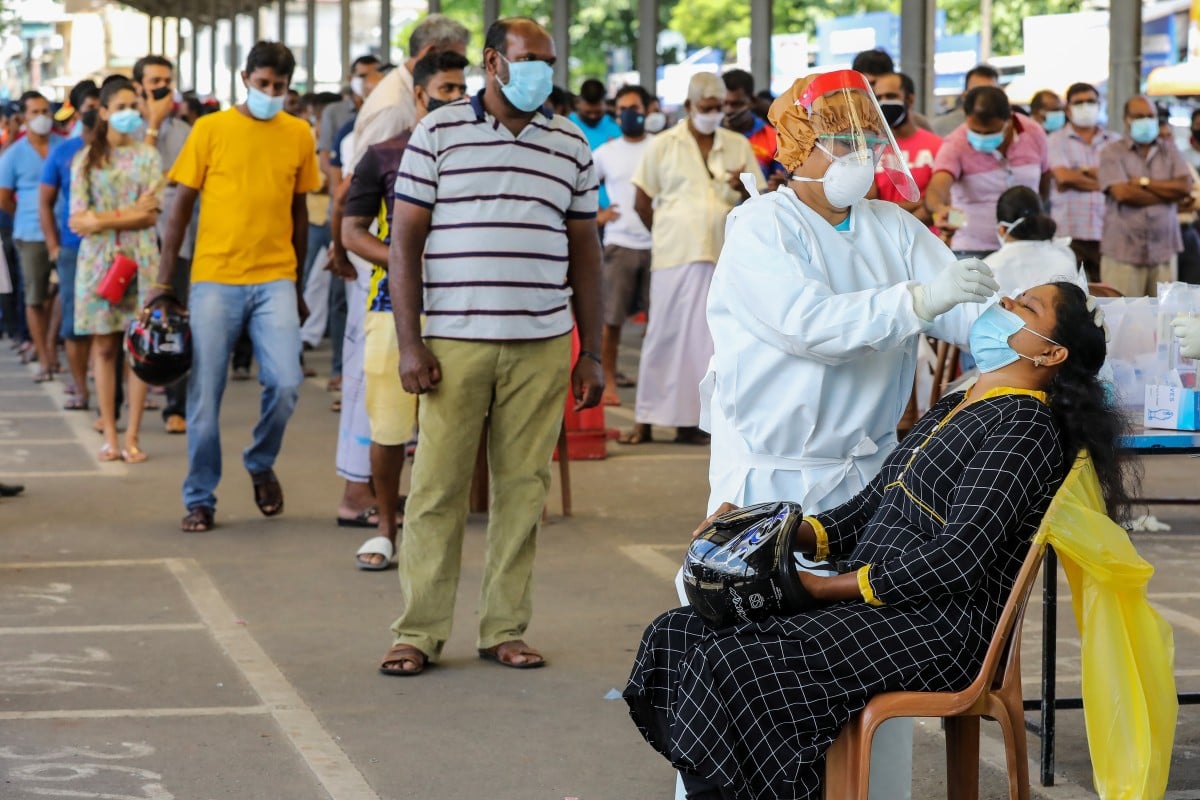 Health workers carry out coronavirus tests at a bus terminal in Colombo. Photo: EPA-EFE
China's envoy in Colombo has accused the US of importing risk" to a nation battling the coronavirus ahead of a visit by Secretary of State Mike Pompeo.
In recent days, Sri Lanka is facing the most severe challenge since the outbreak, and the local health system can no longer bear any imported risks," the embassy said in a fiery statement published on Monday.
[The US is] sending a huge delegation and advance team to Sri Lanka, and making requests for visits and even the construction of temporary roads. The local health system can no longer bear any imported risks," the statement said.
The island saw a spike in coronavirus infections of several hundred per day in October, after months of reports in the single digits. So far the island nation of around 22 million people has seen just over 7,000 total cases and 14 deaths.
Sri Lankan news outlets said 16 US military personnel arrived on Friday to make arrangements for the trip, though the Chinese embassy's claim that the US had asked for new roads to be built for Pompeo's visit could not be confirmed.
The embassy also said that China's top diplomat Yang Jiechi had, by contrast, brought anti-epidemic aid when he visited earlier this month.
The Chinese embassy statement also snapped back at remarks made by State Department officials last week who said Sri Lanka had difficult but necessary decisions to secure its economic independence for long-term prosperity," when announcing Pompeo's four-nation tour to India, Sri Lanka, Maldives and Indonesia.
EVERY OTHER SATURDAYSCMP Global Impact NewsletterBy submitting, you consent to receiving marketing emails from SCMP. If you don't want these, tick hereBy registering, you agree to our T&C and Privacy Policy
Last week Pompeo said his Asian tour would include discussions on how free nations can work together to thwart threats posed by the Chinese Communist Party."
Pompeo is currently wrapping up a two-day visit to neighbouring India, where the two sides are expected to strengthen defence cooperation.
The Secretary of State and other US officials have often raised Sri Lanka as a prime example of debt trap diplomacy", accusing China of building unsustainable infrastructure projects abroad that leave developing nations with unpayable debts.In 2017, Sri Lanka transferred the port of Hambantota to China under a 99 year lease in a debt swap. President Gotabaya Rajapaksa, who came to power late last year, said during the election campaign that he wanted the port back, but when Yang visited he stressed that it was not a debt trap".
The US embassy in Colombo has been contacted for comment.