Pompeo's Sri Lanka visit underscores brewing US-China battle in Indo-Pacific
Posted on October 27th, 2020
Pranay Sharma  Courtesy The South China Morning Post
Burst of diplomatic activities on island, including US secretary of state's visit, seen as attempt by US, India and Japan to counter ChinaPompeo is expected to discuss proposed – and controversial – economic and military pacts with Sri Lanka.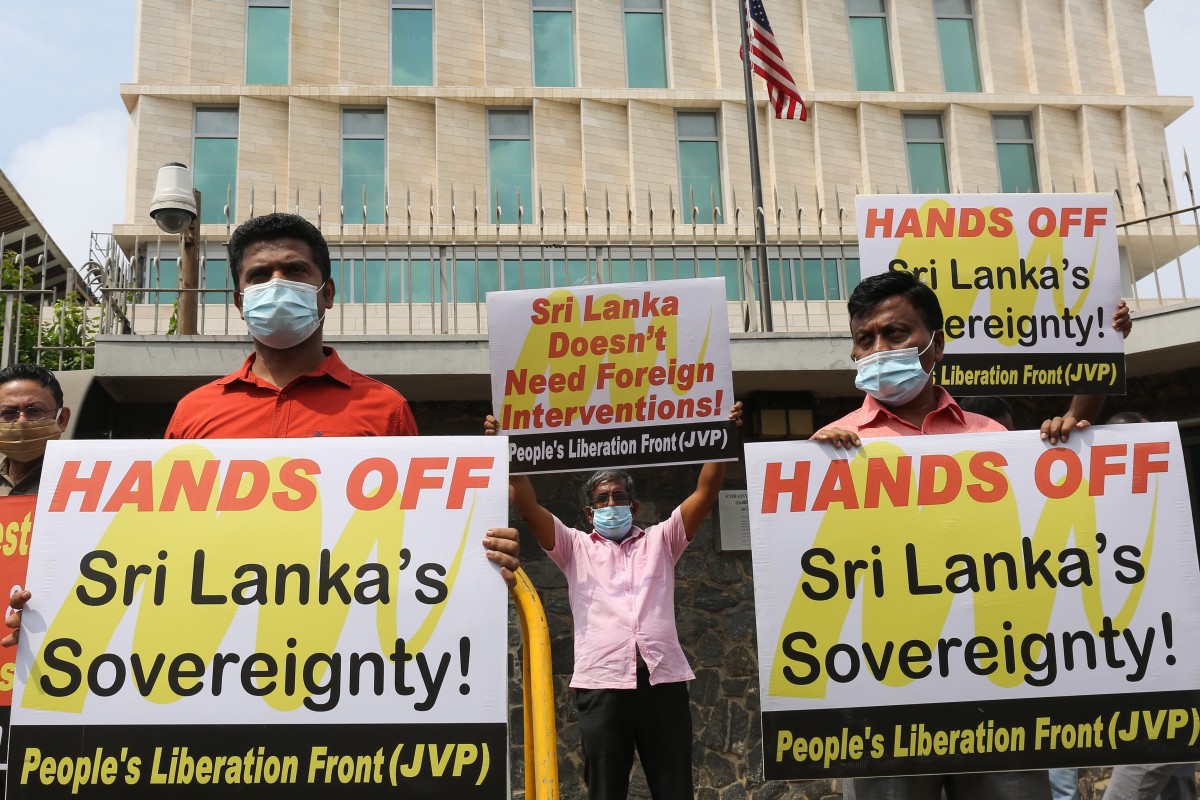 Demonstrators outside the US embassy in Colombo on Tuesday expressed their displeasure with the visit of US Secretary of State Mike Pompeo. Photo: EPA-EFEUS Secretary of State Michael R. Pompeo's visit to Sri Lanka on Tuesday and Wednesday comes at a time when key powers in the Indo-Pacific – India, China and Japan – are engaged in diplomatic outreach to strengthen ties with Colombo amid its rising strategic profile in the region.India held a virtual summit at the prime ministerial level with Sri Lanka on September 26. Japan followed with a dialogue on October 1 on maritime security, safety and oceanic issues, and on October 9 senior Chinese diplomat Yang Jiechi visited Colombo for a series of meetings with President Gotabaya Rajapaksa and his brother, Prime Minister Mahinda Rajapaksa, on ways to strengthen bilateral ties.
China followed up Yang's visit with a US$90 million developmental grant for Sri Lanka to pay for medical care, education and water supplies in the country's rural areas.
During his visit, Pompeo is likely to want to discuss three pending US-Sri Lanka pacts – a US$480 million Millennium Challenge Corporation (MCC) compact to support Sri Lanka's economic development, as well as the Acquisition and Cross-Servicing Agreement (ACSA) and the Status of Forces Agreement (SOFA), which would both give US military personnel eased access to operate in Sri Lanka.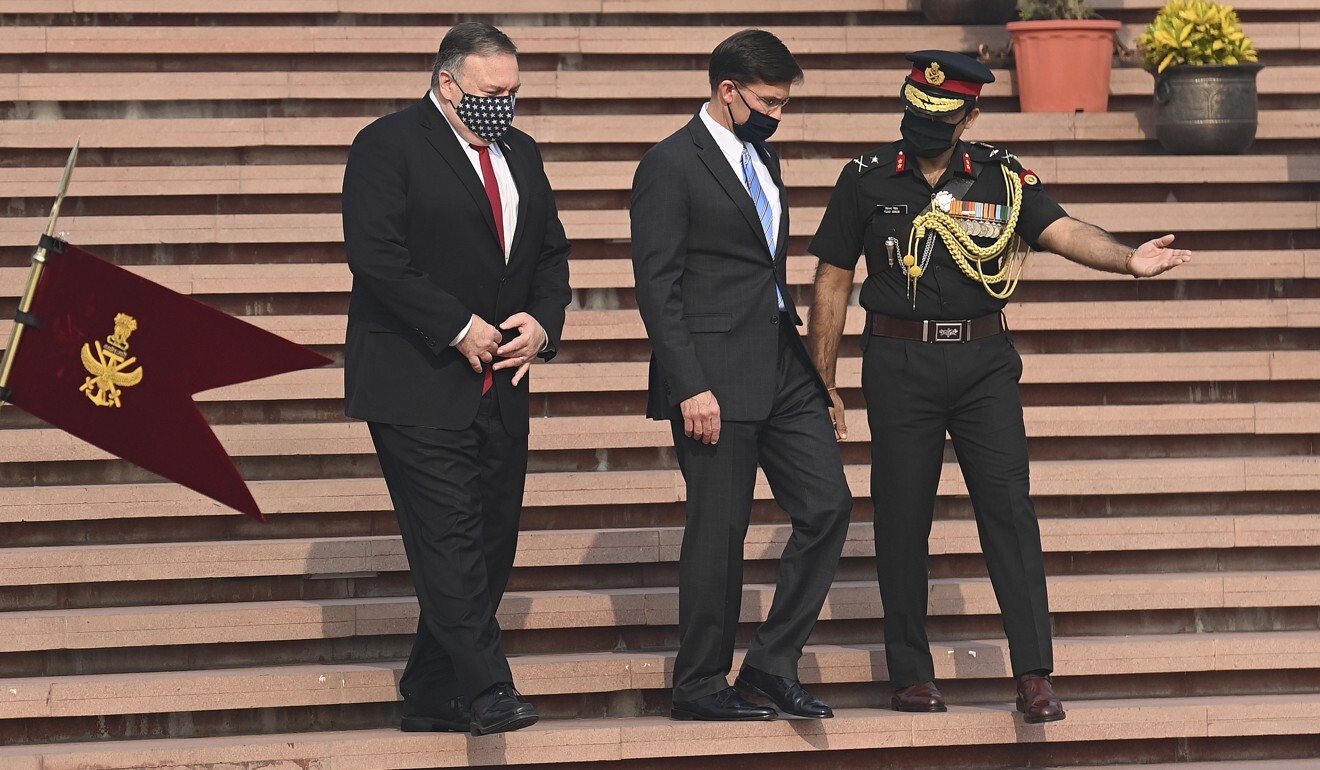 US Secretary of State Mike Pompeo, left, and Secretary of Defence Mark Esper in New Delhi on Tuesday, where they held talks with their Indian counterparts on strategic cooperation. Photo: APThis is exactly what Sri Lanka needs," said George Cooke, deputy director at the Bandaranaike Centre for International Studies in Colombo, referring to the recent flurry of diplomatic engagements and Pompeo's visit, which began Tuesday night.
Cooke said that because of decades of conflict on the island and international pressure on the government to end the civil war against the Tamil ethnic minority, Sri Lanka was unable to chart a clear path for its future. Today, he said, the island is gradually inching towards that possibility".But Malinda Seneviratne, a Sri Lankan political commentator, said a large Chinese footprint in Sri Lanka and the perceived pro-Chinese" tilt of the Rajapaksas is a common worry for the United States, India and Japan, whose desire to contain China explains the sudden burst of diplomatic activities on the island.
On Monday, China criticised the US over Pompeo's visit, saying through its embassy in Colombo that the visit was being made to sow and interfere in China-Sri Lanka relations, and to coerce and bully Sri Lanka".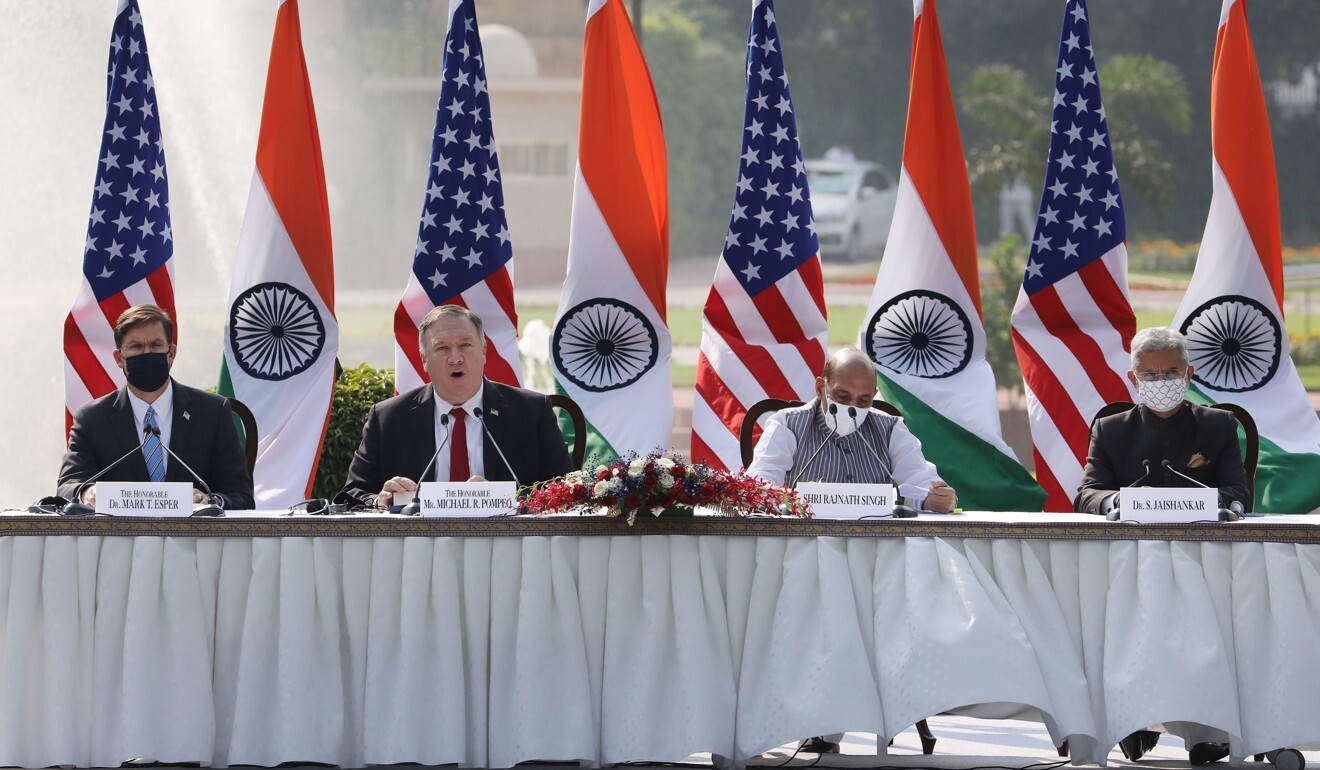 US Secretary of Defence Mark Esper, US Secretary of State Mike Pompeo, India's defence minister Rajnath Singh, and India's foreign minister Subrahmanyam Jaishankar at a news conference in New Delhi. Photo: Bloomberg
According to James R. Holmes, a defence analyst and J.C. Wylie Chair of maritime strategy at the US Naval War College in Newport, Rhode Island, the US has plenty of initiative to increase its level of engagement with Sri Lanka.
AS IT HAPPENSCoronavirus UpdateBy submitting, you consent to receiving marketing emails from SCMP. If you don't want these, tick hereBy registering, you agree to our T&C and Privacy PolicyLook at the map to see why Washington would prize access to Sri Lanka," Holmes said, pointing out that the US would like to bulk up its forces in the Indian Ocean region to become more resilient in its maritime strategic competition with China.
Holmes argued that the US naval support facility on Diego Garcia, a British island territory in the Indian Ocean that is leased to Washington and is about 1,700 kilometres (1,056 miles) south of Sri Lanka, was at one time a useful airfield for the US but is no longer suitable as an anchor for major sea combat operations in the Indian Ocean.
Sri Lanka provides a better option, with its central position off the Indian subcontinent's southern tip, he said.
US-Sri Lanka relations in recent years have been fraught, given Colombo's reluctance to allow a larger American presence in the island and the gap that exists between the countries on human rights issues.
But a reset of ties is in the works. The US wants to partner with Sri Lanka on the two countries' shared goal of sustainable economic development and a free and open Indo-Pacific", the US State department said in advance of Pompeo's visit.
We encourage Sri Lanka to review the options we offer for sustainable economic development in contrast to discriminatory and opaque practices," it added, presumably contrasting its approach to China's dangling of joint projects related to its Belt and Road Initiative, which have been criticised for saddling a number of countries, including Sri Lanka, with cumbersome debts.
In 2017, Sri Lanka leased Hambantota Port to China for 99 years for US$1.1 billion. The Sri Lankan government used the money to repay the loans it had received from China to build the port in the first place.
According to Gateway House, a Mumbai-based think tank, China emerged as Sri Lanka's leading source of official development assistance and foreign direct investment in the decade from 2005-20015, doling out loans and grants amounting to US$12 billion in sectors including energy, infrastructure and services. In addition, private Chinese investment has hit the US$2 billion mark.
Sri Lanka's newly elected president raises human rights concerns
The US is Sri Lanka's largest export market, accounting for over US$3 billion worth of goods. US assistance to Colombo since 1948, meanwhile, has totalled US$2 billion. Most recently, the US provided US$39 million to enhance Sri Lanka's maritime domain awareness and another US$5 million in assistance during the Covid-19 pandemic.
Experts feel the shift of political-military battlegrounds from the Atlantic to the Indian and Pacific Oceans has raised the importance of the two military agreements – the ACSA and SOFA – that the US is keen to sign with Colombo.But there has been some level of resistancein Sri Lanka on signing these agreements over fears that they would compromise the country's sovereignty.
There is apprehension that the agreements would not only give US armed personnel greater and freer access in Sri Lanka to operate, but also immunity from being prosecuted in the event they commit any crimes while on the island.
Pompeo's scheduled visit to Sri Lanka in June 2019 was cancelled after Sri Lankan protesters hit the streets in Colombo to oppose the signing of the agreements. Washington reacted by imposing sanctions on Sri Lankan army chief Shavendra Silva in February 2020, describing him as war criminal for allegedly committing human rights violations during the civil war against the Liberation Tigers of Tamil Eelam and barring him from visiting the US.
The Lowy Institute, an Australian think tank, said in an analysis that it felt the US decision on Silva had more to do with Washington wanting to pressure Colombo for geopolitical reasons rather than over human rights.
Cooke, of the Bandaranaike Centre, said there should be proper debate and discussion over the agreements before they are signed.
But the anti-US rhetoric on Sri Lanka has waned since the country's parliamentary elections in August. Moreover, the Sri Lankan economy – which suffered during the civil war from 1983 to 2009 and has more recently been affected by the Easter bombings last year and the ongoing Covid-19 pandemic – is desperately in need of outside investments, particularly from the United States.
The Easter bombings, in April 2019, saw 277 people killed and several hundred others wounded in suicide attacks by Islamic terrorists on three Christian churches in Sri Lanka and three luxury hotels in Colombo.
What is interesting right now is that the government is strong," which allows it to either say no to Washington or you are welcome" – indicating its willingness to sign the agreements with the US, said Seneviratne, the political commentator. Moreover, there are no major elections in the country until 2024, giving the Rajapaksa brothers political leverage, he said.
However, Colombo may wait until after the US presidential election next week to see whether it will have to have to negotiate again with yet another new White House administration over the proposed agreements, or to continue on its present course if Donald Trump is re-elected as president.