THE POHOTTUWA GOVERNMENT OF SRI LANKA Part 2 C9e
Posted on January 20th, 2021
KAMALIKA PIERIS
  The military relationship between Sri Lanka and USA is continuing. Sri Lanka Air Force Airmen and Pacific Air Forces Airmen participated in the first virtual and fourth annual Airmen-to-Airmen Talk, known as A2AT, hosted from Joint Base Pearl Harbor-Hickam on December 2020.
The Talk included subject matter experts from each country in logistics, flight safety, risk management, crisis response, cyber security and medical procedures in response to chemical, biological, radiological and nuclear emergencies. The effort is designed to help the Department of Defence work toward a free and open Indo-Pacific region. We've been especially successful, despite the COVID-19 restrictions, in being able to lay a path for our future where we can strengthen the partnership between our two air forces, said US.
Admiral Harris, Head of the US Pacific command spoke at Galle Dialogue 2016 about the US partnership in the Indo-Asia-Pacific with special mention of US special relationship with Colombo. He was pleased to see a growing military-to-military relationship between Sri Lanka and the United States, he said. US looks forward to working with Sri Lanka as a key force for maritime security, he said.
USA's military interest in Sri Lanka has been expressed in a roundabout way, to avoid alarming the public. Sri Lanka occupies a strategic point in the Indian Ocean, said USA. She sits in the middle of one of the busiest and most strategically important sea lanes in the world. The sea lanes in the Indian Ocean are considered among the most strategically important in the world.
More than 80 % of the worlds seaborne trade in oil transits through Indian Ocean choke points, with 40 % passing though straits of Hormuz, 35% through the Strait of Malacca and 8 % through Ban el Mandab strait. These sea lanes are the gateway to the control of resources and market in the near east, Middle East, Africa and Asia, said USA. US wishes to see that the Indian Ocean 'remains' a zone of peace" and that the US military presence in the Indian Ocean will help to keep it so. But this sea route has been in operation for a long time, observed critics, for centuries in fact. It is nothing new. It is now presented as a new discovery by the USA, said critics, sarcastically.
US says the Indian Ocean is a zone of peace today. Of course it is, said critics. The sea lanes are working well except for narcotic smuggling and fishing disputes. It is the US war lobby that is creating a highly exaggerated perception of threat in this zone of peace said critics. Also, it is the unnecessary US presence in this region that is actually creating the threat. US military presence here in the Indian Ocean will by itself ensure that the Indian Ocean ceases to 'remain' a zone of peace, critics said.
US should give up the present 'Indo-Pacific' ,revert to the original 'US-Pacific' model terminating in the Straits of Malacca, and leave the 'Indian Ocean' to the countries in South Asia, concluded critics.
But there are those who see USA as a positive force. America is seen as the steadying force in international relations. We are now facing a situation in which there is uncertainty about America's ability to carry out this role, but the United States will not disappear from Asia altogether, said USA supporters. . U.S. can still do very interesting things in Asia. We don't know yet what those will be, but the US is not dead and gone, they said.
US supporters in Sri Lanka wish to nudge Sri Lanka gently towards USA. Sri Lankans should understand that regardless of the emotional reactions to western imperialism, the country's economy cannot survive without its trading relationship with the United States, said Kusum and Rienzie Wijetilleke. the US already has significant influence over Sri Lanka through its trading relationship with exports averaging USD 2.0 Billion annually, a tariff of a few percent would diminish Sri Lanka's export revenue significantly, they observed.
The question to be asked is not whether Sri Lanka should sign the SOFA and ACSA, but what the government should ask for in return. If certain clauses in the renewal agreement are undesirable, for example those relating to protections and privileges for visiting American troops, these must be negotiated. The notion that US needs to give a grant of USD 500 million via MCC to exert influence on Sri Lanka seems farfetched.
United States remains Sri Lanka's largest export market and has donated US$ 6 million in COVID-19 assistance to Sri Lanka. USA's economy may be failing and China's economy will overtake that of US by 2030, but US natural gas and oil industries will see it become a net energy exporter. US also funds and thus holds considerable sway in many multilateral institutions such as the World Bank, Asian Development Bank and the IMF, they said. Conditional borrowings from institutions such as the IMF may be better for the country's long term financial stability.
In the area of foreign policy, Sri Lanka's decades long and carefully crafted non-aligned and neutral foreign policy, which followed a balance between the competing interests of major powers in the region, including of India, seems to have been jettisoned in favor of a serious pivot towards China. This is unwise and weakens key relationships with our largest trading partner the United States and, of course, our historical and huge sub continental neighbor India, to the detriment of our own national interests, said Harim Pieris.
Sri Lanka has been linked to the US by a multiplicity of neo-colonial binds over the decades. It would be naive on the part of local opinion to think otherwise. Neo-colonialism cannot be wished away said Lynn Ockersz. At this crucial juncture, can Sri Lanka afford anti-Americanism? Sri Lanka has no choice but to follow a conciliatory line with US because it cannot afford to antagonize the US. To express it plainly and bluntly, Sri Lanka has and will be a neo-colony of the West for the foreseeable future. It does not have a choice, added Ockersz.
On January 6th Trump supporters stormed the Capitol in Washington while Congress was getting ready to declare Biden President elect. This has greatly affected the image of US to the dismay of US loyalists and the delight of those who dislike the US.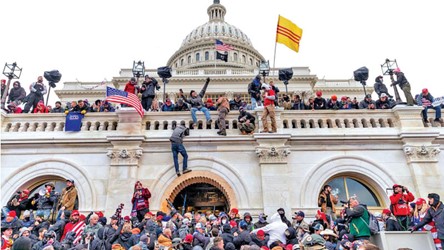 Pro-Trump supporters storming the US Capitol building
On January 6th, hundreds of pro-Trump protesters scaled the west wall of the U.S. Capitol, pushed through barriers, tussled with officers in full riot gear and got into the Senate. One protester sat at the desk of the Head of Senate, another was seated in Speakers office. They ransacked offices, broke or overturned furniture and threw files and papers on the floor.
They had come from all over the country for a rally called by Trump. When interviewed by television the rioters said they had no regret about storming the Capitol. They sounded very proud about it. The next day they went sightseeing in Washington.
Countries such as Britain, France, Germany watched in disbelief at this attack on one of the world's 'model democracies'. Iran hooted in derision. Russia said the United States certainly cannot now impose electoral standards on other countries and claim to be the world's 'beacon of democracy'." They pointed out that US has supported autocratic regimes and armies in other countries. The United States is the world's number one backer of such anti-democratic governments.
The succession problem is not over. They are anticipating trouble at the Inauguration ceremony. It will take place amidst unprecedented security. National Mall in Washington will be closed down. It is usually packed with people for the inauguration. The National Guard will be screened. Some of those involved in storming the Capitol had ties to the military.
Much of Washington resembles a fortified compound in a war zone, with most of the downtown area blocked off; security fences topped by razor wire and about 25,000 National Guard troops deployed to the capital, reported the media. They are also anticipating trouble all over the country on inauguration day. Michigan has barricaded its town hall.
Democratic USA, defender of Free speech, went into repressive action immediately after the Capitol incident. Those who were present were identified, from TV footage and dismissed from their jobs.
A Chicago real estate company dismissed one of its agents who were seen at the site. A teacher at Allentown, Pennsylvania, was suspended. A Texas lawyer was sacked from his company Goosehead Insurance, after social media posts appeared to show him talking about his participation in the event. Saint Vincent College, Pennsylvania, accepted the resignation of adjunct professor Saccone, who has said in a Facebook post that everyone around him was "involved in peaceful, First Amendment assembly."
Some of those who expressed support for the siege are also facing discipline even if they were not physically at the Capitol. The Texas Republican Party removed Walter West, its sergeant-at-arms, from his position after West made comments on Facebook supporting the Capitol siege.
There are also plans for a federal law against 'domestic terrorism' and the criminalization of dissent, which would likely be based on the 2019 Confronting the Threat of Domestic Terrorism Act introduced by California Representative Adam Schiff, said the media.
The media had its own take on this event. The shocking scene at the Capitol was met with less police force than many of the Black Lives Matter protests that rolled across the country in the wake of George Floyd's killing at the hands of Minneapolis police officers last year, observed the media. This contrasts with the massive and intimidating troop presence around the Capitol and other Government buildings during the largely nonviolent protests for Black Americans.
Had the mob consisted of left-wing agitators instead, of black and brown bodies rather than white bodies, the news would be quite different. Had that been the case, the protesters would never have made it inside at all, let alone allowed to remain there for over four hours.
The media focus is on Trump. But this is not about Trump. Trump simply tapped into a deep vein of dissatisfaction which was lying just below the surface in America. There is unemployment, homelessness, frustration and bitterness at certain levels. There were nearly 11 million unemployed in USA said NBC in January 2021. America dismissed 140,000 workers in December 2020 said Economist.
As economic inequality deepens and the middle class disappears, vast segments of people of color as well as whites have become economically desperate and politically alienated from the status quo. The costly military activities, along with the loss of industry, job outsourcing and displacement by technology, impoverished large segments of the US population, both white and people of colour, said Asoka Bandarage.
It is not known what Trump did to improve this, but Trump notched ten million more votes in 2020 than in 2016 and there was an unprecedented Republican turn out at the last Presidential election. His Party also gained more seats in the House and increased its Latino votes.
Asoka Bandarage has issued a warning. She points out that it does not matter who becomes President, in the US, because they are all the same. Republican and Democratic parties both have the same goals, that of big business and world domination.
Under Obama economic inequality increased and Black poverty, mass unemployment and police brutality persisted, she observed. Trump was no better. He introduced massive tax cuts and corporate deregulation. He is a member of the ruling elite representing its own interests. Joe Biden and the Democratic Party, heavily funded by the billionaire class, also represent elite interests at the expense of the general population. Bernie Sanders who had genuine democratic ideas, was blocked from winning the Democratic presidential nomination by the party elite in both 2016 and 2020, continued Bandarage.
Racial activism is not as progressive as it sounds, said Bandarage. Movements like Black Lives Matter have received extensive funding from leading corporation such as Amazon and Microsoft. Such movements take attention away from company profits into a safe zone of identity politics. justice is equated with racial and gender diversity, not economic equality.
During the Covid pandemic the combined wealth of US billionaires 'surpassed $1 trillion in gains since March 2020 and the beginning of the pandemic,' according to a study by the Institute for Policy Studies. The top five US billionaires, Jeff Bezos, Bill Gates, Mark Zuckerberg, Warren Buffett and Larry Ellison , saw their wealth grow by a total of $101.7 billion, or 26%, during this short period.
Systemic violence and repression are not new to the United States. The noble ideals of democracy, freedom and human rights aside, the United States was founded on plunder of the land and exploitation of people, said Bandarage. ( continued)