THE GENERAL ELECTION OF 1956 Part 6
Posted on February 9th, 2021
KAMALIKA PIERIS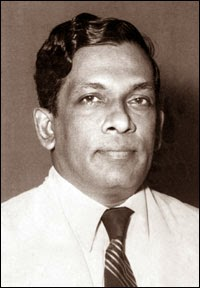 Peduru Hewage William de Silva (1908-1988) was the only son of a wealthy professional family of Batapola, near Ambalangoda. William studied at the Buddhist Mixed School in Batapola, then at St. John's, Panadura, later at Richmond College, Galle, and finally at Ananda College from which he entered Ceylon University College. He had joined the Suriyamal movement when he was a student at University College, Colombo. After one year, disenchanted and bored, he left University College and went abroad for higher studies.
He went to Oxford, then studied law in London and was called to the Bar in 1940. He was President of the Ceylon Students Union.He joined the India League and a Marxist study group with other Ceylonese students in London. He was influenced by Laski and was attracted to Trotskyism. In London William associated closely with Krishna Menon, later Defence Minister of India and Jomo Kenyatta, later Prime Minister of Kenya.
He returned to Ceylon in 1940 and joined the Lanka Sama Samaja Party (LSSP). He was leader of the All-Ceylon Estate Workers Union and Vice-President of the All-Ceylon Congress of Samasamaja Youth Leagues.
He was arrested in 1943, for fomenting strikes, and spent the remaining years of the war in prison. He was held in Bogambara and Badulla Prisons from 1943–45. He funded the break out of the LSSP leaders from prison. During the war when the LSSP was proscribed and the leaders had fled to India, he kept the underground movement going using his wealth. The family estate and graphite mining business which his father had built up brought him the income he needed to engage in full time politics, observed Bandu de Silva.
P.H.William Silva represented Ambalangoda in Parliament from 1947-1960. He won the 1947 election as a member of the Bolshevik Leninist Party of India (BLPI) led by Colvin R de Silva. In 1952 he won as nominee of the merged LSSP and BLPI. William Silva left the LSSP, In 1953 together with a dissenting group and later joined the Viplavakari Lanka Sama Samaja Party (VLSSP) where he was made deputy leader. He won in 1956 on the MEP ticket. He later became Vice-President of the Sri Lanka Freedom Party.
William Silva was appointed Minister of Industries and Fisheries in the 1956 MEP government (1956–59). His name is forgotten today, but it was under William Silva, that the country saw the beginnings of industrialization in Sri Lanka.
There were no local industries when MEP came to power in 1956, everything was imported. The country was importing everything, from a pin, comb, pencil, biscuit to mammoties, water pumps, agriculture and industrial machinery, reported economists.
William Silva decided that in such a situation, the state had to step in and provide a lead in developing industry. He presented a White paper on Industrial policy. Budget 1957-58 included various tax concessions for industry.
He introduced the State Industrial Corporations Act of 1957. .. Corporations were established under State Industrial Corporations Act 1957, as well as special legislation. These corporations were provided with startup capital in form of grants and loans, confirmed economist Saman Kelegama.
He saw the state leading with a few basic industries whilst the rest were left to the private sector.The State with its limited resources had to promote private enterprise in industry by providing the infrastructure, credit and other incentives. We are going to invite people to invest in small scale industries. We are not only going to encourage them, we are going to offer them inducements by way of tax concessions, tariff protection, and so on, said William Silva.
William Silva thought that the state should undertake 'large' industry, such as cement, steel and machinery. He drew up three lists of industries. The first list consisted of items reserved for the state. They included iron and steel, cement, chemicals, fertilizer, salt, mineral sands sugar, power alcohol and rayon.
The second list had industries which were open to both state and private sectors. They included textiles, tyres and tubes, tiles, asbestos products, bicycles, industrial alcohol, acetic acid, sugar, vegetable oil, ceramic ware, glass ware, leather products, plywood, paper, electric bubs, dry cell batteries, accumulators, barbed wire, lumber, agricultural implements, wood working, furniture and cabinetry, and concrete products.
There was a third list of 82 industries ranging from motor car assembly to activated charcoal, reserved exclusively for the private sector. Persons embarking on these industries would receive tax concessions and tariff protection. Meegama observed that this period therefore saw the beginning of a private sector in industry with government encouragement. Industrialists promptly asked the government to stop imports in the goods they are producing.
The first industrial estate was established at Ekala, with a grant from the US, giving facilities for the small industrialist, so that he could avoid the expenses for land, building and provision of water and electricity. Ekala started to operate in 1960.
The main obstacle to the creation of local industry when the country became independent was the lack of credit. World Bank Survey of 1951 reported that the banks operating in Ceylon did not support local industry. Development of private industry was retarded by inadequate facilities for medium and long-term credit, it said.
The Agricultural and Credit Corporation (est. 1943) for the express purpose of Providing such credit had not done so. Those who went there found it impossible to arrange acceptable security. The British and Indian commercial banks present in the country, only lent for short term import export transactions.
Bank of Ceylon did not help either. Mortgages had to be secured by personal assets of borrowers. Bank of Ceylon did not give loans on new enterprises unless the bank officials knew the person. The local moneyed class was also not prepared to invest in industry. William Silva observed that when a local person made money, he preferred to buy an estate and get a quick return.
William Silva needed to find funds for the state industries. World Bank had refused to finance local industry when the earlier government had asked them, so this time William turned to Russia. Russia gave money to start the steel factory at Oruwala, tyre factory at Kelaniya, cement factory at Puttalam and the State Flour Milling factory. A Ceramic Corporation, Leather corporation, Plywood corporation and Caustic soda project were set up by the MEP government later on.
The Mineral Sands Corporation was started by William Silva. William Silva was aware of the value of these mineral sands. It contains titanium oxide, rutile, and zircon, he told Parliament . He was hoping to process them with the limited technical knowledge we possess.
He also took note of the Monazite available. There is monazite washed up by the tide. It is there on the shore. We can collect about a thousand tons for nothing, he said. Having collected it, you separate by magnetic operation, the monazite from the sand. Monazite is radioactive. We will not sell it. We will stockpile pile it, so that we can use it someday in an atomic programme for peaceful purposes said William Silva hopefully.
William Silva set up a National Textiles Corporation and a new spinning and weaving mill at Veyangoda. He encouraged handloom weaving by supplying yarn at a reasonable price. He stopped the import of Indian handlooms to give a boost to the local handloom industry. It was on the foundation laid by him that the industry forged ahead and tens of thousands of rural girls found employment or self employment, said Bandu de Silva.
In 1956, Lakshman Rajapaksa, MP for Hambantota and Deputy Minister for Commerce and Trade set up a cotton processing factory at Mirijjawila near Hambantota to encourage cotton cultivators in Hambantota and Monaragala. During this period cotton was a popular crop in the Eastern part of Hambantota and Monaragala, and cotton was cultivated under rain-fed conditions. This factory functioned satisfactorily and it started processing their home grown cotton. It was set on fire by the JVP in 1971.
William Silva was responsible for the mechanisation of the deep sea fishing industry. This was a far reaching change. Till then deep sea fishing was done in the traditional 35 foot oruwa. This was replaced in 1958, by a locally built 27 ft, three and half ton mechanized boat with a 25 horse power engine, built with Japanese aid. The catch increased, and fish landing doubled in 1964 and trebled in 1969. A cold room was installed at Mutwal.
William Silva he not only gave a boost to the industry but also improved the living conditions of fishermen throughout the island especially by providing them housing, said Bandu de Silva. William Silva also promoted inland fisheries by breeding tilapia and gourami.
William Silva was a close friend and a comrade of Philip Gunawardena. He was a calm personality and a glutton for sustained hard work like Philip, said Meegama. In 1959 the two of them resigned from the MEP Cabinet, due to pressure from other Cabinet members. William Silva, usually mild, was angry and showed it in his resignation speech. He never held cabinet office again .
In 1970, he became the Ceylon High Commissioner to Canada. He was also Chairman of the Press Council, 1974-77. Sri Lanka commemorated the hundredth Birth Anniversary of P.H. William de Silva with the issue of a new Stamp and a First Day Cover in 2008. (continued)