Family of Sri Lankan woman still pressing for disclosure
Posted on May 30th, 2021
By RYUICHI KITANO/ Senior Staff Writer courtesy Asahi Shimbun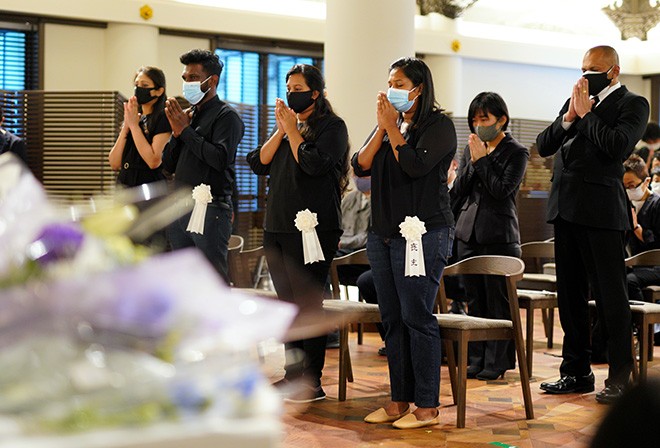 Wayomi Sandamali, right on the front row, and her sister Poornima, to her right, at a gathering to remember their sister, Wishma, at Tsukiji Hongwanji temple in Tokyo on May 29. (Rei Kishitsu)
The sisters of a 33-year-old Sri Lankan woman who died while being held in detention at an immigration facility for overstaying her visa are continuing their campaign for the truth" surrounding her death with renewed calls for the release of surveillance camera footage.
It breaks my heart when I think about my sister who died in pain in Japan, a country that she had loved," said 28-year-old Wayomi Sandamali at a gathering in Tokyo to remember her sister Wishma. About 500 mourners visited Tsukiji Hongwanji temple in Chuo Ward.
I want to know the truth about the circumstances that led to her death," Wayomi told some of the mourners at the temple.
Wishma died at the detention facility in Nagoya in March after experiencing severe nausea and having difficulty walking. She was detained in August 2020 for overstaying her visa.
Wayomi and her sister Poornima, 26, arrived in Japan on May 1. After completing quarantine procedures to guard against novel coronavirus infection, they attended Wishima's funeral in Nagoya on May 16.
They also traveled to Shizuoka Prefecture to attend a memorial service performed May 23 according to Sri Lankan custom at a temple in Fujinomiya.
The women are demanding the release of a video footage of their sister while she was detained, saying that without watching it they cannot tell their grieving mother back in Sri Lanka what really happened to her daughter.
They have decided to extend their stay in Japan for 90 days although they had initially planned to leave at the end of May.
Their previous request for access to video footage was rejected by Justice Minister Yoko Kamikawa for security reasons." The Justice Ministry oversees immigration facilities.
The Immigration Services Agency is working to issue its final report into Wishima's death. The sisters will wait for the report and continue to press for the release of the footage as well as details leading up to her death.
Wishima arrived in Japan as a student in 2017.