Why is NED sponsored Verite Research worried about LTTE dead commemorations?
Posted on November 26th, 2022
Shenali D Waduge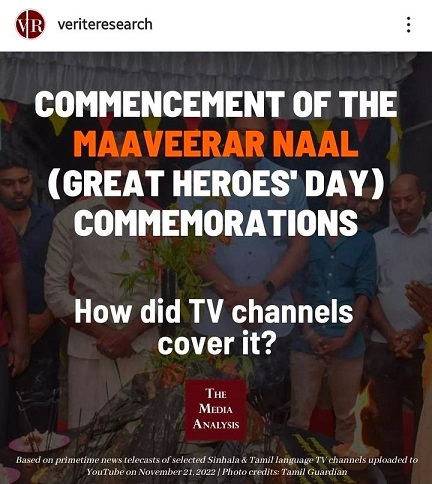 US Congress funded NED-the 2nd CIA of America's Sri Lanka sponsored Verite Research asks how Sri Lanka's media covered LTTE's Maaveerar Naal commemorations. Interesting that US-NED & Verite are bothered to know how terrorists are commemorated. Do they cover commemorations of Al Qaeda & associates? This leads us to ask, who is commemorating whom post-LTTE defeat.
What is this Maaveerar Naal & who is it for?
Maaveerar Naal is an LTTE event that commemorates its dead.
Wigneswaran says Tamil people have a right to commemorate Maaveerar Naal. He is technically incorrect. However, only pro-LTTE Tamils commemorate it, not all Tamils. So we next have to ask how many Tamils commemorate LTTE dead & how many Tamils don't. Who can answer!
Let's get some facts on Maaveerar Naal straightened out first:
It's an LTTE event because:
Maaveerar Naal means Great Heroes Day – the Great Heroes of LTTE not anyone else.
It commenced on 27 November 1989 by LTTE
It was created to commemorate LTTE dead (not dead Tamils)
Mahaveerar Naal or Great Heroes Week commences on 21 November & ends on 27 November – Prabakaran's birthday is on the 26th
The civilian" participants of the Mahaveerar Naal ceremonies are family members of dead LTTE who are called Maaveerar Kudumbangal (Great Hero Families)
The civilians" taking part in overseas commemorations of Mahaveerar Naal are also family members of dead LTTE or supporters of LTTE. Non-LTTE Tamil civilians or non-LTTE other Tamil Groups or their families do not attend these events and neither are they invited.
Non-LTTE Tamil civilians whose sons & daughters were in other Tamil militant groups & were killed by LTTE are forbidden to publicly mourn their dead
Maaveerar Naal ceremonies are in LTTE colors of red & yellow, LTTE flag is hoisted, eelam map is displayed, red & yellow garlands are placed first for Shankar the 1st great LTTE hero (this is what happens annually in state-run Jaffna university where academics don't feel shy to mourn terrorists)
Hype over Mahaveerar Naal war widows" are spouses of dead LTTE terrorists. This term should not be allowed to be used as LTTE is a non-state actor & legally not entitled to use terms political prisoners nor POWs while term war widow only applies to wives of soldiers of a national army not terrorist movements.
Maaveerar Naal does not commemorate Alfred Duraiaappah (Mayor of Jaffna killed by Prabakaran in 1975)
Mahaveerar Naal does not commemorate A Amirthalingam (TULF leader gunned down by LTTE in his own home in 1989)
Mahaveerar Naal does not commemorate Sarojini Yogeswaran (Mayor of Jaffna – LTTE also killed her husband)
Mahaveerar Naal does not commemorate Sam & Kala Thambimuttu
And LTTE does not commemorate Lakshman Kadiragamar gunned down in his own home.
Mahaveerar Naal does not commemorate a single Tamil civilian nor any Tamil politician, academic, public servant, or even child killed by LTTE
Mahaveerar Naal does not even commemorate any of the other Tamil militant members who either died in battle or were killed by LTTE & their families are forbidden from commemorating them or holding commemorations similar to LTTE's Mahaveerar Naal. Thus, these dead Tamil militant group members & leaders cannot be commemorated because they are not LTTE. If in doubt just ask families of PLOTE, EPRLF, EROS, TELO & other Tamil groups.
Every TNA MP, Foreign MP or anyone else attending Mahaveerar Naal commemorations are simply attending a LTTE event to remember dead LTTE – it is their choice to want to mourn terrorist dead but it questions why they are only mourning LTTE terrorist dead. Do you see them attending any mourning for Tamils killed by LTTE? Or meeting families of Tamils slain by LTTE? Even Navi Pillay the former UNHRC Head chose to only meet LTTE representatives and not people killed by LTTE.
LTTE cemeteries were part of the Maaverrar Naal commemorations allocating a tomb for every LTTE dead (noteworthy is that this was an Abrahamic practice & not Hindu)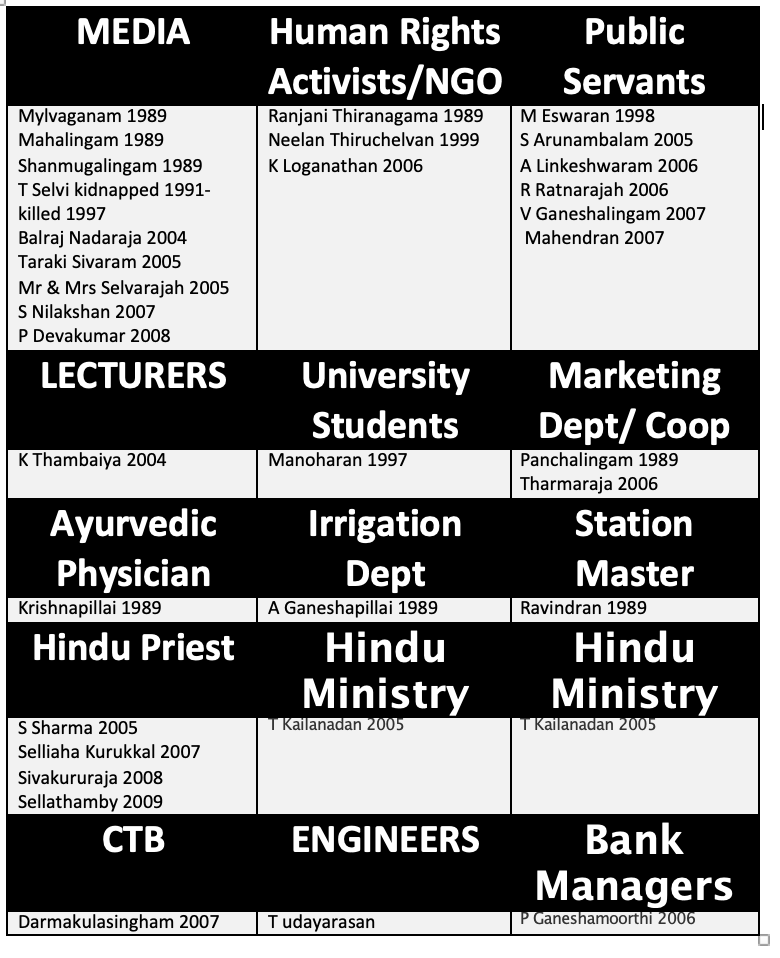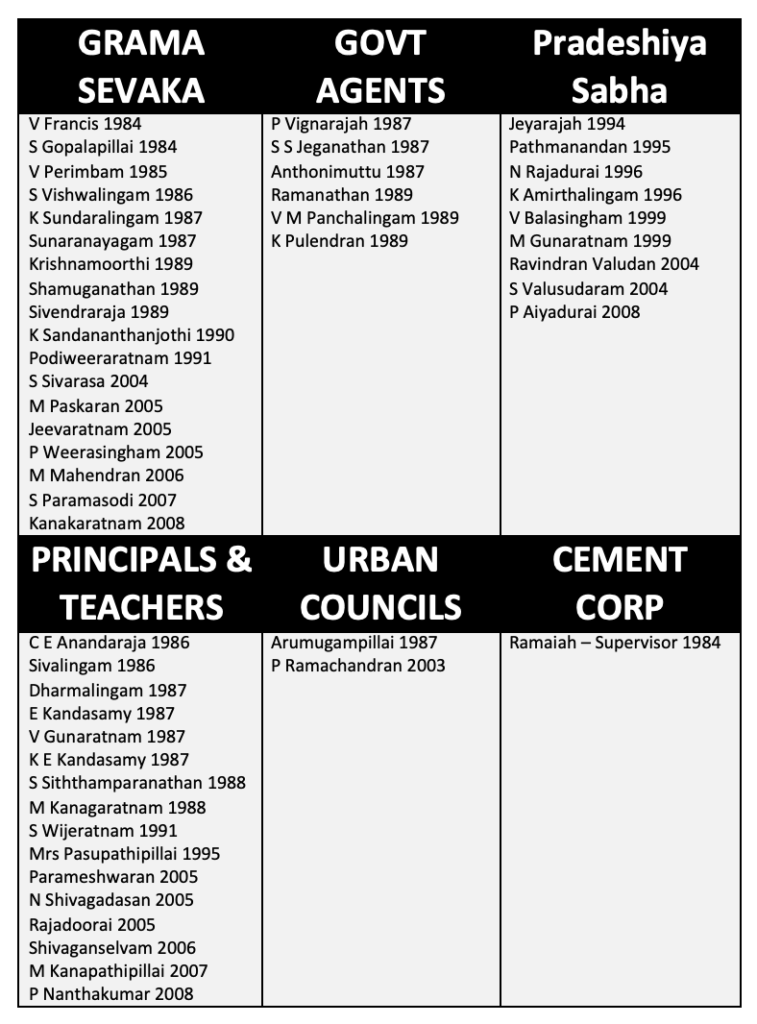 Questions to ask
Mahaveerar Naal is a LTTE commemoration event to mourn dead LTTE by LTTE organizers, LTTE supporters & families of dead LTTE.
Why can't families of Tamils killed by LTTE mourn their dead annually?
Why don't foreign MPs wish to attend these functions?
Why doesn't UN/UNHRC speak a word on Tamils killed by LTTE?
Why are members of the TNA & other Tamil political parties silent on Tamils
killed by LTTE too?
Shenali D Waduge