Carnival of Cultures: The colorful and multicultural side of Berlin
Posted on June 9th, 2023
SRI LANKA ASSOCIATION BERLIN e.V Berlin
Carnival of Cultures is a mega event held every spring in Berlin attracting over 1 Million live spectators and several Millions on TV. Country wise, cultural organisations display their cultural heritage with traditional music and dance following a parade of decorated floats highlighting their cultural themes and mottos.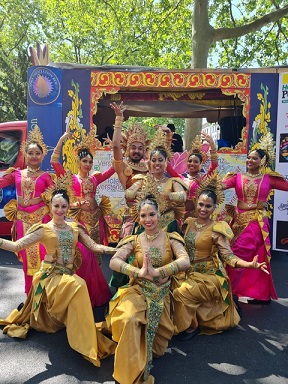 Representing Sri Lanka at this years event on 28th May, The Sri Lanka Association Berlin e.V. presented a pageant led by a Dance Group formed by the association consisting of girls and boys from Sri Lanka living in Berlin and other parts of Germany, a truck decorated in traditional Sri Lankan design, Musicians including drummers followed by members of the Sri Lankan community, Sinhalese, Tamils, Muslims and Burghrs, dressed in traditional Sri lankan costumes or colorful batiks.
With this colourful and impressive formation the association was able to make a great contribution to promote Sri Lankas attractivity as a tourist destination and a international hub for business, social and cultural activities.