President Rajapaksa visits Kandy to take part in religious observances after his nomination
Posted on December 18th, 2009
By Janaka Alahapperuma

President Mahinda Rajapaksa visited Kandy to engage in multi religious activities just after handing over his nominations for the upcoming Presidential election which will be held in January 2010.
President Rajapaksa visited Sri Dalada Maligawa first and paid homage to the most sacred Tooth Relic and received blessings from Maha Sanga. Around 3000 Buddhist monks headed by Asgiri and Malwathu Chief Prelates, gathered at the Magul Maduwa of the Temple of the Tooth and chanted Seth Pirith to bless the President.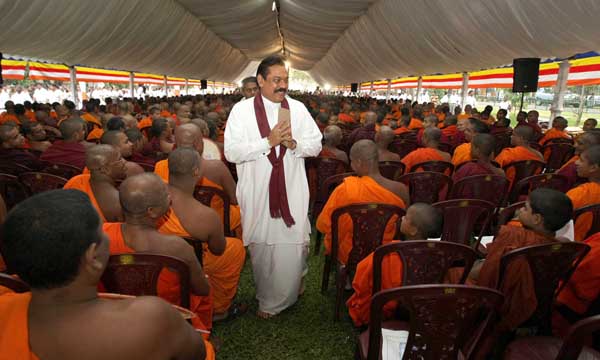 Later he visited Sri Selva Vinayagar Kovil in Kandy and engaged in Hindu religious activities. President Rajapaksa also visited Miram Muslim Mosque in Kandy and coordinator of Muslim religious and cultural affairs to the President Al Haj Moulavi S.Niyas Mohamed joined other Muslim priests to bless the President.
Rev.Dr.Viyani Fernando Bishop of Kandy offered well wishes to the President when he visited the Catholic Church in Kandy. Other Catholic priests in Kandy diocese were joined the occasion.
 President later visited Gatambe Viharaya and Ven.Kappetiyawe Siri Wimala Nayake Thero Viharadhipathi of Gatabe Rajopawanaramaya blessed the President. He also visited chief incumbents of Most Ven. Agga Maha Panditha Udugama Sri Buddha Rakkitha thero of the Asigiri Chapter and Ven.Niyagogoda Vijithasiri Malwathu Anu Nayake Thero of the Malwatta Chapter.
On his way back to Colombo, President visited the Chancellor of the University of Kelaniya and Chief Sanganayaka of Colombo and Chilaw districts, Ven.Dr Welimitiyawe Kusaladhamma Nayake Thero at Peliyagoda Vinayalanakara Pirivena.
President Mahinda Rajapaksa will address his first rally for the election and will start the propaganda campaign from the ancient City of Anuradhapura while major opposition common candidate General Sarath Fonseka visits Kandy to address his inaugural rally there.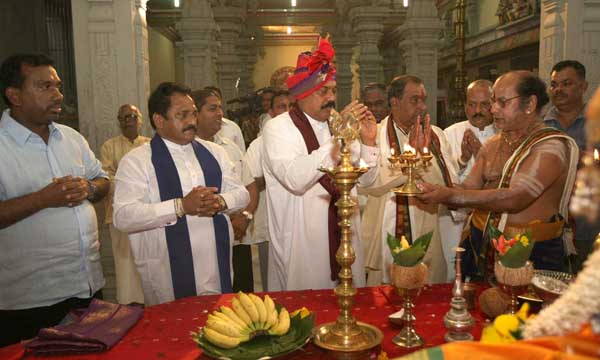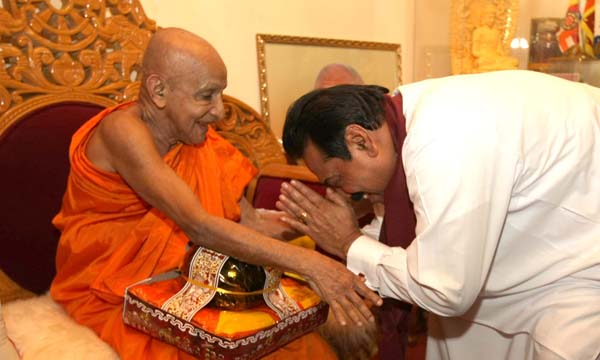 Pix by: Sudath Silva