If it had not been for our President Kalmunai,Samnthurai, and Akkaraipattu would have been another Gaza strip
Posted on November 26th, 2010
news from ministry of youth affairs
While distributing dry rations among the Muslim devotees gathered at the Davia Mansjeed mosque at Matara Minister of youth affairs Hon Dullas Allahpperumma said that if it had not been for his Excellency the president Samanthureyi, Kalmuneyi, Akkarapatthu,would have been soaked by the blood of the Muslims.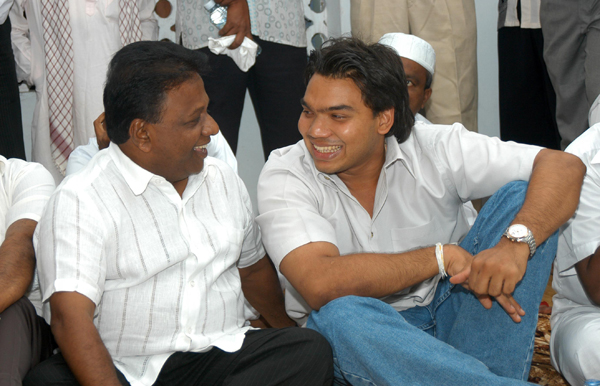 When His Excellency the president was engaged in his elections campaign in the Northern Province, the LTTE threatened his life. In spite of those threats the President met the Muslim brethren in those areas and won their esteem. The Hon minister said that heshudders to think of the Muslim people it were not for the audacity of the president which arerted a devastating latastrophe. He further reminded the Muslim brethren present there of the story of the threat held out to the Muslims to leave their homelands carrying only 20 kilos of goods or face the consequence He further asked those who were present to pat their conscience remembering God Allah, about their experience
Speaking further the hon. minister said that the Sinhala Tamil and Muslim children could join with one another and work in a spirit of brotherhood with one another, during the second term of office of his Excellency,
This meeting was presided over by Moulavi Akram. The minister of Agriculture, Hon Mahinda Yapa Abewardane Mr. Namal Rajapaksha M.P and Mr. Aruna Gunawardane Provincial councillor also attended these functions.