ABERRANT, ANOMALOUS, DUBIOUS BEHAVIOUR OF TAMIL NADU POLITICIANS
Posted on October 3rd, 2012
K. Balanathan
Hon Vai Kopalasamy
Leader of MDMK
AL-Block, New N0 20
4th Cross Street, 11 Main Road
Anna Nagar, Chennai 600040
Tamil Nadu, INDIA
Hon Mr.Vaiko,
ABERRANT, ANOMALOUS, DUBIOUS BEHAVIOUR OF TAMIL NADU POLITICIANS
You have been a respected Law authority, the Leader of MDMK, and a politician. I wish to take this opportunity to write to you, as we SriLankans are unquestionably, undeniably dissatisfied with the performance of Tamil Nadu politicians.
Please take some time to read my letter to you and understand with pure reasoning, and restructure problems to address your grievances at different angles to achieve an admissible result.
Tamil Nadu politicians have taken high degree of uncalled-for actions in the past and are continuing to practice the same order of abstruse actions against SriLanka, for your own political benefit. The educated world may conclude that it is a competitive struggle within the TN politicians for survival and progress for power.
Firstly, I would like to regurgitate my views:
Do Tamil Nadu people an ethnic group OR a race? Historical study directs to conclude that the state of Tamil Nadu does not constitute a race called "ƒ"¹…"Tamil", but SƒÆ'-¾mbhar/ Soup of multi-racial ethnic group. Could it be that the different race is identified through the caste system?
The native Indians outnumbered the invading Aryans, and in order to keep them being swallowed by the natives through intermarriage, the Aryans created the caste system. The natives in order to escape from the Indo-European rule fled southwards who are known to be "Dravidians". The Dravidians moved to South India. (Reference: Ancient Civilizations Almanac Vol I by Judson Knight pp190).
Well, no wonder every fervent, frenzied political party carries the name "Dravida" in their party name. The strange view is that only in Tamil Nadu the political parties carry the name "Dravida". Could anyone give reasons as to why the other South Indian states do not have parties with such name?
You will agree that nomad, Mauryan, Sungas, Kanishka, Gupta, Kushans and several uprising migration into India from Central Asia and other region occurred.
"Kalappirar", (Not Tamils) captured the currently known Chola and Pandiya region during 3-6AD. Their language was Pali. Central and Thondaimandalaum were ruled by Pallavars, who are not Tamils and their language was Prakrit
(Ref: http://www.britannica.com/EBchecked/topic/439993/Pallava-dynasty)
(Reference: http://www.omniglot.com/writing/pallava.htm) Please refer below.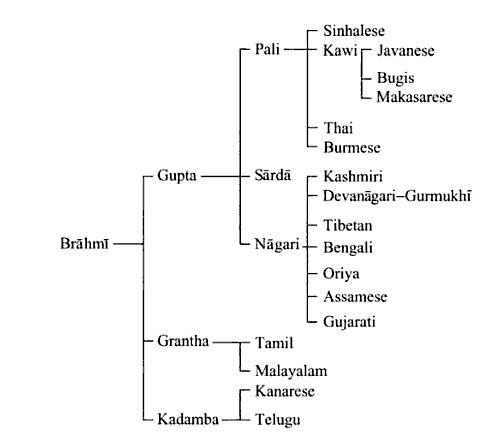 Above reference: http://dakshinatya.blogspot.com.au/2011/05/dravidian-languages-written-in-grantha.html )( Stanford B. Steever, The Dravidian languages, pg. 45, London: Taylor & Francis, 1998 )
To study various invasions and dynasties and races, please refer to site:- http://www.gloriousindia.com/history/kushans.html
If Pallavas, Kalapirars and Persians are not Tamils, then who is occupying today's Tamil Nadu. Wouldn't you agree that a multitude of minorities have integrated with the Tamil Nadu people and are speaking Tamil, colloquial Tamil, Thanglish and bush Tamil. Well, we can observe that more than 90% of the people in Chennai can speak Hindi. There are multitude of races in Madurai, Koyamutthoor, and other places. They speak their mother tongue at home and speak Tamil in public. Some speak Hindi in public.
The true sons of soils are the today's Dalit, untouchables and the lower caste People in India. The Brahmins who wanted a stable life created fictitious fairy-tale stories of illusionary practices to make sure that paid poojas integrated with cultural functions and their presence is required, while kept in isolation as superior caste.
What is the necessity to list people into different caste in TN, may be over 134 castes in TN? You have to list out the benefits. I can only picture an oppressive and discriminatory environment in TN.
Well, the true story is that the upper caste wants to hold onto power through wealth, land and police power, and uphold the lower caste oppressed for slave labor.
If Indian definition of caste system is true, isn't true that the Brahmins are engaged in toilet cleaning in Delhi, Andra and other places. Brahmins are identified as the newest toilet cleaners in India. (Reference: (i) http://churumuri.wordpress.com/2007/05/01/meet-the-brahmins-indias-newest-toilet-cleaners/) (ii) http://www.francoisgautier.com/en/the-dalits-as-brahmins-and-the-brahmins-as-dalits )
I would like to draw your attention on the facts about who Paraiyars are: (Reference: http://www.devendrakulam.org/uploads/Who%20are%20the%20Paraiyars.htm). It is the same Brahmins made the warriors of the Chola dynasty to be a lower caste because they (warriors) did not accept Brahmins as a superior caste. It is not the purpose of this letter to open up research topics, but to refer and correlate the different fictitious unwritten laws made by the unwise Indians.
Now where do we march to? Should Brahmins and anyone who cleans toilets be stamped as todays lowest caste?
I wish to draw your attention on the killing of lower caste students at the Chennai law college. This is the cruelest, merciless, devastating act by foolish Tamil students at the Law College. Please refer http://www.youtube.com/watch?v=abXf_RamTCc&feature=related
I also wish to draw your attention to the killing of dalits in Asam who wanted more pay in the tea plantation sector.
(Reference: http://www.youtube.com/verify_age?next_url=/watch%3Fv%3DSilFqTvtzHc)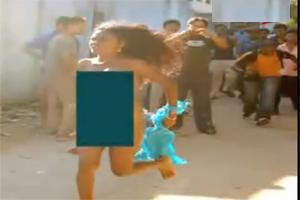 A young dalit girl chased and beaten up in Asam
Viewing the killing of the lower caste students at the Law College is ravaging, vindictive, and vicious and outside the acts of humankind. You and the rest of the Tamil Nadu politicians are shouting for "Human Rights (HR)", but do Indians practice Human Rights. The YouTube clips indicate the absence of HR in India. These are only a few examples. You could view unaccounted number of HR violations in India. It is a surprise that UNHRC turns a blind eye on these issues in India. Could India be marked as the principal country for Human Rights Violation?
As a respected law authority and the leader of a political party, would you continue with a blind eye to this distressing practice?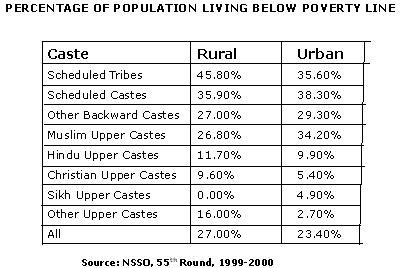 (Ref:http://www.google.com/imgres?q=srilanka+castes&hl=ta&sa=X&biw=1920&bih=896&tbm=isch&prmd=imvns&tbnid=bLoOXNUYo3QViM:&imgrefurl=http://www.excellup.com/classten/ssten/genderreligion.aspx&docid=V_pu_rqe8F1yxM&imgurl=http://www.excellup.com/classten/ssten/sstenimage/ss12.GIF&w=410&h=268&ei=tKllUOCzBKuziQexvIFA&zoom=1&iact=rc&dur=449&sig=102373644610851734693&page=2&tbnh=114&tbnw=174&start=57&ndsp=65&ved=1t:429,r:21,s:57,i:319&tx=119&ty=64)
 The interesting part here is that the scheduled low caste and Dalit are the majority. The elites are the minority in India. However, the minority becomes the rulers through democracy. How is it possible Mr. Vaiko? Even in the case of monarchy, it is the same situation, where one man rules the country. Therefore, democracy is a perverted form of Monarchy in some countries.
As we tour on the streets of Chennai, we could see thousands of people sleeping on the road. The gap between the rich and the poor is quite wide. Every film star (comedians) is eager to enter politics to accumulate wealth. Isn't that true Mr. Vaiko? (May be, we could exclude you on this). However, we read news in media of the bribery and corruption in India.
Tamil Nadu and India in general, has had governance through a dynasty-resembling regime. The reign may have started with poverty and over a time built up their resources (wealth). The degree and percentage of illiteracy within the total populace could be a limitation and a drawback to elect a good administration to govern a large democracy.
TN people give the impression to have their priorities mixed up for the reason that they are perplexed and mystified. An ordinary citizen in Australia, UK or USA is resourceful and multitalented with political, social, Technical and environmental knowledge. However, people in TN lack that knowledge. One obsession is that they are all-around within cinema. It is sickening, sordid, ghastly and nauseating.
Democracy is a set of principles and practices that protect human freedom and institutionalization of freedom. It is to rest upon fundamental principles, not uniform practices. Democratic societies are committed to the values of tolerance, cooperation, and compromise.
It is also a reality that democracy recognizes diversity as an enormous asset, treats these differences in culture, identity, and values as a challenge, which can strengthen and enrich, however, not as a threat.
India proudly boasts that it is the biggest democracy in the world. Do you think Indians truly practice democracy? Do you think that people in India really enjoy all the elements within democracy? If you think, then where do Dalit and lower caste stand within democracy? Do all people have freedom and freedom of the press in TN? What is the itinerary of politicians becoming rich?
TN is freely on a commotion and has protest marches against SriLanka for no reasons. However, they have forgotten that TN itself ill-treats the SriLankan refugees in camps, oppress and discriminate Dalit and low caste people. It is an uncluttered view that the rich and the politicians in TN do not maintain law and order and practice Human Rights. If so, the police will not standstill while students beat Dalit students to death at the law college.
During the recent visit of our President, you travelled all the way to Maharastrira to launch a protest march. Tamils in Tamil Nadu beat every SriLankan who come to TN. People who travel to TN on religious tour are being harassed, threatened and sent back. Do you not find this type of act a low, abasement and indicate miserable, depressed syndrome symptoms. Seeman who has failed in TN politics want to keep himself in the media active only through expressing improper, untrue statements of SL. Are majority of the people in TN illiterates, and cannot think and understand with pure reasoning?
 TN politicians speak of war crimes, human rights violation, discrimination etc. It is our belief that Vellupillai Prabakaran (VP) and his associates and accomplices within and outside LTTE are war criminals. The question is: Can the people who associated with the LTTE in the past, and who operate currently on a different platform with the same goal, construed as war criminals? The speculation was that you were with VP in the jungles of Vanni and along with other LTTE cadres. Below is a photograph. Where does this leave you Mr. Vaiko?
(Ref: http://canarytrap.in/2009/03/02/photos-of-mdmk-leader-vaiko-with-prabhakaran/)
 Tamil Nadu population flows over 70million excluding the rest of India. Tamils in SriLanka, now totals around one million. If Tamils need a separate country, then it is not in SL, South Africa, Malaysia, Singapore, Canada, UK or any other state.
The only socio-economic and technological feasibility is to establish a separate country in India, which is Tamil Nadu, because over 70 million people definitely need a separate country.
Tamils in SL cannot exist even as a separate Provincial Council. We cannot even grow peanut in the North, except a low quantity of agrarian products, which is inadequate to feed the Tamils in Jaffna.
Therefore, strong suggestion is for you to concentrate in establishing a separate country in India. Ie Tamil Nadu. It will be a waste of time and money spending time on matters relating to SL.
Please follow that  "KNOWLEDGE IS POWER" in achieving your separate state in India.
Kind Regards
Yours Faithfully
K. Balanathan