Vesak Concert at UNESCO brings together Asian community
Posted on June 5th, 2013
Permanent Delegation of Sri Lanka to UNESCO Paris
The eve of Vesak was ushered in at UNESCO, with a colourful and vibrant concert of dance, song and music bringing together countries from across the Asian region and also including artistes from Europe, in an expression of unity as the true meaning of Vesak, the message of the Buddha and the relevance of such teachings were highlighted and conveyed.
 Commencing the evening, Sri Lankan dancers performed an exquisite "ƒ"¹…"pooja dance' invoking blessings and ushering in a whole host of dancers, singers, and musicians. Several other Sri Lankan dance items were also presented showcasing the different traditional dance forms found in the country.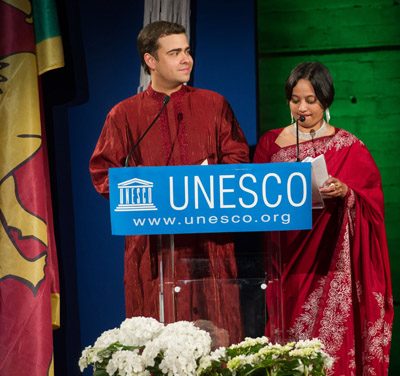 The Permanent Delegations of India, China, Thailand and Indonesia joined the Permanent Delegation of Sri Lanka in making this evening possible with a duo from an Indian Dance School in Paris performing the legendary "ƒ"¹…"bharatha natyam' in two parts, while a Chinese dancer rendered a beautiful historic dance piece. From Thailand, dancers brought to life two dance routines known as "ƒ"¹…"Ram Chern Pra Kwan' and "ƒ"¹…"Ra-bam Ma-Terng Mei Jerng' while Indonesia provided the traditional Balinese "ƒ"¹…"Legong Kraton Lasem-Condong Dance'
 Providing music, a special sitar performance was followed by the singing of traditional Vesak "ƒ"¹…"Bakthi Geetha' and other patriotic songs from Sri Lanka by Sri Lankans and also by a Swiss dental surgeon.
 "ƒ"¹…"Queen of the Screen' and Member of Parliament, the Hon. Malani Fonseka, who was in Paris to attend the many events organized to commemorate Vesak, met with the artistes at the end of the concert and presented them with tokens of appreciation, in the company of the newly appointed Ambassador and Permanent Delegate of Sri Lanka, Prof. Karunaratne Hangawatte.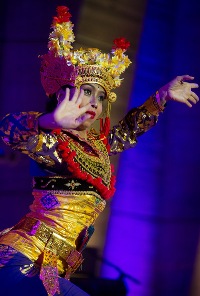 A large gathering of religious leaders, Ambassadors, diplomats, members of the Sri Lankan and other Asian communities in France filled the main hall of UNESCO for an evening of deeper understanding and appreciation of Sri Lankan and Asian artistic expressions.