Travels of a journalist [2013 Series #6] Saga of Bandarawela Bappa: We 'detect' his wife in Diyatalawa
Posted on June 23rd, 2013
By Shelton Gunaratne, author of Village Life in the Forties: Memories of a Lankan Expatriate (Bloomington, IN: iUni
I dramatized the exploits of Bandarawela Bappa or Punchi Thepal Mahattaya in Chapter 5 of my Village Life in the Forties. The memories that I have of him are still those of a "young, handsome man with a somewhat square face sporting a razor-thin mustache." Although he was known for his compassion, as well as his passion for Pathma Nenda, he was unable to restrain his unmitigated hatred of Myna, the new village headman, for floating spurious rumors damaging to our family.
The pugilistic episode at the top of Batawala Kanda, I suppose, enabled Bandarawela Bappa to release some of his pent up tension by severely punishing Myna for his incorrigible penchant for character assassination.
I had lost contact with Bandarawela Bappa after he left Pathegama. I did not know the veracity of the rumor that he had fallen in love with a very attractive Burgher woman he met in Colombo although that affair too did not last long.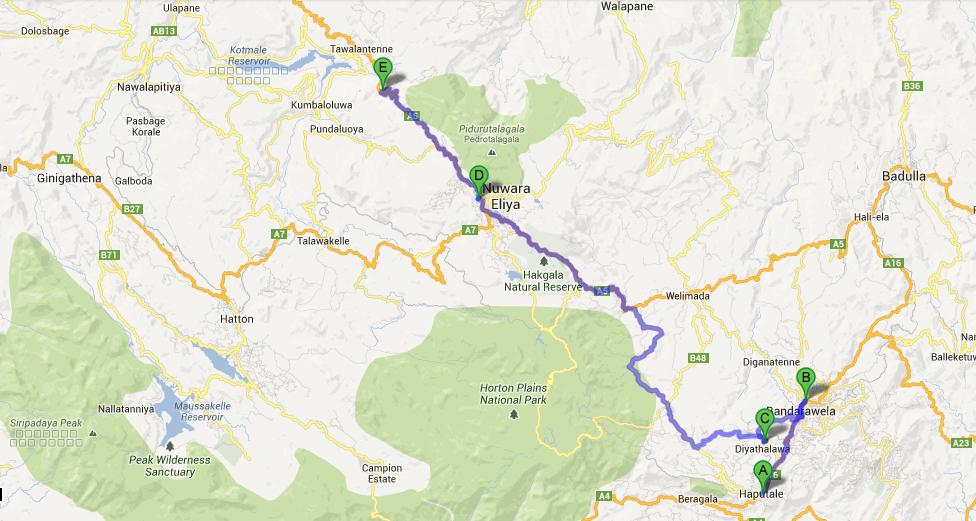 Our route from Haputale (Uva Province) to Ramboda (Central Province)
Thus, even in 2013, I had failed to close the saga of Bandarawela Bappa that I opened up in 1965 when I first wrote the sketches for the Daily News Saturday magazine. Now that I had come to Haputale (pop. 54,989) in the hill country of Uva, just a few miles to the south of Bandarawela Bappa's hometown, should I not make an attempt to find out the truth of what happened and close his saga?
We spent Wednesday (April 3, 2013) night at the Sri Lak View Holiday Inn on Sherwood Road after eating a late dinner comprising chicken, fish, rice and tea that cost us a tidy Rs. 1,200 (about $10). At dinner, we had a long conversation with the hotel manager about the politics and economics of the country. He spoke impeccable English and had a thorough knowledge of the politics of Uva Province. He gave us a hint of his ethnicity when he told us that he went to India to get married.
I tried to tap his knowledge of the Uva to locate Bandarawela Bappa, legally named Nicholas Panditaratne, whose close relative, N. G. P. Panditaratne, was the one-time director general of the Mahaweli Development Authority and chairman of the United National Party in the last quarter of the previous century. The manager, however, was unable to help us.
Thursday morning, we ate breakfast at the hotel enjoying the splendid scenery from the location of the hotel 1,431 meters above the sea level. Surrounded by hills covered with cloud forests and tea plantations, the area offered stunning vistas of a wide variety of flora and fauna.
With the backing of our driver Amal, we decided to spend a couple hours in the morning doing detective work in Bandarawela, just 10 km to the north, trying to find the whereabouts of Bandarawela Bappa's widow even though we had no clue about her first name or area of residence. We walked to the post office and the police station in the city center, but officials denied any knowledge of a widow named Panditaratne.
Since we failed to access even a telephone directory, we decided to contact the Diyatalawa Post Office when a young woman at the Sri Lanka Telecom Building told us that her computer analysis of all the Panditaratnes in the vicinity, the most likely one who fitted our description had a Diyatalawa address. But she couldn't verify it because the phone line was busy for too long.
When the Diyatalawa PO confirmed that a widow by the name of Mallika Panditaratne did indeed live on Station Road very close to the Railway Station, Amal immediately took us off to reach the spot seven miles to the southwest. On the way, he used his cell phone to call the lady to get directions to her enclosed home.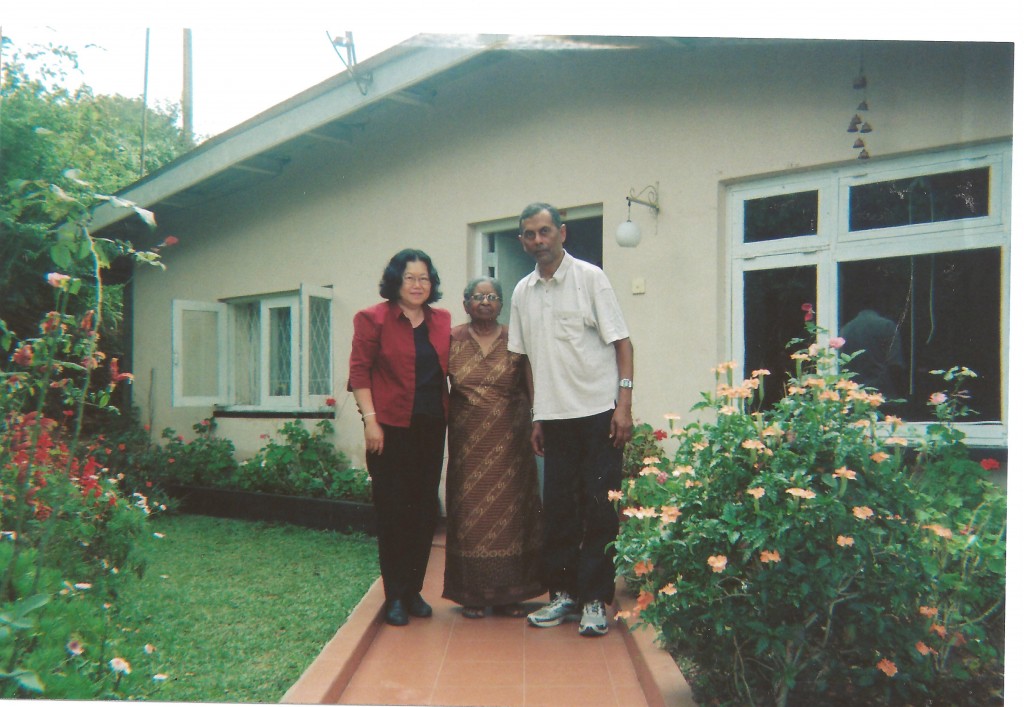 At the entrance to Aunt Mallika's Diyatalawa home: The writer (right) and his spouse (left) flank Bandarawela Bappa's widow.
When we arrived at her address about 11a.m., a young woman opened the gate for us and invited us in. The older lady, Mallika, was waiting for us in the veranda.
Because this was our first encounter, I wanted to be sure that she was the wife of the man who lived with us in Pathegama some six decades ago.
"Yes, I know all about what you have written on him. Nicholas also enjoyed reading your story," she allayed my concerns as we got into conversation over tea prepared by her helpmate who had opened the gate for us. Her helpmate was on the phone most of the morning; and that was why we couldn't contact her earlier.
Aunt Mallika revealed that she once taught English Literature because she was addicted to reading English fiction but that her husband was addicted to smoking, which caused his early death in his mid-60s. She had lived both in the vicinity of Colombo and Diyatalawa. Now, she was permanently in Diyatalawa. She was constantly in touch with her four children. They were doing OK; with one of them working overseas.
"Was it true that Bandarawela Bappa had a fling with a Burgher woman after the postal administration transferred him from Weligama to Colombo?" I asked. "No, he didn't," Aunt Mallika asserted, "unless people presumed me to be a Burgher lady."
Thus, she helped me to end the saga of Bandarawela Bappa.
About noon, we got ready to leave.  In appreciation, I gave Aunt Mallika a copy of my book Village Life in the Forties as a souvenir.
She suggested that we visit some of our other relatives in the area after she telephoned to inform them of our presence. But because we had to be in Kandy for the night, we decided to skip them.
Our lunch stop was Nuwara Eliya (pop. 27,500), located 1,868 meters above sea level in the Central Province. Nicknamed "Little England," the city lies 45 km northwest of Diyatalawa. We drove along the northeastern boundary of the 3,160-hectare Horton Plains National Park renowned for its unique landmark, the World's End with a sheer precipice of 1,050 meters. At the top of the national park is the botanical garden contiguous to the Hakgala Nature Reserve in Seetha Eliya.
At Nuwara Eliya, Yoke-Sim and I ate our lunch while walking on the paths of Victoria Park, which we also visited in 2000. Then, we paid the obligatory visit to the Grand Hotel for afternoon tea that cost us a very reasonable Rs. 440 ($3.50).
It occurred to me that we were enjoying our tea in the shadow of the country's highest peak, Mount Pidurutalagala (2,524 m), located just north-northeast of us in the Pidurutalagala Forest Reserve. The peak itself, declared a high security area, is not open to the public.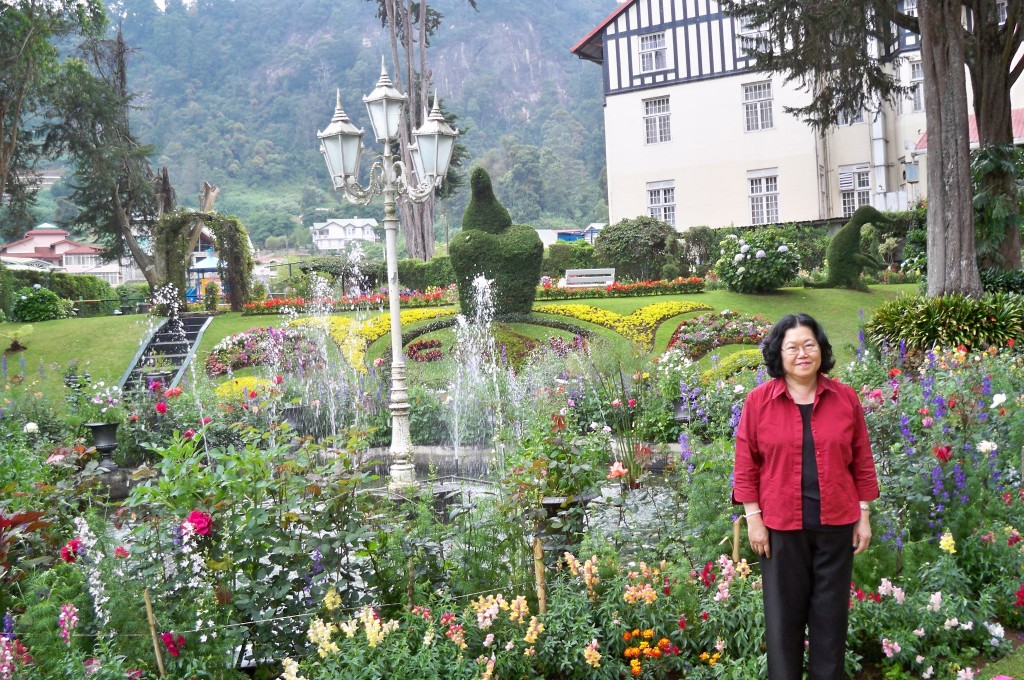 In the shadow of Mount Pidurutalagala:  The enchanting flora in the premises of the Grand Hotel, Nuwara Eliya, entices the writer's spouse.
We saw some of the finest tea plantations in Sri Lanka as we traversed the 22 km stretch of A5 northwest from Nuwara Eliya to Ramboda. The western boundary of the bone-shaped Pidurutalagala Forest Reserve to our right ended when we reached the Blue Field Tea Center in Ramboda. A sari-clad young woman took us on a tour of the factory to show all stages of tea production""'withering, rolling, cutting, heating, drying and sorting.
She told us in simple English how to become a connoisseur of tea and differentiate among black, green, and white teas. Finally, she served us samples of a variety of teas, which we gobbled down to quench our thirst.  Yoke-Sim had no hesitation to purchase an assortment of tea priced at Rs. 2,000 ($ 16).
We planned to stay overnight in Kandy, another 54 km from Ramboda. Because it was still daylight, Amal thought it fit to drop us at a wayside plantation, close to Ramboda Falls, to get a closer look at the tea plant. We took advantage of this time to walk down on a sloping path and return.
By the time we reached Gampola, rain was pouring though it ceased by the time we reached Kandy about 8 p.m.
We wanted to pay a quick visit to the home of Priyani, Loku Maama's younger daughter. Amal received route directions on his cell phone from Priyani to reach her posh home at the far end of a narrow, winding road. We apologized for getting there late, yet engaged in small talk over coffee.
At about 9 p.m., we came to the open food court in the Kandy city center to eat a late dinner before we checked in at Kandy Mount Villa on Rosmond Place to spend the night. We paid Rs. 5,000 ($ 40) for our double room.