Travels of a journalist [2013 Series #7] Kiri Banda offers polos for lunch As we hobnob in Uda Iriyagama
Posted on June 29th, 2013
By Shelton Gunaratne, author of Village Life in the Forties: Memories of a Lankan Expatriate (Bloomington, IN: iUniverse)
We, my spouse and I, were enthused about continuing our "detective" skills for finding our "lost" kith and kin, as evident from our exploits in Matara and Bandarawela. So, when we sat down for breakfast at Kandy Mount Villa Friday (April 5), we were almost certain that we could meet with our old pal, Balasuriya Mudiyanselage Kiri Banda (aka K. B. M. Balasuriya), just by visiting his village unannounced.
Kiri Banda and his wife Chandra, now retired, lived in Uda Iriyagama, just to the north of Peradeniya Junction. Back in 1991, on July 20 to be exact, I had visited their home for a re-union lunch for our closest pals from the undergraduate days at Jayatilaka Hall""'"Gaya" Gunawardena, "Nandasiri" Leelaratne, the late S.G. Tennekoon and the late D. B. Ranatunge (see Ch. 17of Vol. 1: The Journey of a Journalist). But I had only a faint memory of how to get there.
The last Friday of March, two days after my arrival in Sri Lanka this year, I visited Gunawardena at his Talakotuwa Gardens home in Colombo, and Leelaratne at his Dutugemunu Street home in Kohuwala. All three of the living pals who participated in the 1991 re-union lunch failed to turn up at my book-launching event at the Kelaniya University the previous afternoon. I visited them partly to find out the veracity of their excuses based on ill health.
I could not simply skip saying hello to Kiri Banda after spending a night in Kandy (pop. 125, 400), the Home of the Temple of the Tooth Relic. So, we got our driver Amal Chandrakumara to take us back to Peradeniya Junction and head for Uda Iriyagama to search for Dr. Kiri Banda who had retired from a senior academic position at the Institute of Workers Education, University of Colombo.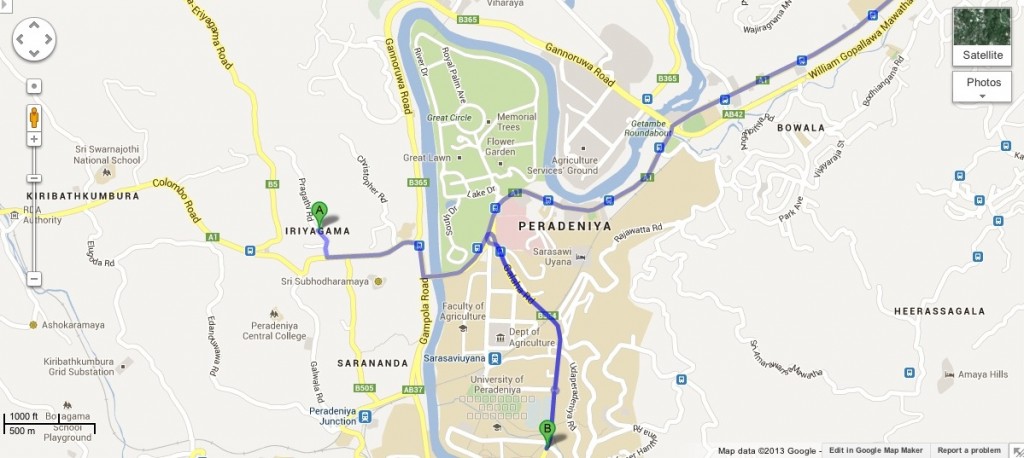 Google map of Iriyagama and Peradeniya
At Jayatilaka Hall, we regarded Kiri Banda as our Mahadenamutta (all-purpose adviser) based on his seniority in age, his coarse voice, and his mature disposition. I could remember how we accompanied him to Davith's canteen in Jayatilaka Hall to receive his profound advice over a hot beverage after a session of "cramming."
Kiri Banda, like me, wanted to improve his economic and intellectual capital by getting a doctorate from an American university. He sought my assistance to acquire the means necessary to come to America. His singular effort paid huge dividends when the University of Pennsylvania offered him financial help to do graduate studies. After getting his doctorate, he taught at university level in Saudi Arabia earning more than enough money to spend a very comfortable life in Sri Lanka.
Kiri Banda was a neighbor of mine on the ground floor of Jayatilaka Hall when we first entered the Peradeniya campus in 1958. My first roommate was the late Wimal Monnankulame. Leelaratne and Abeywardene (now Bhikku Katukurunde Nanananda of Pothugulgala Aranya) occupied the adjoining room. Kiri Banda, Gunawardena, Tennekoon, and Ranatunge were our good neighbors.
Kiri Banda was a few years older than the rest our "gang." His avuncular disposition and coarse voice enabled him to impart a degree of gravity whenever he engaged in conversation. I can recall a particular conversation of our "gang" during our first week on campus.
"So, what do you all plan to study for your degree?" Kiri Banda inquired.
"I will read for a B.A. in economics," I said using British (Oxbridge) parlance.
Monnankulame, who hailed from Uva Paranagama, thought my response was hilarious. That answer plagued me throughout my campus life.
The foregoing anecdote came to my memory as we surveyed Uda Iriyagama searching for Kiri Banda's residence. Amal volunteered to talk to the villagers who directed us to a house on the opposite side of a rice paddy. As we reached the house, I was sure that we had come to the correct spot. An elderly woman who was sweeping the compound confirmed that it was indeed where KB lived, but that the couple had left for shopping in Kandy just a few minutes ago.
The woman invited us in for tea. Then, she contacted the couple on their cell phone to inform them of our arrival. I could not but wonder how communication technology had improved by leaps and bounds to facilitate the location of people even in rural surroundings. The woman told us that the couple had cut short their shopping trip to see us in a jiffy.
While we were waiting, Yoke-Sim and I walked in the yard surrounding the house admiring the bucolic flora and fauna that reminded me of my childhood days in Pathegama. The bare-bodied farmer who was turning the muddy soil of the rice paddy using an ox-drawn wooden plough showed the co-existence of the modern and old technologies.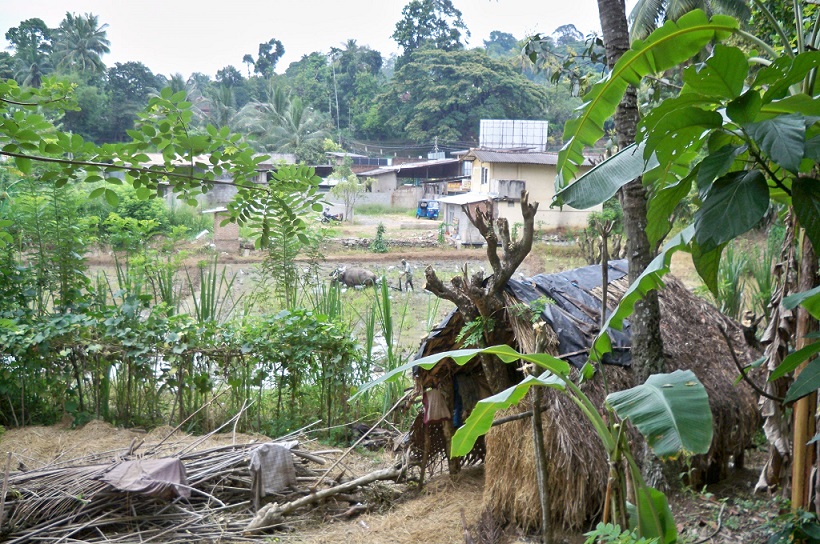 The bucolic splendor of Kiri Banda's habitat. This is a view from the backyard of his home in Uda Iriyagama.[Photo by Yoke-Sim Gunaratne © 2013]
Soon, we saw an automobile entering the compound with Kiri Banda in the driver's seat. The couple welcomed us with hugs, and we talked about my previous visit in 1991 for the unforgettable get-together. Now in his mid-70s, Kiri Banda had somewhat shrunk in physical size and lost the coarseness of his voice. His wife, 10 years younger than he, was now at the helm. Their grown-up kids were doing very well, and they expected one family to visit them in the afternoon for a few days' stay.
They insisted that we wait for a lunch that would include polos curry (made of unripen jackfruit bulbs, which taste like meat). Because I was longing to eat polos for a long time and Yoke-Sim was game to try out any kind of Asian curry, we agreed.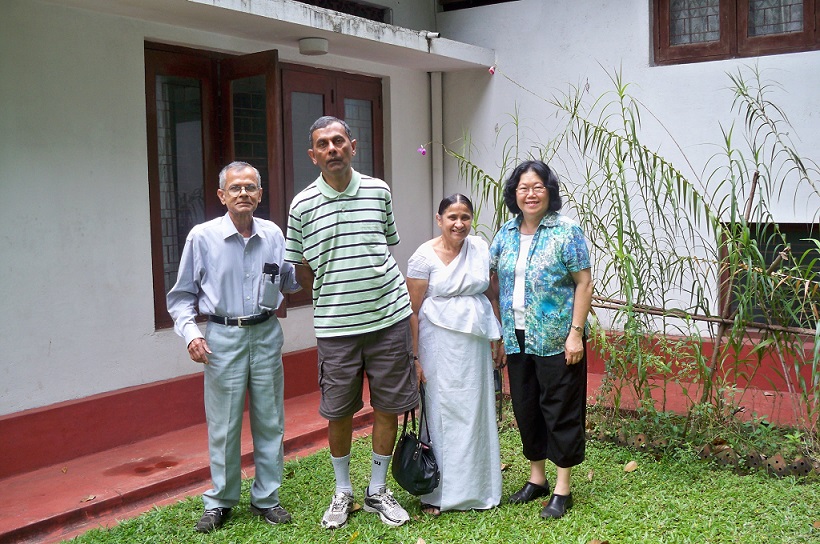 Kiri Banda (left) and his spouse Chandra Dorabawila (third from left) pose with the writer and the writer's wife in front of the house.
[Photo by Amal Chandrakumara © 2013]
It turned out that we were the beneficiaries of a sumptuous lunch originally intended for the visiting family.  Nevertheless, we enjoyed the smashing local dishes.
Early afternoon, we said good-bye to the old couple, who appreciated that we honored them by interrupting our long journey to visit them.
Next, Amal drove us south on Galaha Road to the campus of Peradeniya University. New buildings cluttered the entryway and obstructed our view of Jayatilaka Hall, which we entered through the backdoor. Yoke-Sim and I viewed the room that Monnankulame and I occupied in our freshmen year when I started "to read for a B.A. in economics." We stopped to look at the dining hall, which now had a cafeteria selling a potion of rice for 50 cents. I didn't see a trace of Davith's old canteen where Kiri Banda used to pontificate. With four students sharing each room, the quality of life appeared to have taken a downturn.
Further down Galaha Road, we walked to see the Arts Building, the Library and the Registry Building. We turned sour when the guard at the library entrance insisted that we couldn't visit the library without written clearance from the Registrar.
"Whose money do you use to run this library?" I asked the guard in anger.
The guard was unrelenting. When we went to the Registry, we found that the registrar and his minions were out on their lunch break. After wasting a half-hour or so, we got clearance for a brief visit to the library.
In the library, we met with the deputy registrar on library affairs, who introduced us to the librarian. Both told us that no written permission was necessary to enter the library. I expressed my disappointment that none of the books that I, an alumnus of Peradeniya, had authored was in the library.
Back in Kandy, we did not dilly-dally at any other tourist traps because we had already visited them in the past except for a brief stop in Matale (pop. 40,860) to see the Hindu temple with its theru (chariot) festival. Our destination for the night was Polonnaruwa, about 133 km north and northeast of Kandy.