Death of Dr. Lilaknath Weerasinghe – an outstanding Buddhist Leader of Sri Lanka
Posted on October 13th, 2015
Senaka Weeraratna
Dr Lilaknath Weerasinghe, M.B.B.S., F.R.C.S., F.C.S.S.L.,General Surgeon, Kandy Teaching Hospital and former President of SUCCESS Sri Lanka (Jayagrahanaya) passed away at a private Hospital in Kandy on the evening of October 11, 2015. He was 69 years old at the time of his death.  
He was born on Nov. 18, 1945. His home town was Navimana, Matara and was a member of family of nine children.
He was the President of SUCCESS Sri Lanka which has earned a strong nationwide reputation for regularly conducting several social service activities for low income groups in remote areas of the country.  SUCCESS Sri Lanka has established sister organisations in Colombo, Kurunegala, Ganemulla, Tambuttegama, Nawalapitiya, Medabowala and Moragolla among others.
The name SUCCESS denotes Secretariat for Upliftment and Conservation of Cultural, Educational and Social Standards of Sri Lanka. It is a registered charity organization, registered under section 31(9) a of Act 28 of 1979 gazette as a charity on 7.4.1995.
Dr. Lilaknath Weerasinghe performed a heroic service for the cause of the Buddha Sasana during his lifetime.  He attended several International Buddhist Conferences of the World Fellowship of Buddhists (WFB) in recent years in Bangkok, Yeosu (South Korea) and Baoji (China) as a delegate of SUCCESS and made a vital contribution towards strengthening ties between the Buddhists of Sri Lanka and the larger Buddhist world.
His remains are kept in his private residence at 148 / 94, Kandy View Gardens, Mahanuwara.
The funeral will be held on Wednesday, October 14, 2015. Cremation of the remains will be at 4.00 p.m. at the Mahaiyawa Cemetery, Kandy.
He leaves behind his wife and two daughters (both medical doctors currently in UK).
May he attain the supreme bliss of Nibbana.
Senaka Weeraratna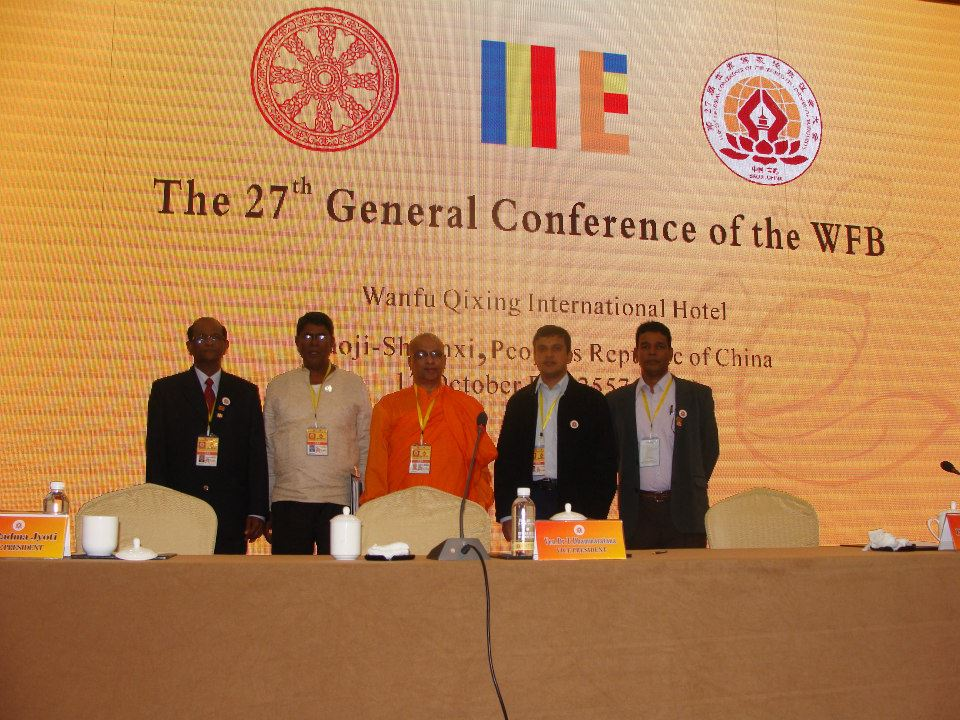 Left to Right 
Sena Dumbarange, Dr. Lilaknath Weerasinghe, Ven. Medagama Dhammananda Thera, 
Dr. Saman Nanayakkara and Dr. Jeewaka Bandara of the SUCCESS Sri Lanka ( Mahanuwara chapter) at the 
World Fellowship of Buddhists Conference held in Baoji, China in October 2014.