UN-Accountable: Ban Ki Moon you have no time to see a Single Sinhalese victim of LTTE terrorism who are 74% of Sri Lanka's population
Posted on September 2nd, 2016
Shenali D Waduge
Ban Ki Moon, Secretary General of the United Nations arrived in Sri Lanka in May 2009. He did not have time to see a Sinhalese or Muslim victim of LTTE terror. Ban Ki Moon, Secretary General of the United Nations has arrived again in September 2016. He still does not have time or desire to see a single Sinhalese or even Muslim victim of LTTE terror. Ban ki Moon has conveniently omitted from his itinerary the need to visit the real victims but he has enough time to see political parties linked to LTTE terror, enough time to visit and speak to LTTE linked people, enough time to visit only the North disillusioned into thinking terror struck only in the North of Sri Lanka. This is the Secretary General of the UN preaching equality, justice and accountability. Ban Ki Moon do you have no feelings for the people LTTE killed? Are they not Victims? Do they not deserve a visit from you?
Is it because these victims of LTTE terror are Sinhalese and not Tamil that you will not see them and give them the same sympathy and empathy you and your organization are giving even to LTTE families and LTTE cadres who stole our freedom and our peace. Everywhere that terror is striking now and the screams of fear by people of the West was experienced by us every day, every week, every month, every year for 30 years. Why have you and your organization forgotten this?
WHERE WAS YOUR ORGANIZATION WHEN LTTE WAS KILLING INNOCENT PEOPLE THROUGHOUT 30 YEARS?
WHAT IS THE ACCOUNTABILITY YOUR ORGANIZATION WILL HOLD AGAINST LTTE AND LTTE SUPPORTERS?
WHEN WILL JUSTICE BE DELIVERED FOR LTTE WAR CRIMES?
Ban Ki Moon you have no time for thousands of people killed by LTTE in border villages. These innocent people had their bodies cut open, throats slashed and heads dismembered.

Ban Ki Moon have you any idea of the number of buses carrying innocent civilians, the LTTE has bombed or do you not care?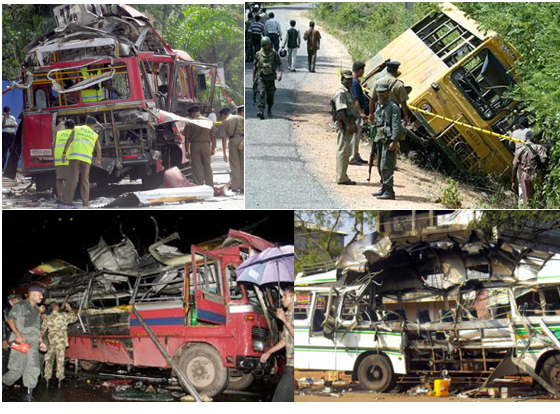 Ban Ki Moon do you have any idea of the sorrow of these families to have heard that their children/parents/husbands/wives are no more. This was no war zone. These civilians were going about their daily chores. What harm have they done to LTTE. Please note the 'civilians' your organization are showering empathy towards were either part of LTTE civilian army or were taking part in some kind of hostilities and some of these 'civilians' are from LTTE families.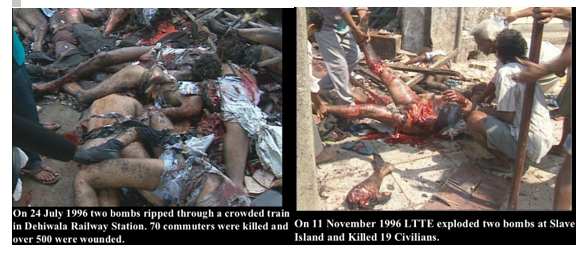 Ban Ki Moon your favourite terrorist organization even struck the national carrier of Sri Lanka and killed an entire British family and scores of other foreigners as well.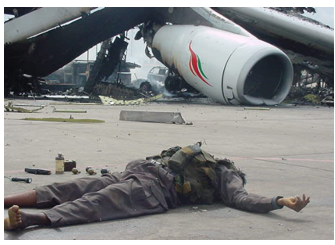 Ban Ki Moon is it a waste of your time to be reminded of LTTE's attacks on commercial buildings specifically targeting innocent civilians and killing them. You have come twice to Sri Lanka, you cared not once to give even a minute of your time to speak to some of these victims of LTTE terror who are still dressing their wounds, some are still blind, some cannot work, some paid a paltry compensation that is not even enough to pay for their medical bills….. are these not civilians?
Mr. Moon is the UN terminology for civilians restricted to Tamil civilians only?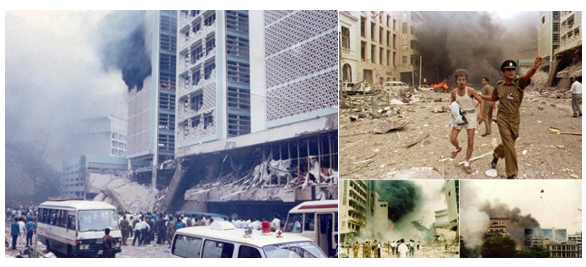 Ban Ki Moon, you may be an evangelical Christian, the UNO may be pro-Christian but you or your organization have no right to ignore and turn a blind eye to the calculated and systematic historical quest to destroy the place of Buddhism in Sri Lanka.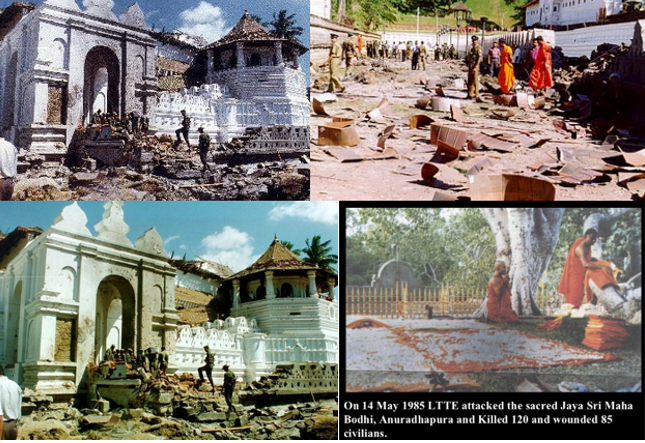 Ban Ki Moon have you ever called for accountability for these crimes? These are student Buddhist monks who were waylaid by LTTE and killed by cutting them to pieces one after another. Do these deaths not mean anything to you or your organization?

Ban Ki Moon you have time to meet LTTE linked people but you cannot spare a minute for the families of the missing 5000 soldiers. Your organizations has not issued one statement on them despite their families logging their details with the UNHRC. LTTE cadres are not POWs, their wives are not war widows, LTTE are not entitled to any of the privileges of a POW, legal status quos are being violated by your office and by your officials and even by NGOs paid by foreign governments. LTTE cadres are not soldiers. What right do they have for compensation. Who asked them to take guns, it is those who trained and armed them who should look after the dead LTTE cadres and their families not the Sri Lankan tax payers. Our families are without at least one member or we have suffered some sort of terror because of the LTTE – we are against paying any compensation to any LTTE cadre. Anyone wanting to do so are welcome to from their own private funds!
Ban Ki Moon have you been sent to carve out a piece of our island to these murderers and barbarians who remain banned in 32 nations? Is this their gift by you and others for their support to create a base in Sri Lanka for Western Agendas? Is this why you, your organization and the West does nothing to investigate the entities linked to LTTE who are lobbying you and your officials freely and openly without no shame.
Lest you and your organization have forgotten LTTE ran a virtual de facto state. LTTE had its own police, its own courts, its own currency, its own planes, boats/ships and it HAS a thriving international criminal syndicate that involves human smuggling, boat people smuggling, prostitute supplying, credit card scams, money laundering, hawala system, gold smuggling from which they bought arms and ammunition but with the ground force eliminated LTTE foreign networks must be having more money to throw around which explains the scores of white 'rights' activists coming forward to cry crocodile tears for LTTE and we can bet our last dollar that these individuals will soon be manning the OMP desks of course the UN would smear them with decorative names and honors! See the appalling levels Sooka has stooped to! Even the former UNHRC head has confirmed the conflict of interest claims – after leaving UNHRC one of the her first jaunts as chief guest was to an LTTE front event!
So all tracks are covered to ensure LTTE surviving cadres are protected and packaged as 'witnesses' or 'victims' while the soldiers who sacrificed their lives and limbs to rid the nation of the scrooge of terror will be hauled to the stands and without the right to defend himself he will have the gavel come down and declared war criminal and put to prison… then decades later just like what happened to Slobadan Milosevic he will be declared not guilty of war crimes but it would be too late… Milosevic died, his wife and children were left without a husband and father and no one even remembers to shame the UN for what they did…. This is going to happen to our soldiers and it is a crying shame that there are people like you, your organization and countless others who would stoop so low. What has happened to humanity …the lies the UN and UNHRC has been party to are unimagineable. There is no place in hell to put these traitors to the world and peace.
Ban Ki Moon do you or your organization know who exactly died in the last stages? Can you categorize them as and give a number to these. It is only if and when you can give numbers that you can claim civilians were killed.
What if children who were child soldiers died engaged in hostilities with the army –it is not a war crime.
What if civilians who had been given training in armed combat died engaged in hostilities with the army –it is not a war crime.
What if LTTE cadres in civilian clothing engaged in hostilities with the army died in combat – it is not a war crime.
So can you, Mr. Moon tell us when 300,000 people were saved as well as 12.000 LTTE cadres in civilian clothing surrendered including 545 child soldiers, who exactly do you claim as 'civilians' were killed during the last phase when you and none of those making accusations can give 100 names of the supposed dead. On what grounds are you demanding a war crimes tribunal?
Ban Ki Moon please tell us how many during the last phase of the conflict were:
Belong to the Sri Lankan Army
Civilians (who were not involved in any type of hostilities either by force or voluntary)
Civilians who were part of LTTE's armed brigade
LTTE cadres who fought as civilians
Children who were children
Children who were child soldiers
We think we are not wrong in guessing that you and your organization have egg on your faces and so the office of missing persons will do its utmost to turn the lie into a truth through bizarre tweakings of the law that would allow any tiger to come forward as 'witness' accuse a soldier of a crime, deny being cross examined so the lie remains a lie and then storm the military establishments to demand confidential documents and none of these weird and crazy laws can be even questioned even through a right of information act which denies the public right of information! To secure status quo further the OMP bill gives provision for foreign aid and foreign officials to man the office thus further denying justice so that none of the lies and fabrications can be leaked. This is appalling conduct for the UN and UNHRC.
Is this the democracy, good governance and CHANGE that the people were promised. People have been gagged and denied freedoms and the nation is told they are having the best of democracy. Libya is now realizing life was better under the 'dictator' the West killed and Libyans were promised liberation! Iraqi's are also realizing life was far better when 'dictator' Saddam was around and the Iraqi's were promised democracy and freedoms. Syrians at least are standing by their 'dictator' Assad.
Ban Ki Moon for just one incident (9/11) the UN immediate took action against Al Qaeda, with LTTE committing over 300 acts of suicide terror alone why did the UN not take action?
You come to Sri Lanka, you can shake hands and meet government officials who will provide VVIP treatment but the majority of Sinhalese have only contempt, anger and disappointment at the biased and double standards seen by your conduct.
You can meet TNA the party that the LTTE formed, you can meet TNA officials who are now openly canvassing for the same demands LTTE made and you have all the time to meet them as well as LTTE families and LTTE sympathizers but you have no time to meet a single Sinhalese or even a Muslim family who had been victims of LTTE terror. May we remind you that Sinhalese comprise 74% of the country's population and a good look at the living conditions of the minorities should make you wonder how they can thrive and be rich when 7 out of 10 people are Sinhalese!
We are very disappointed by the conduct of the UN Secretary General…. and probably we can all guess the type of joint statement likely to come at the end of the visit which will be another nail in the coffin of the sovereignty of this country.
Shenali D Waduge