Dr. Ajith Perera – Unsung Hero Crowned at Sri Lankan of the year 2016
Posted on November 13th, 2016
The country's most influential opinion leaders were amongst the VIP guests of a very distinguished gathering at the 'Sri Lankan of the Year' awards ceremony held recently at the Hilton Hotel.
It was an event of international standard and an initiative of Ada Derana, a premium news and entertainment media network of Sri Lanka.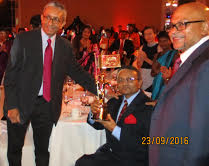 This award I dedicate as a tribute to the ABILITY within the disability of all." – Dr. Ajith C. S. Perera, when presented with this APEX award by Mr. Nalaka Gunawardena (left) and Mr. Dayan Gomes (right).
It had been designed as an exhaustive, rigorous and credible platform to recognise and honour individuals and groups whose dedication, commitment efforts and achievements in their chosen fields have far reaching influence on the country, positively impacting the local community and helping to profile Sri Lanka among the international community.
Winners were nominated across multiple categories as Sports, Unsung Hero, Global Entertainer, Entertainer, Global Scientist, Entrepreneur, and Global Businessman.
History making occasion
What was most significant to note here was that it was the first time ever in this country, inspite of over 20% of the population experiencing restricted ability, that a person with a dis-Ability and confined to a wheelchair was befittingly recognised for his 'Ability within dis-Ability' and appreciated for his outstanding achievements and significant voluntary contributions to this country and its people.
Dr. Ajith C. S. Perera was adjudged the unanimous undisputed winner as 'The Unsung Hero' and the award presented to a standing ovation.
It was mentioned here that: It was an honour received by Dr. Perera not in any way on sympathy but purely on merit and earned with unreserved commitment to the promotion of accessibility to the built environment and thereby to the enhancement of the quality of everyday life of all persons with the widest possible range of abilities".
Dr. Perera playing eight different roles over 17 consecutive years in a voluntary mission of national importance, is the pioneer fighter to open the road to rights for all by design.