Bungling of Vesak
Posted on April 28th, 2018
C.B. PUNCHIBANDARA
Most of us were under the impression that the politicians who rush to the Mahanayakas on the slightest provocation, would have consulted them before declaring Vesak in April. But apropos your headline on April 24, even they have been taken unaware. I am more than eighty years old and cannot recall Vesak in April. As the Mahanayaka had mentioned, Poya on 29th April could have been an Adhi Bak Poya.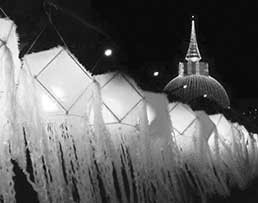 Sinhala New Year and Vesak are the two key celebrations for the Buddhists in the island. While the first is a national event the latter is religious. Even the poorest of the poor celebrate both as best one could. Immediately after spending for new clothes, sweet meats, and visits for the New Year, two weeks later Vesak comes, which again is a drain on the hambiliya (wallet) of the poor.
Now adding insult to injury, Buddhists are advised not to have Vesak pandals on the Vesak Day. The reason as given by the government been that the Vesak poya be devoted for religious activities. Buddhism being a very liberal religion one cannot be forced to be religious. At least if the politicians could set an example, the country would have achieved something .The only minister whom I recall observed sil on the poya day was late Mr.D.S.Gunasekera the MP for Habraduwa and was known as the Minister who observes sil.
So now we have Vesak in April. May Day on 7th May and Poson in June. I am wondering when it will be Christmas. Villagers say this is Kaliyugaya when anything can happen.