GALLE MARINA
Posted on August 24th, 2018
Dr Sarath Obeysekera
Will such comments below open the eyes of Government ?
Galle: Updates from Cruisers
https://www.noonsite.com/Countries/SriLanka/galle-what-we-wish-we-d-known-before-arrival
By Sue Richards — last modified May 30, 2018 01:20 PM
This report began with the experiences of two cruisers who visited Galle in spring 2013. We have since had subsequent comments from cruisers visiting Galle (see bottom of page) and more recent submissions that appear at the top of the report.
Published: 2018-05-02 00:00:00
Countries: Sri Lanka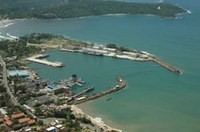 Galle Harbour ©priu.gov.lk
Posted 2 May, 2018 – from Daryl of SY Vimy
I moored as required by the Sri Lankan Navy in the Navy Port. The water was extremely foul with plastic rubbish. That said, the area assigned for yachts is very protected from adverse winds. As it's a naval port, security is tight. We had enough peace of mind to leave Vimy for a nine day tour of this most beautiful country. The old walled city of Galle is just a fifteen minute Tuc-Tuc ride. Galle is wonderful. Don't miss it.
An agent is required when entering Port Galle Sri Lanka. I used Windsor Reef (February 2018).  Windsor Reef was excellent. In addition to dealing with the formalities quickly, they delivered Fuel and Water. I also had engine issues and they got a mechanic on board quickly.  I would most definitely recommend their services.
Posted 15 May, 2017
Galle and Mirissa
ARRIVING
If arriving at night, anchor under Watering Point. Easy – the Peace Pagoda is lit up at night.  Go past it and anchor in 10 metres in hard sand.  Please note that when talking to the Port Captain he will refer to this anchorage as Jungle Beach.
Anchor off the harbour entrance making contact with the Port Captain on CH16. There is a prominent rock towards the main town – about one third of the way from this towards the harbour entrance is a good place to anchor.
You are now waiting for the navy to come aboard (10 minutes to two hours). Use this time to readjust your mindset. Of 60 countries I have visited, this is by far the most bureaucratic. Have fenders ready. The navy will arrive in a large fibreglass launch. Two crew (will stay) on the launch, three navy people will come onto your boat. They will all wear black shoes with heavy black rubber soles. They will write details of vessel and passports in a ledger.
Please remember that the harbour is a secure area patrolled by armed navy personal and myriads of security guards in brown uniforms.
DOCKING
Entering the harbour there is a rusty port hand buoy beside some disused lego pontoons. Inside you have four choices. (Do not expect the navy to help).
The wall on your port hand (N) has a *scend (*the push or surge created by a wave) which can become untenable.
The wall directly ahead (E) is better, but you want to be in the corner off your starboard bow if there is space.
The wall immediately to starboard (W – facing the main harbour) has a scend and because it is higher your lines will chafe.
The remaining wall (S) with a Med moor is the best choice, however much you may dislike setting up a Med moor. You will be across the wind so make sure that you (and your neighbours) have plenty of chain out.
You agents representatives should be waiting for you to help with lines (notified of your arrival by the Port Captain). Hopefully the navy will now leave. Customs, health and immigration will take it in turns to come aboard. All four authorities will ask for considerations".
AGENTS
Everybody complained about their agent, except (about) Upali at Isle Shipping.
Isle Shipping – Upali
Upali's 'phone number: +94 77 373 0461
E-mail: ops@isleship.com
He replied to e-mails quickly, seven days a week, and sourced all sorts of difficult to find help. One boat arrived to be told that their agent had been struck off. Upali has been recommended by many boats.
Remember that your agent organises everything. Water, fuel, permits for contractors to enter the harbour, electricity connection (the electrical boxes are locked – but expect to wait for two days for four people to arrive to put in your plug – one to put the plug in, one to photograph the meter, two to supervise). My radar people arrived with their permits and were kept waiting at the harbour gates for two hours.
But the good news is that once you get out of the harbour gates and away from the officials, you are going to meet some of the most friendly people in the world.
Whilst people have great difficulty getting in and out of Galle harbour, dogs do not.  There are lots of feral dogs.  Watch where you step and get used to barking and fighting through the night.
MIRISSA AND BEYOND
Upali had got me permission to go to Mirissa, which I did as soon as I had cleared in. Another boat arrived, also with permission to go to Mirissa. Customs said that the permission had been rescinded. No explanation given.
There are a few rickety pontoons in the outer harbour in Mirissa owned by a catamaran charter company called Sail Lanka. And they are rickety, but the catamaran crews are great people and very helpful. And they will look after your boat. But when I went on a land tour I put the boat into a cat's cradle so it was facing into the wakes of the many passing boats. The fishing fleet (hundreds of them) goes out in the early evening returning around 0600. The whale watching boats start going out about 0800 (making the biggest wakes) returning in the late morning. Being beam onto these wakes is uncomfortable and requires good fendering.
There are very few anchorages around the coast apart from Watering point, which most people go back to when leaving to clean the bottom of their boat. (You cannot clean it in the harbour and diving anywhere in the harbour area is forbidden).
Not that the lack of anchorages is important as you are unlikely to get permission to go to any. If you do manage to get permission you cannot go ashore. If any officials see you with a dinghy over the side you will be arrested.
JOSEPH
Joseph is a very personable local operator". He has managed to get a pass to come into the harbour to canvas for trade – tuk tuk fares, land travel, long distance taxi fares, laundry. Only use him for laundry (he lives around the corner and his wife does it). When your laundry comes back you have to meet him outside the harbour gate as he is not allowed to bring it to your boat. Everything else he provided was either expensive or poorly organised.
DUST AND DIRTY WATER
Most of the ships in Galle harbour are bringing in raw material for the cement factory which is close by. So whatever direction the wind is blowing you will be covered in dust.
The amount of rubbish floating in the harbour depends on wind direction. It can be none or filthy.
SHOPPING AND IN AND OUT OF THE HARBOUR
Out of the harbour entrance, turn left at the main road and ten minutes walk on your right is Aprico.Otherwise go to town in a tuk tuk for 200 SLRupees.
Expect your shopping to be inspected on your return. If you are bringing in too much, expect both security and customs to be unhelpful". So shop in small doses.
Your own pass (all four pages of it) will be examined minutely every time you go out or come in. Sometimes by several guards.
SUMMARY
The most important thing is to get the right agent.
Only your agent can deal with the multiple layers of officials, any one of whom can bring life to a standstill.Everyone was delighted with Upali at Isle Shipping.
Given that you cannot cruise in this country, is it not better to leave your boat somewhere civilised?
Anthony
sv Wild Fox
www.blog.mailasail.com/wildfox
Dr Sarath Obeysekera