ERASING THE EELAM VICTORY Part 19C
Posted on September 15th, 2021
KAMALIKA PIERIS
REVISED 18.9.21
The Tamil Separatist Movement was not crushed by the Eelam defeat. They knew it was going to happen and were ready for it. The Movement created two new organizations after the war ended, 'Transitional government of Tamil Eelam'(TGTE) and the 'Global TamilForum' (GTF). TNA is the local representative in these two groups.
Transitional government of Tamil Eelam
A Transitional government of Tamil Eelam (TGTE) was set up May 2010 in the US. It is a government in exile set up by the Sri Lankan Tamil Diaspora who wish to establish Tamil Eelam. TGTE said that that like the Jews, the Tamil community was a transnational population, no longer confined to a single nation. A community like that needs a transnational government. Therefore, a government in exile was be set up. However, analysts said that the world will not take the TGTE seriously.
The advisory committee of the TGTE recommended that aTransnational Constituent Assembly of Tamil Eelam be formed consisting of 135 members. Of these, 115 would be elected and the remaining 20 shall consist of delegates selected by the elected assembly to represent regions where elections aren't feasible.
The distribution of the 115 elected representatives is: Australia 10, Benelux 3, Canada 25, Denmark 3, Finland 1, France 10, Germany 10, Ireland 1, Italy 3, New Zealand 2, Norway 3, South Africa 3, Sweden 1, Switzerland 10, UK 20 and USA 10.
The distribution of the 20 appointed delegates is: Caribbean & South America 1, India 5, Malaysia 3, Mauritius 1, Middle East 2, Oceania 1, Rest of Africa 1, Rest of Asia 1, Rest of Europe 1, Singapore 2 and South Africa 2.
Elections were held in May 2010. Working groups were established in countries with significant Diaspora communities to organize elections. The inaugural assembly met between 17 May 2010 and 19 May 2010 at the National Constitution Center in Philadelphia, USA. Visvanathan Rudrakumaran, former international legal advisor to the LTTE was appointed Prime Minister .Rudrakumaran is the son of the former Jaffna Mayor Rajah Viswanathan. He is a US citizen and lives in New York City. TGTE established offices in all the European countries where there is a significant number of Tamil Diaspora. It has held three sessions in USA in 2010 and 2011.
TGTE is committed to an independent sovereign state of Tamil Eelam in Sri Lanka's north and east. On 19 May 2013, the TGTE unveiled its Tamil Eelam Freedom Charter, which seeks to take the Vaddukoddai Resolution forward. The Charter said, inter alia, that the North and East of Sri Lanka are the traditional homelands of the Tamil people, the people of Tamil Eelam have an inherent right to self-determination, and the creation of an independent and sovereign State of Tamil Eelam remains the only viable option.
President Maitripala Sirisena faced protests by supporters of the TGTE when he visited London for a Commonwealth Summit meeting in 2018. TGTE launched a campaign titled "#GoBackMY3" . The British government turned a blind eye to TGTE displaying LTTE flags at the Commonwealth Summit, observed Shamindra Ferdinando. This was the first time that LTTE flags were displayed at protests against a Sri Lanka Head of state.
TGTE also displayed banners. Banners declared 'Sri Lanka President wanted for genocide', 'Tamil Eelam is the only solution', 'UK stop protecting genocidal Sri Lanka', 'Let Tamils decide referendum now',' Justice delayed justice denied, 'Tamils want action not words,' We don't want a Constitution,' final solution is Tamil Eelam,' where are the surrendered?
TGTE urged the CHOGM to suspend Sri Lanka from the Commonwealth, until Sri Lanka fully implemented the recommendations made by the UNHRC. TGTE said that Sri Lanka should be referred to the International Criminal Court and a UN conducted Referendum was needed for the Tamils to decide their future and to ensure a peaceful, permanent political solution.
TGTE is a make-believe organization formed by an immoderate attorney who has nothing else to do. If he had been a competent attorney, he would have had a lucrative practice and little time for campaigning for an imaginary Eelam, said Kanthar Balanathan.
Global Tamil Forum
Global Tamil Forum (GFT) was started in 2010 and is headed by Fr S.J.Emmanuel, former Vicar General of Jaffna, now in Germany, said Rohan Guneratne in 2010. Global Tamil Forum consists of 14 Tamil Diaspora groups, including ATC Australia, BTF UK, DFTA Denmark, NCET Norway, NZTC and WTS New Zealand, STF Sweden, TRF Malaysia, USTPAC US, ETU Europe, TEMP France, CTC Canada, TCF+KV Netherlands, MT Mauritius, STF Switzerland, and GT Italy, said Shanaka Jayasekera in 2011.
Global Tamil Forum grew out of the British Tamil Forum, (BTF) which had been established in 2006 to influence British opinion. BTF has a strong presence in UK and did constituency based lobbying, influencing British politicians.
BTF funded the setting up of the GTF Secretariat in London. Global Tamil Forum (GTF) was 'inaugurated' in the House of Commons in February 2010. All major British political parties were represented at the inauguration, reported Shamindra Ferdinando.
GFT soon became an influential grouping with access to British and US administration. GFT represents influential Tamil Diaspora groups in Europe Australia, US when necessary, said analysts. GTF has called for the creation of an 'autonomous Tamil region' in merged north and east. The 13th Amendment was too weak and fragile.
The GTF worked closely with the TNA. GTF spokesman, Suren Surendiran said that among the issues they worked closely on was the accountability issue. They had joined up with TNA to push for full implementation of the Geneva Resolution 30/1, inclusive of foreign judges.

GTF stated that all concerned Tamil organisations had met in 2012 [ probably in London] to discuss Tamil genocide, destruction of Tamil peoples identity, oppression, threat to Tamil claim to north and east, and legitimate aspiration of Tamil people through negotiated political solution. This discussion continued in Berlin in January 2013. Participants included TGTE, GTF, and International Council of Eelam Tamils. The Sri Lanka component consisted of Tamil National Alliance, Tamil National Peoples Forum, and Tamil civil society representatives.
The British Tamil Forum organization a two day conference in the UK In 2014 to censure Sri Lanka. One session was scheduled to take place in the House of Commons and a delegation of the TNA had arrived from Sri Lanka for this conference.
In 2014, in response to Sri Lanka's action of March 2014 the Global Tamil Forum urged the UK to intervene on its behalf at the UN Security Council to prevent Sri Lanka government exploiting UN Security Council Resolution 1373 of 2011 ( UNSCR 1378) to attack 16 Diaspora groups as well as 424 individual.
In 2015 GTF welcomed the UNHRC report that strongly indicated war crimes and crimes against humanity in the Eelam war IV. GTF recommended an international special court for criminal prosecution. GTF is in full agreement with the report and supports a hybrid court. It must include substantial participation of international personnel at each stage of the investigation and trial process, said GTF.
The violations reported are serious crimes of concern to the international community as a whole, continued GTF. It made harrowing reading, indicating the horrific level of abuse suffer by the Tamil civilians at the hands of the Sri Lanka armed forces, including indiscriminate shelling, extrajudicial killings, enforced disappearance, denial of humanitarian assistance, ill treatment of IDPs torture and sexual violence.
GFT welcomes the Geneva resolution (34/L 1) of 2017 co-sponsored by Sri Lanka, which reaffirmed full implementation of the 30/1. The GTF said it cautiously welcomes the unanimous adoption of the resolution and the fact that it was sponsored by forty seven countries. Twenty seven countries spoke at the Interactive Dialogue on Sri Lanka.
However, a comprehensive, time-bound implementation strategy was urgently needed. The victims and their families from the Tamil community have very little faith in the government, and any belief that justice is possible is entirely due to the assurance of international involvement.
The role played by major international powers and their trust in the impartiality of the UNHRC processes, has been very important in preventing them from descending into a state of despair. GTF the GTF would like to reaffirm its commitment to a process that will lead to true accountability and a sense of closure to the trauma experienced by the surviving victims., the statement concluded.
A GTF delegation led by Suren Surendiran met with President Sirisena at the Hilton in Park Lane in 2015. The goodwill was so great, they even took a dinner of string hoppers, kiri hodi, and pol sambol for Sirisena and his entourage, reported Sunday Times. He was thrilled. Also present was then Foreign Minister Mangala Samaraweera. They talked passionately about resolving the issues before them through dialogue. That did not go far said analysts.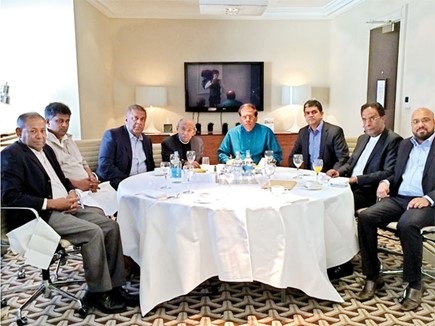 THE PARK LANE HILTON IN MARCH 2015 – The then President Maitripala Sirisena with a delegation from the Global Tamil Forum (GTF). Seated on his left is Suren Surendiran, now GTF spokesperson. On his right is Father S.J. Emmanuel and seated next to him is the then Foreign Minister, Mangala Samaraweera.
In 2016 a delegation of the GTF, representing US, UK, Canada, Australia and Germany met USA's Assistant Secretary of State, Nisha Biswal and Assistant Secretary for Human rights, Tom Malinowski at Washington.
A joint delegation of Tamil organizations went to New York in March 2018 and held talks with UN, US and Norwegian officials in the US. The delegation comprised Jaffna District MP and TNA spokesman M. A. Sumanthiran, GTF President Rev. Father S. J. Emmanuel resident in Sri Lanka, United States Tamil Political Action Council (USTPAC), Canadian Tamil Congress (CTC), Norwegian Tamil Forum (NTF), Australian and the United Kingdom organizations.
The visit was part of GTF-TNA continued engagement with the international community to ensure that Yahapalana government fully implemented the 2015 Resolution. Suren Surendiran, who had been a member of this delegation, told Island that the mission discussed ways and means to ensure a time-bound implementation plan for two Resolutions and the requirement for UNHRC monitoring and oversight over Sri Lanka beyond March 2019. Resolution 34/1 covers the period up to March 2019.
Island asked, why did they want UN oversight and monitoring of Sri Lanka even beyond 2019, Surendiran said that in case the current government couldn't fully implement the 2015 pledges, continuous international oversight was needed over the next government that comes in. Constant watch was needed until the full implementation of the 2015 Resolution.
The GTF said they were able to secure key appointments with the highest levels of authority at the UN, US Administration and Norway. The delegation had met United Nations under Secretary General for Political Affairs Jeffrey Feltman and Director for Asia and Pacific Division Ms Mari Yamashita at the main UN building in New York. The delegation also met Senior Republican Congressman Bill Johnson and senior staff of the Foreign Relations Committee at Capitol Hill. The GTF said that Ambassador Alice J Wells, Principal Deputy Assistant Secretary for South and Central Asia had promised to take up their concerns with US missions in Geneva and Colombo.
Deputy US Permanent Representative to the UN, Ambassador Kelley E Currie, who is also the Representative to the United Nations Economic and Social Council, met the delegates at the US Mission at the UN Plaza, 1st Avenue. Ambassador Currie has reiterated US commitment for the full implementation of Resolution 30/1 and promised to discuss points of concern with the missions in Geneva and in Colombo.
The delegation also met Norwegian Permanent Representative to the UN Tore Hattrem, at one time Norwegian Ambassador in Colombo. Hattrem had assured the delegation that Norway shared their concerns. Norwegian Mission in Geneva and the Norwegian government in Oslo were interested in a time-bound implementation plan, with benchmarks.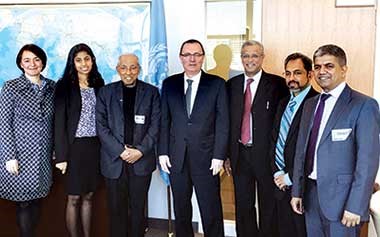 Top UN official Feltman (fourth from left) with TNA and GTF delegates (Rev Fr Emmanuel-third from left, MP Sumanthiran-fifth from left) and Surendiran-extreme right)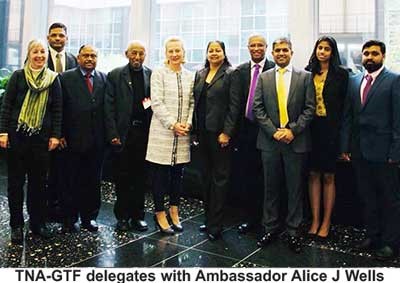 GTF in a post published by the Canadian Tamil Congress in 2020 said the Tamil people's struggle for democratic rights in Sri Lanka has a long history and since independence the desire of Tamils to live as a free people has not been diminished by the many setbacks and the tests of endurance faced by Tamils in their onward march for justice, dignity and equality.
When the fangs of the majoritarian state unfairly target minority communities, even the theoretical possibility of legal recourse can be significant. So, it is vital that Tamil, Muslim and Christian communities study their electoral options and act wisely, said GTF.
In 2021 Suren Surendiran, gave an interview to Island where he said that the Tamil community did not believe in commissions appointed by the government of Sri Lanka to address post-war reconciliation issues. In an interview with the BBC Sinhala service, Surendiran said that the Tamil community looked to the UNHRC to address their grievances.
GTF complained that Government of Sri Lanka falsely claims that these resolutions are against Sri Lanka and her people. Instead of dealing with issues like any mature progressive country will and should, the government of Sri Lanka creates a false narrative that these resolutions are undermining the sovereignty of Sri Lanka and that the international community, especially the powerful western countries are undermining Sri Lanka and her people and their war heroes.
GTF issued a statement when the government of Sri Lanka rejected Resolution 30/1 .GTF said the government of Sri Lanka had rejected this resolution, but even all the neighboring countries" did not support that position. The countries voting in favor cover all regions across the globe and several countries who would have traditionally voted against such a resolution recognized the criticality of the situation in Sri Lanka and decided to abstain. Tamils are grateful to the US Administration that initiated the original process of promoting reconciliation and accountability in Sri Lanka in 2012.
Unlike in the previous years when the outcome at the UNHRC was eagerly sought by the Tamil community, the interests and expectations this year were much more widespread, reported the media. The Muslim community, which was openly victimized through forced cremations and expected bursa ban; the Christian community which is highly disappointed with the dishonest approach towards Easter bombing investigations, and indeed the majority community which is increasingly becoming unsettled with the authoritarian and militarized trajectory the country is adopting. . The Government of Sri Lanka, by rejecting this resolution, is undoubtedly isolating itself from the international community, said GTF.
A third organization 'International Council of Eelam Tamils', was set up by the 'Nediyawan faction in Norway. The movement started in 2009 immediately after the war. It was led by Perimpanayagam Sivapalan, known as Nediyawan, a hard core LTTE. Nediyawan is only a figure head, the matter is controlled by a group of pro LTTE activists said one analyst. Nediyawan faction objected to the appointment of Rudrakumaran as head of TGTE.
This movement controls more than 150 Tamil schools in Europe. These schools are used to inculcate Tamil nationalist sentiments and hatred toward Sinhalese in the mind of the younger generation of Tamils said an analyst.
The leaders of these three groups are interested only in building their personal and political power and financial strength, said Rohan Guneratne in 2011. These leaders and their children are very well off in Europe. (Continued)