GENERAL KAYANI OF PAKISTAN ARMY HOSTS A DINNER TO SHARE THE JUBILATION OF SRI LANKA FRIENDS IN DEFEATING LTTE
Posted on June 16th, 2009
By Walter Jayawardhana
Genral Ashfaq Parvez Kayani , Chief of Army Staff in Pakistan and Begum Ashfaq Parvez Kayani hosted a dinner "to share the jubilation with" their "Sri Lankan friends on their historic victory against LTTE."at the Army House, the official residence of the Commander in Islamabad.
ƒÆ'-¡ƒ"š' Pakistan's Sri Lanka High Commissioner former Air Chief Vice Marshall Jayalath Weerakkody and his wife were the chief guests at this state dinner.
ƒÆ'-¡ƒ"š' General Kayani said he, the government, the armed forces of Pakistan and the people of Pakistan were glad to be able to share the jubilation of Sri Lanka to crush terrorism in the island nation. He said Sri Lanka had been Pakistan's very close friend for the last so many years and Pakistan was particularly proud about Sri Lanka's immense victory.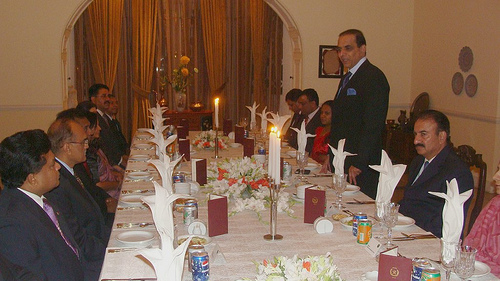 ƒÆ'-¡ƒ"š' While conveying his good wishes to Sri Lanka's armed forces General Kayani said he is confident the strong cooperation existing at present could be even made stronger in the future.
ƒÆ'-¡ƒ"š' Replying Sri Lanka's High Commissioner Jayalath Weerakkody said Sri Lanka and Pakistan political and defence wise enjoy the best of mutual relations. Even back in 1996, when Sri Lanka faced tremendous difficulties militarily in quelling the strong militaristic terrorism , aimed both at the armed forces and police as well as unarmed civilians Pakistan helped the island nation without imposing any conditions. The credit, said Weerakkody , should go to the government, the armed forces and the people of Pakistan. He said, the help rendered was more precious as it was rendered in the midst of some international opposition. He said, he was confident the military relationship would improve in the future. The High Commissioner said during 20 years Sri Lanka became the highest recipient of Pakistani help training about 5300 armed forces personnel and receiving military hardware.