G-15 HLTF members call on President Rajapaksa
Posted on August 8th, 2010
By Janaka Alahapperuma
Members of G-15 High Level Task Force (HLTF) paid a courtesy call on President Mahinda Rajapaksa at Temple treesƒÆ'-¡ƒ"š' on 6 August. HLTF members visited Sri Lanka for a fact finding mission after President Rajapaksa proposed to concentrate on an action to strengthen development cooperation in the area of infrastructure development, human resource development and trade and investment promotion within the members at the last G-15 Summit.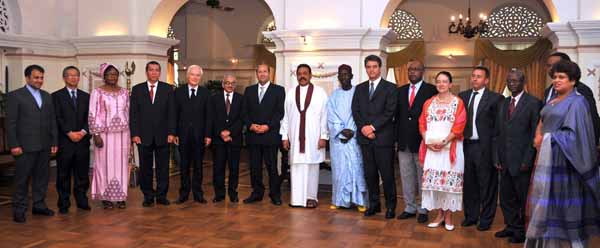 A special meeting of G-15 High Level Task Force was held at the John Exeter International Conference Hall of the Central Bank on 5th August. Lalith Weeratunga, Secretary to the President delivered the key-note speech at the meeting and said that new and emerging challenges in areas as environment, health, trade and the global economy require capacity and response, at a pace many of the member states may not be able to meet on. The secretary further stated and emphasized that G-15 voice continues to grow from strength to strength. It has reached a stage where they are able to contribute to fellow countries within the Group.
G-15 countries have the common objective of achieving its goals and creating a better standard of life for its people, he added.
Representatives from Algeria, Argentina, Brazil, Chile, Egypt, India, Indonesia, Iran, Jamaica, Kenya, Malaysia, Mexico, Nigeria and Senegal participated at both the Central Bank seminar and the meeting with the President. Governor of the Central Bank Ajith Nivad Cabral, Secretary to the Ministry of External affairs, Romesh Jayasinghe and Ambassador and the Permanent Representative of Sri Lanka to the UN Office at Geneva, Kshenuka Seneviratne were present. Mrs Kshenuka Seneviratne is also the Sri Lankan Representative of G-15 HLTF.ƒÆ'-¡ƒ"š'