Dubai's Fakih Group ups Sri Lanka intake
Posted on June 5th, 2013
PRESS COMMUNIQUE ƒÆ''¢ƒ¢-¡'¬ƒ¢¢"š¬…" MINISTRY OF INDUSTRY & COMMERCE, SRI LANKA
ƒÆ''¢ƒ¢-¡'¬ƒ¢¢"š¬…" JUNE 04, 2013
[Now shipping $200,000 of souvenirs monthly from Sri Lanka ƒÆ'-¡ƒ"š' 
ƒÆ''¢ƒ¢-¡'¬ƒ"¹…"Prime space for Lanka in new $85 Mn Dubai souvenir showpieceƒÆ''¢ƒ¢-¡'¬ƒ¢-¾'¢-Fakih
Made in Sri Lanka brand wows ME & Vietnamese buyers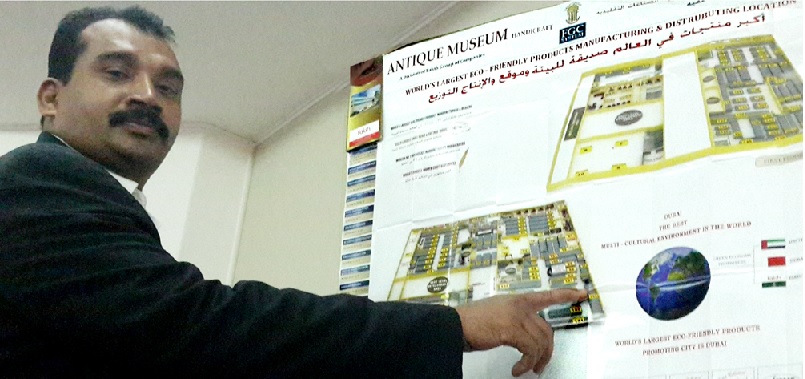 N.P Fakih, the Managing Director of Dubai based $345 Mn (Y2012) Fakih Group, on 03 June at the
Ministry of Industry and Commerce, shows the layout of Sri Lanka stalls in his GroupƒÆ''¢ƒ¢-¡'¬ƒ¢-¾'¢s new
$85 Mn Dubai Showroom named as ƒÆ''¢ƒ¢-¡'¬ƒ…-Antique Museum HandicraftƒÆ''¢ƒ¢-¡'¬ƒ"š' scheduled to be completed
by end-2014.
ƒÆ'-¡ƒ"š' The Dubai based souvenirs and handicraft multinational Fakih Collection- a leading global souvenir firm-is increasing its direct sourcing from Sri Lanka. ƒÆ''¢ƒ¢-¡'¬ƒ…-Made in Sri Lanka handicrafts are beginning to make an impression among our buyers in DubaiƒÆ''¢ƒ¢-¡'¬ƒ¢-¾'¢s Jumeira Shopping mall and Karama Market, and also in several Qatari, Bahrain and Abudhabi malls. We have already expanded our Sri Lankan craft-making supply chain to 2000 householdsƒÆ''¢ƒ¢-¡'¬ƒ"š' said N.P Fakih, the Managing Director of Dubai based $345 Mn ƒÆ'-¡ƒ"š' (Y2012) Fakih Group on 03 June in Colombo.
Fakih is in town to identify new handicraft supply sources from Sri Lanka as well as to inspect his firmƒÆ''¢ƒ¢-¡'¬ƒ¢-¾'¢s on-going souvenir and handicraft making in Kandy and Elpitiya. ƒÆ''¢ƒ¢-¡'¬ƒ…-We are now hunting for additional other villages who can supply us. ƒÆ''¢ƒ¢-¡'¬ƒ"¹…"Made in Sri LankaƒÆ''¢ƒ¢-¡'¬ƒ¢-¾'¢ eco-friendly souvenirs are a hit in in DubaiƒÆ''¢ƒ¢-¡'¬ƒ¢-¾'¢s Jumeira Shopping mall, Karama Market, and also in several Qatar, Bahrain and Abudhabi malls. I am happy to say that on average, we are now buying almost $ 200,000 valued items from Sri Lanka on monthly basis. The two main international markets buying Lankan handicrafts are Vietnam and the Middle East. Middle Eastern shoppers snap up most souvenir types made in Sri Lanka including wood based items while Vietnam market mostly prefers paper and newspaper based items-such as our eco-friendly pencils made from newspapers. We have already expanded our Sri Lankan supply chain to 2000 craft-making households -200 are making paper products, 500 families in palm and similar grass based (or strong ƒÆ''¢ƒ¢-¡'¬ƒ"¹…"IlukƒÆ''¢ƒ¢-¡'¬ƒ¢-¾'¢ leaves) products, 200 in bamboo products and 1100 families doing part assembly of eco-friendly handy crafts. Most households are earning around Rs 20000 per month by supplying to usƒÆ''¢ƒ¢-¡'¬ƒ"š' said Fakih, and added: ƒÆ''¢ƒ¢-¡'¬ƒ…-In March 2013, Fakih Group was certified as Our Sri Lankan product line will a prime attraction in my up-coming $ 85 Mn showpiece to be constructed at Street 19 in the vicinity of Times Square in Dubai. This 175,000 Sqr Ft huge showroom to be completed by 2014 end, will showcase souvenirs coming to us from various international locations. The biggest three sections have been allocated to Thailand, Sri Lanka and Vietnam. We have already allocated sub-sections 29, 92 and 101 exclusively for Sri Lanka with a total area of 18,000 Sqr ft.ƒÆ''¢ƒ¢-¡'¬ƒ"š'
Fakih Group employs 6700 employees across 14 countries including Sri Lanka (considerable number of them being women in households on a self-employment basis) supplying to the growing demand volumes in their 28 international markets. The Group uses kiosk vending model and runs 28 kiosks in Dubai alone. Among the 6700 employees are 3850 handicraft creators (craftsmen). Among the countries supplying the more than 290,000 items strong Fakih Group multicultural gifts and souvenirs portfolio are Sri Lanka (722 items), UAE (467 items), Philippines (3600 items), Thailand (22467 items), Vietnam (11359 items), Turkey (1310 items), Morocco (12290 items), Nepal (2315 items), Cambodia (1310 items), African collection (3590 items), Indonesia (11274 items), India (55924 items), Egypt (1936 items), Yemen (3600 items) and China (160128 items).
ƒÆ''¢ƒ¢-¡'¬ƒ…-My target is to increase current 722 items from Sri Lanka to 5000 items in the next three years. Our Group turnover has grown to $ 345 Mn (YƒÆ''¢ƒ¢-¡'¬ƒ¢-¾'¢12) from $ 300 Mn in 2011ƒÆ''¢ƒ¢-¡'¬ƒ"š' Fakih added.
CONCLUDED
Media
Ministry of Industry & Commerce ƒÆ''¢ƒ¢-¡'¬ƒ¢¢"š¬…" 112435847 (Ext 246)