President Rajapaksa inspects agricultural machineries at Minsk Automobile Plant
Posted on August 29th, 2013
By Janaka Alahapperuma
President Mahinda Rajapaksa visited the Minsk Automobile Plant for an inspection tour at the conclusion of his three-day state visit to the Belarus Republic, the former Soviet Union country in Eastern Europe on 27 August. Minsk Automobile Plant is highly established industrial plant where high quality passenger buses, trucks and lorries are manufactured for both local and export markets.
During the bilateral discussions President Rajapaksa had with both the Belarusian President and the Prime Minister, it was formally agreed to set up assembly plants for buses and tractors by Belarusian investors in Sri Lanka as joint ventures. It was confirmed by the Belarusian investors and business leaders at the Belarus- Sri Lanka Business Forum which was organised to identify potential areas for collaboration in order to further develop economic and trade cooperation between the two countries at the National Library Auditorium in Minsk, the capital city of Belarus.
On arrival to the Minsk Automobile Plant President Rajapaksa and his entourage were received by the company management. Vladimir Volchok, the Director General, and Mr. Vitaly Goncharik, the Deputy Director General of the plant joined with the President and described the manufacturing process during the inspection tour.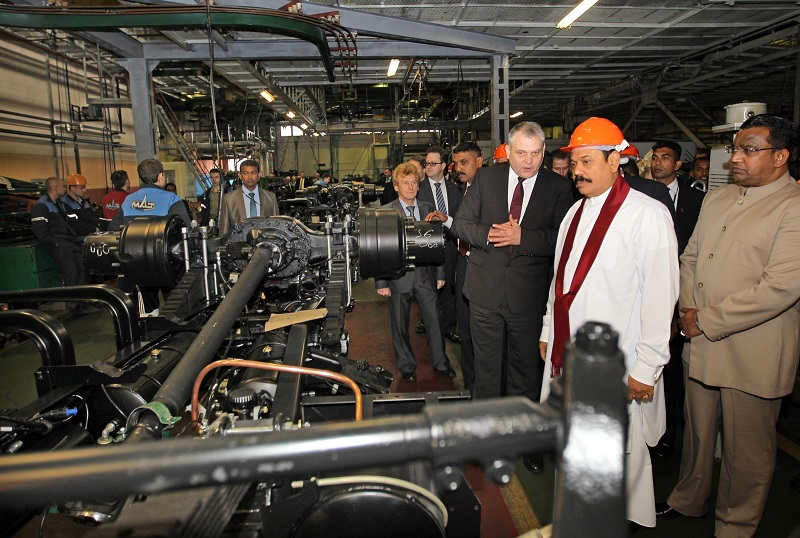 President Rajapaksa, with his delegation, also visited the Minsk Tractor Works where a variety of tractors and other agricultural and industrial machineries are being manufactured. President Rajapaksa took special interest and closely inspected hand tractors and agricultural machineries used in agricultural sector.
Pictures are seen here President Rajapaksa inspecting a heavy vehicle assembling line at the automobile plant, a heavy truck being manufactured and closely inspecting a tractor and another hand tractor on display. ƒÆ'-¡ƒ"š' At the Minsk Automobile Plant, President Rajapaksa, together with External Affairs Minister Prof. G.L.Peiris, Secretary to the President Lalith Weeratunga, Provincial Councilors and other members of the delegation inspected a high-quality passenger bus on display. Vladimir Volchok, Director General and Vitaly Goncharik, Deputy Director General of the plant are also in the pictures.
Pix By: Sudath Silva