Gunfire at anti-Ranil march,at least six injured
Posted on October 5th, 2013
Courtesy Island
At least six people were hospitalised after shots were fired in a clash involving rival factions of the United National Party (UNP) over the controversial leadership of Ranil Wickremesinghe, police said.
The UNP Southern Provincial Council member Maithree Gunaratne had organised what he had hoped would be a mass Pada Yatra, or great walk, from the island-â"¢s southernmost point of Dondra to Colombo, a distance of 170 kilometres.
Police said about 200 to 300 people were at the launch of the walk, but the numbers dwindled at they reached Matara where the outnumbered anti-Ranil demonstrators came under attack.
"Near the Urban Council, several people had thrown rotten eggs and tomatoes at the UNP group loyal to Maithree Gunaratne," a police official said asking not to be named.
"Police moved into restore order."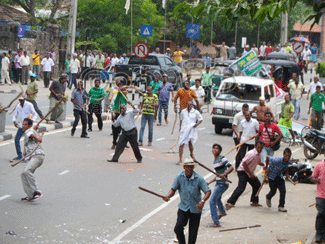 Police recovered spent cartridges and found that at least one UNP Pradeshiya Sabha member was hit by gun fire and admitted to the Karapitiya Teaching Hospital for treatment.Four other people were also admitted to the Matara hospital while Maithree Gunaratne-â"¢s father, Herman Gunaratne was also wounded in the brawl and taken to the Tangalle hospital.
Police said they received a complaint that Gunaratne had used a pistol when projectiles were thrown at them.
Gunaratne was taken into police custody pending investigations, the official said.
Gunaratne and his loyalists have been opposing the leadership of Wickremesinghe, but failed to muster the crowds he had expected, witnesses said.