The Problem of Indian fishermen poaching in Sri Lankan waters
Posted on October 18th, 2015
Sudath Gunasekara 17.10.2015.
In the first place I want you to read the content of the following two news items
Indian express 12.10.2015 Indian express
SL Deceiving Nations, says Karunanidhi
By Express News Service
Published: 12th October 2015 05:38 AM
Last Updated: 12th October 2015 05:38 AM
CHENNAI: DMK leader M Karunanidhi on Sunday charged Sri Lanka with using its geographical location to deceive other nations and asked the Union government to take steps to safeguard the livelihood of the fishermen of Tamil Nadu.
Karunanidhi cited Lanka rejecting the Indian government's request to allow TN fishermen to fish in Lankan waters for 65 days and not to arrest them when they crossed the international maritime boundary, referring to the arrest of 19 fishermen from Nagapattinam. It may be recalled that the Lankan Fisheries Minister, Mahinda Amaraweera, had refused to agree to the Indian government's proposal".
This old man of Tamilnadu, Sri Lanka's traditional adversary, wants Sri Lanka Government to allow Indian (Tamilnadu) fisherman to fish in Sri Lankan waters for 65 days and also not to arrest Indian poachers robbing  the fish harvest in Sri Lankan  waters. He also blames the Sri Lankan Minister for refusing permission for poaching on Lankan waters. This man and that foul mouthed women Jayalalitha appear to think that they have a birth right to fish in our waters. They also appear to treat this country as a part of Tamilnadu or at least another State of India. That is why both of them ask the Indian Government to take steps to safeguard the livelihood of the fishermen of Tamil Nadu by which both of them claim Sri Lanka and all other neighbouring countries must allow Indians to poach in our waters in order to safeguard the livelihood of the fishermen of Tamil Nadu. If we allow them to fish in our waters then where do our fishermen are going to fish. I think both of them are mad. Both of them are a nuisance to both Sri Lanka and India. Now  let us look at the Fisherworkers Forum of India  has to say  about this problem.
Home > States > Tamil Nadu
Fisherworkers Forum Urges PM to Find Permanent Solution to Fishermen Issue
By Pradeep Kumar
Published: 12th October 2015 05:38 AM
Last Updated: 13th October 2015 05:08 AM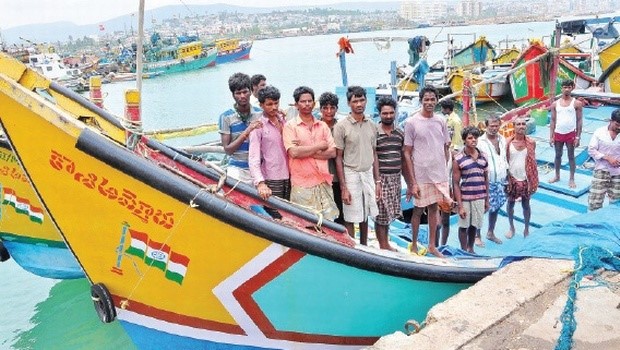 File Photo for Representation
PUDUCHERRY:
National Fishworkers Forum (NFF) has requested Prime Minster Narendra Modi to use diplomatic channels to hold dialogue with neighbouring countries, who arrest, attack and incarcerate Indian fishermen.
NFF chairperson, M Ilango and general secretary, Narendra R Patil, in a letter, have urged the PM to pay attention to the issue that affects the livelihood of fisher communities and bring a permanent solution with a human touch.
They also wanted the PM to hold consultation with leaders of the fisher communities at the national level.
Ilango said fishermen of Gujarat, Tamil Nadu, Puducherry, Diu, Daman and West Bengal are continuously affected by the navies of Pakistan, Sri Lanka and Bangladesh.
Giving statistics, he said since the beginning of 2015, innumerable number of fishermen of Gujarat have been arrested by Pakistan Marine Security Agency (PMSA). The 11 boats that went out for fishing from Porbandhar and one boat from Okha were confiscated by PMSA and the 100 fishermen of those vessels were arrested last week.
In January, 38 fishermen were arrested and their 7 boats were confiscated by Pakistan authorities. In March, 48 fishermen were arrested and their 8 boats were impounded. In April, another 47 in 8 boats were arrested.
This September, a fisherman named Iqbal Bhatti from Okha was shot dead in the international border near Indian seas. The fishermen who go out fishing from Gujarat, Diu and Daman are continuously suffering a state of uncertainty over safety of their lives, he added.
On October 1, 61 fishermen of West Bengal were arrested by Bangladesh and their 5 boats confiscated.
In the South, 40 fishing boats of Tamil Nadu and Puducherry are confiscated and let to lie unmaintained for months by Sri Lanka and 35 fishermen are imprisoned.
Ilango said all the countries concerned, India, Pakistan, Sri Lanka and Bangladesh are members of the UN and they have ratified the International Law of the Seas. But no effort has been taken by these countries to implement the International law and instead they continue to arrest or shoot innocent fishermen and confiscate their boats, Ilango added."
Following Karunanidhia and Jayalalitha they also want fishermen from Gujarat, Tamil Nadu, Puducherry, Diu, Daman and West Bengal to poach in Sri Lankan and Bangladesh waters with impunity.  They also call these poachers innocent.
Both parties, the South Indian Politicians who are sworn enemies of this country and the Fisherworkers Forum of India demand the same thing. That is,
1 They want us to allow their fishermen poachers to freely harvest fish within our waters and also engage in illegal deep sea fishing
2 They don't want us to take any action against these poachers
3 They want our countries to look after the livelihood of their fishermen
Why can't the Sri Lankan authorities ask these idiots whether they are also prepared to do the same things in return.
That is our fishermen also to be given permission to fish in their waters. India too  should not take any action against them and consider their livelihood as well.
As for me I am not aware of this 'International Law of the Seas' which allow fishermen of any country to poach in others waters with impunity, they are talking about.
Why can't each country instruct its fishermen to strictly carry on fishing only within their own waters without violating maritime boundaries of other nations and stop poaching in others waters? If that is strictly followed there will be no problem of arresting or confiscating boats or fish harvest. Also both K&J can devote their time usefully to matters of domestic politics without creating problems to Modis Government as well.
Why can't these fools realize that we are also concerned about the livelihood of our fishermen as much as they are concerned about theirs? If they think that we should allow Indian fishermen to poach in our waters at their will merely because India is bigger and we are small nations. Their bigness has nothing to do with our sovereignty and Independence. We are separate countries. All maritime resources within our maritime boundaries belong to us.
Next time they might demand that we should allow their excess people to settle down on our land and also to rob our other resources within the country. Just now they don't behave like civilized people.
As a responsible citizen of this country I must clearly state that this type of nonsense by all Indians, which has become a nuisance for a long time, whether it comes from Tamilnadu or any other source must stop immediately. Please learn to respect the other man's right as well before you try to impose your will and policeman role on neihgbouring countries merely because you people think you are big and more powerful. If you Indians read Panchatanatara
The Government of Sri Lanka should also assert its legitimate position and tell the Indian Government to stop this nuisance. They should govern or get out and allow someone who can do that better. It is the duty and the responsibility of the Government to protect and safeguard the interest of our people and our country. That is why we have elected them to power.
This is not the only issue the government is sleeping and inactive. I don't see any difference between the way the Government handling this issue and the way it handles the following domestic issues.
Drugs, wild elephants invading villages, foreign employment of women, increasing crimes particularly against children and women, non implementation of capital punishment and increasing crimes, corrupt politicians, purchasing of agricultural produce like paddy, vegetable and big onions, mess created by the 13th Amendment and the tragedy of Provincial Councils, lack of good governance, absence of rule of law, daily increasing traffic accidents and resulting deaths, students unrest, vandalism against archaeological wealth, Illicit Kasippu brewing and cannabis growing and trade, falling standards of Public Service, wastage in Government expenditure, Muslim and Tamil communal cries, Indian cultural invasion in the TV, illicit immigrations by Indians, child abuse and rape of old women, political corruption, abuse and misuse of power by politicians, the cancer of International schools, appointment of a non citizen  as  Central Bank Governor, mess in the Parliament, UNHCHR  mess, decline in the Sasanaya and lack of discipline among clergy and deterioration in the Sasana.
Reasons as I see why this situation perpetuates.
1 The politicians are not interested in settling these issues as they have no time to devote on such trifle things as they are only interested in settling their own problems like coming to power, consolidating the power they have robbed and remaining in power as long as possible.
2 None of them have the political will and the commitment to sit down an seriously study these issues and resolve them firstly, as perpetuating such issues benefits their political survival and second it will not benefit them as most parties involved in these issues are strong supports and financiers of politicians who directly and  indirectly finance them. Now look at Welesuda aman from Gampola operating mainly in Kolonnawa.
2 They may be not left with any time to matters like this as their priories are amassing wealth, property and robbing public assets and foreign sojourns and taking revenge from opponents
3As such they don't have Time to even think about these trivial things
4 Either they don't have the knowledge or don't want to get expert advice either, as they consider knowing everything and even if they resort to them they often go for wrong advice.
5 Above all, all our Governments are eternally scared of the Indian Government
Now you see ladies and gentlemen why Indians are poaching in Sri Lankan waters without caring a damn to Sri Lankan Government.