Health camp for scribes at Guwahati Press Club
Posted on February 9th, 2016
By NJ Thakuria
Guwahati: Nearly eighty percent city based scribes of northeast India have shown satisfactory outcome when they were exposed to a general health check-up on 8 February 2016 at Guwahati Press Club. Over eighty journalists participated in the daylong health check-up camp, organized  by the city based 'down town hospital Limited' at the press club premises. Except few participants, who were diagnosed  high sugar and high blood pressure with heart related disorders, most of them passed all the tests with satisfactory readings.
A number of practicing physicians namely  Dr Sumitav Baruah (medicine), Dr Abhijit Deb (orthopaedics), Dr Dhrubajyoti Datta (ENT), Dr Esther D Liani (gynaecology), Dr Dipanwita Mahanta (cardiology), Dr Rupam Das (diabetology), Dr Luna Dutta Baruah (specialist on food, nutrition & diatetics),  Dr Kuldeep Deka (physiotherapist) etc checked the physical status of the scribes and advised accordingly after various tests including ECG, lipid profile, random blood sugar, blood-pressure, neuropathy test, weight, height etc.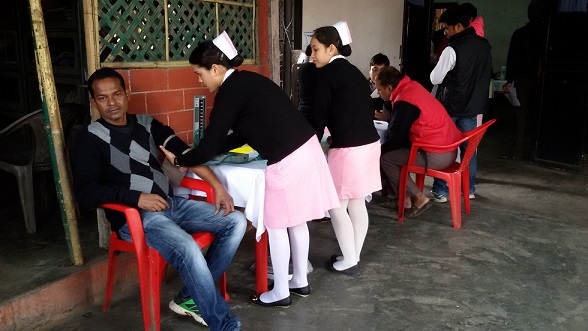 Dr N.N Dutta, chairman & managing director of the pioneering private hospital in northeast India also attended the camp, where necessary supports were extended by Banidor A Twangkhiew, Baswongnia Kharmuwai, Ibanylla Wawlang, Banbetlin Kurbaw, Ibanrilang Lyting, Mousumi Handique, Rupali Rajput, Gracelalrin Mawit, Agnes Zomuankimi, Karabi Baruah, Priyanka Borah, Ramngaihzuali etc Ramen Boro and Bulbul Saikia.
The camp was also supported by Nikhilesh Sharma (business development manager), Sajal Sinha  (marketing manager), Jiaul Hussain (assistant business manager), Geetashree Barman (public relation), Lydia Gangmei, Vethi Pralu, Dharitri Rabha, Jimi Moni Hazarika, Rumi Kujur, Arindam Bhattacharya,Rakibur R Hazarika,  Siddhartha Sankar  Bodh, Mrinaljyoti Sarma and Koushik Banerjee.