Mullaivaikkal Commemoration: Mourning the Civilians killed by LTTE or LTTE cadres killed in final battle?
Posted on May 19th, 2016
Shenali D Waduge
 Some very interesting and bizarre developments have taken place leading to the celebration of the military victory over LTTE and the rescue of some 300,000 Tamils that took place in May 2009. The Government through the Defense Secretary has conveyed to the people that 'LTTE are our own' that 'there is nothing to celebrate' and downgraded the victory to a sham cultural event that excluded inviting the former President without whom LTTE would not have been annihilated. Sri Lankans were told not to celebrate what was a common celebration over terrorism while the Defense Minister for State Ruwan Wijewardena declared the Government would not allow commemoration of LTTE. However, commemorations did take place in the North with red & yellow flags of the LTTE, Eelam Flag and Eelam Map led by the TNA that declared in its election manifesto of 2004 that 'LTTE was the sole representative of the Tamils' and Ananthi whose husband Elilan was a key leader of the LTTE and who shot dead a Tamil woman pleading to escape to government controlled areas to feed her baby some milk. We really have to ask what the Ranil-Maithri Government propose to do about this especially with the discovery of arms, ammunition and suicide vests and arrests of over 64 LTTE cadres while TNA has upped the ante with demands for self-autonomy all part of the separatist program developing since 1949 with the formation of the ITAK and the 1976 Vaddukoddai Resolution. TNA, LTTE, ITAK are all making the same demands in different language.
The laughable thing is that the TNA's Sumanthiran told The Island that the cancellation of Victory Day Parade would certainly help post-war national reconciliation process while the TNA are commemorating LTTE dead.
Moreover what business does countries like Canada have in pushing to cancel Victory Day when white Canadians continue to discriminate the indigenous natives of Canada what does the high commissioner have to say about these LTTE commemorations can she use the same jargon on reconciliation to the TNA passing resolutions of genocide, demanding confederalism and going round the world claiming our soldiers have killed civilians when they can't even name 100 people after 7 years. She needs to be shown the Victors Justice after World War 2 … no German could even complain against the way Allies treated them and millions of Germans were killed after the war ended. These crimes have never been investigated. Can the Canadian High Commissioner reprimand the Queen for wiping tears off her eyes during memorial for fallen heroes?
http://www.dailymail.co.uk/femail/article-3594633/The-Queen-attends-service-National-Memorial-Arboretum.html

Photos from the commemoration
https://www.youtube.com/watch?v=qBZ_8tcvqBY
At the Jaffna University where previously after 2009 many attempts had been made to have vigils for LTTE.
What does Eelam map have to do with mourning civilians?
http://colombogazette.com/2016/05/18/eelam-map-used-as-victims-of-mullivaikal-were-remembered-in-north/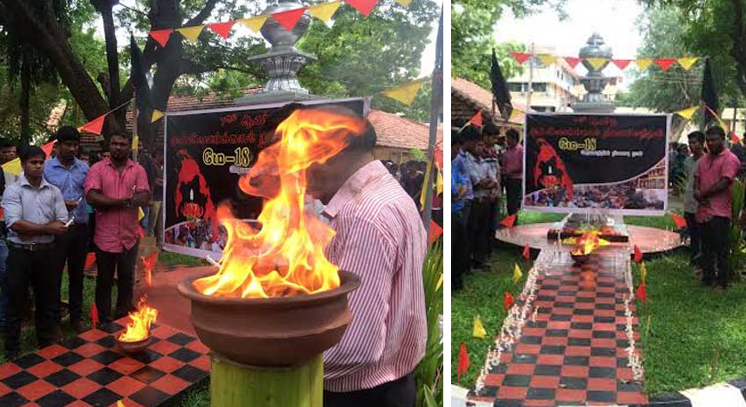 On 13th May 2016 Sivajilingam brother in law of Prabakaran also held commemoration – for civilians or dead LTTE? What was noteworthy about this memorial was that there were hardly any people. Sivajilingam and TNA claim was that lakhs of people were killed if so at least half of these killed people's relatives should have attended.. we could hardly count 20 at this event!
http://varunamultimedia.com/videos/btv/vmtube/news-specials/sivajilingam-holds-war-commemoration-in_-13-05-16/play.html#p_sel
In 2014 the Jaffna University commemorated Maaveerar Naal with posters that said Our tearful respect to our martyrs who sacrificed their lives for our nation to bloom and to our people killed by state terrorism," ….Our fallen martyrs' dream will come true, Tamil Eelam will be born tomorrow." http://www.tamilguardian.com/article.asp?articleid=12918
http://www.dailymirror.lk/96811/pro-ltte-posters-in-jaffna-uni-premises
so we repeat the question again – is it civilians or LTTE being mourned??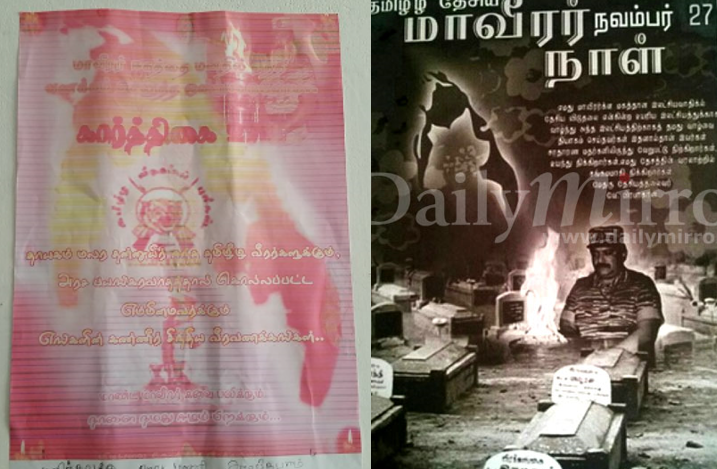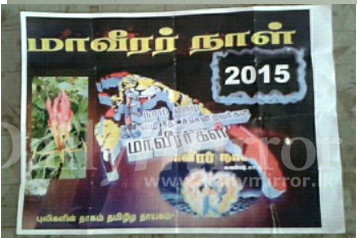 The Jaffna university is said to have a permanent post on the wall that states nobody can enter the university area if they do not subscribe to the (fictional) Tamil traditional homeland.
TNA-LTTE links
Quoting from the 2004 TNA Manifesto
https://www.tamilnet.com/img/publish/2010/03/TNA_Election_Manifesto_2004pdf.pdf
Accepting LTTE's leadership as the national leadership of the Tamil Eelam Tamils and the Liberation Tigers as the sole and authentic representatives of the Tamil people, let us devote our full cooperation for the ideals of the Liberation Tigers' struggle with honesty and steadfastness"
Let us work side by side with the LTTE, who are fighting for the protection and autonomous life of the Tamil speaking people, for the political initiatives under their leadership"
TNA demands Find a political solution to the Tamil national problem based on the acceptance of the fundamental proposals regarding (Tamil Nation's) Tamil homeland, Tamil Nation, Tamils' right to self-government (autonomy)."
Ranga Jayasuriya on 18 February 2004 says After meeting TNA parliamentarians in Kilinochchi, LTTE political chief S. P. Tamilselvam told the press that his movement won't hinder the freedom of political parties campaigning in the LTTE held areas. Quoting Tamilselvan "We (LTTE) decided to appeal to the Tamil people to vote for the policy of the TNA. We urge the Tamil people to unite," http://archives.dailynews.lk/2004/02/18/pol03.html
DBS Jeyraj himself writes on the 2004 elections The LTTE had done its part in doing propaganda, ensuring a large turn out of voters and  rigging votes on a mammoth scale. The TNA virtually swept the polls among Tamil voters in the North and East" elaborating further Jeyraj writes LTTE also reduced the TNA to political servitude and ensured that such bondage was well publicised. The TNA was summoned frequently to Kilinochchi where the tiger political commissar Suppiah Paramu Thamilselvan would issue orders and instructions. At LTTE oriented functions some of these MP's would wear LTTE badges and sing paeans of praise to Prabakharan and the tigers"
http://www.dailymirror.lk/49301/birth-and-growth-of-nexus-between-the-tna-and-the-ltte#sthash.s81Ln4yY.dpuf
Wigneswaran's pro-LTTE stand
C V Wigneswaran living all his life in Colombo amongst Sinhalese, educated at Royal College, was so discriminated by the Sinhalese that he became a Supreme Court judge went to the North only in 2013 to contest as India's choice for the Chief Minister of the Northern Province. DBS Jeyraj points to Wigneswaran's LTTE links Many including myself hoped that the TNA would make a clean break from the past after the LTTE was decimated in 2009.That however has not happened. In perhaps the greatest disappointment of all former Supreme court Judge CV Wigneswaran started singing the Pulippaattu" (Tiger song)after being nominated as TNA chief ministerial candidate for the Northern provincial council  
Justice Wigneswaran on 16 February 2008 at a speech given by him says Killing Prabhakaran Will Not Silence the Tamils"
A strong message was issued by Venerable Dr. Keppetiyagoda Siriwimala Nayake Thera, chief incumbent of Rajopawanaramaya, Getambe, Peradeniya against TNA, Wigneswaran, Sivajilingam and Sambanthan "While chief minister Wigneswaran promotes the move for a federal unit, TNA leader Sampanthan has justified the 30 year old war led by LTTE leader Prabakaran.The trio comprising Wigneswaran Sampanthan Sivajilingam have launched a fresh campaign under the umbrella of the present government for a separate administration. In addition to the move by the trio some Sinhala leaders in connivance with certain NGOs are supportive of the move for a separate administration for the north and east on the pretext of a solving ethnic differences. It is a pity that Wigneswaran, Sivajilingam and Sampathan have forgotten the fate of Tamil national leaders Doraiappa and Amirthaligam."
Sambanthan's LTTE links are shown in these photos with LTTE leader Prabakaran


Is LTTE Leader Ezhilan"'s Wife Anandhi Sasitharan a Voice of the Victims Or of the Perpetrators of Injustice? Asks DBS Jeyraj in 2014 as her husband senior LTTE leader Ezhilan committed many atrocities against Tamil civilians of Wanni in 2009.
Elilan played a role in planning and blocking the water supply via Mavil Aru in Trincomalee in 2006 which was a crime against humanity. After Tamilselvans death Elilan was put in charge of recruitment of civilians and together with Thamilini the head of the women's wing of the LTTE they forcibly recruited men, women and children in 2008-2009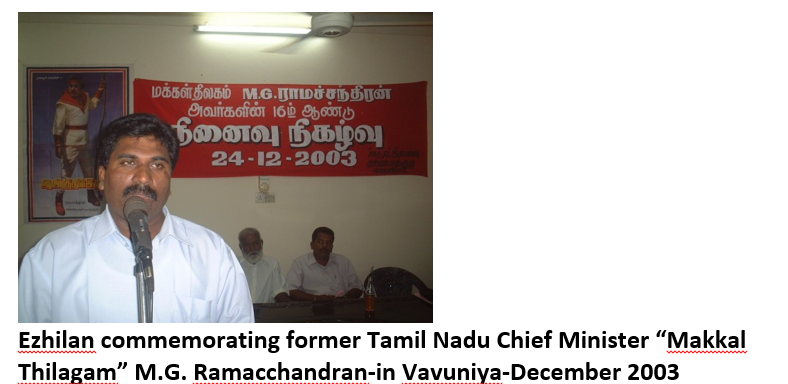 Jeyraj points out that Elilan when ICRC vessel berthed in Puthumathalan to transport injured persons for medical treatment, the LTTE would give priority to injured cadres, supporters and Tiger families first. When relates of the seriously injured made attempts to get close to ICRC officials to seek priority for the real civilians Elilan and LTTE used swords, knives and poles to hack and assault them and blocked them from meeting ICRC. Elilan himself was seen using his sword and later LTTE was to use gun fire to quell the people. Jeyraj relates another incident at the 'Our Lady of the Rosary' church in Valainjarmadam where 900 men, women and children had taken refuge. Elilan, Ilamparithi and Malaimahal came and dragged them out and anyone who resisted was shot at. 500 of these refugees were forcibly taken and sent to battle. How many of these died in battle and if they did die whose fault was it? Jeyraj next brings out an incident at Crucifix Junction when Elilan and Thangan were questioning people who had tried to flee. A young woman with an infant and 2 small children responded by saying her children had no milk and that was why she was trying to escape and when she asked 'are you people not human' (Neengal Manisar Illaya) Elilan the husband of Anandi Sasitharan took out his pistol and fired twice into her forehead killing her in cold blood.
So you have to ask whether Ananthi was mourning these civilians that her husband cut, chopped and killed? Is Ananthi the voice of the victims or the perpetrators! That question is never answered!
http://dbsjeyaraj.com/dbsj/archives/27579
Then in June 2014 a strange incident happened. Ananthi, some TNA members, Catholic clergy and with some 20 people were protesting against their 'missing' when they were confronted with over 300 people holding placards demanding their missing children from Ananthi causing the TNA and Ananthi to flee. What was strange is that neither UNHRC nor well-funded NGOs wanted to have anything to do with these people who had no fancy placards, no foreign envoy wanted to take up their case, none of their stories have made it to any UN report.
http://www.sundayobserver.lk/2014/06/15/fea01.asp Ananthi Sasiatharan faces protests by Tamils
http://webcache.googleusercontent.com/search?q=cache:hSPalRUUBjMJ:www.defence.lk/new.asp%3Ffname%3DParents_of_Missing_Tamil_Children_demand_answers_from_TNA_Ananthi_Sasitharan_20140722_05&num=1&hl=en&gl=lk&strip=1&vwsrc=0
DBS Jeyraj himself a victim of LTTE when in 1993 in Canada he was attacked by LTTE supporters who broke his leg and injured his head using metal rods and poles. He says Sadly this sorry tale of the TNA toeing the tiger line continues even after the fall of the tigers. The TNA is unable to break away from its pro-tiger past and is generally adopting  the extremist line propagated by LTTE and pro-LTTE elements in the global Tamil Diaspora. The perception that the TNA is aligned to the LTTE is one that seems to gaining ground mainly due to the party's woeful conduct in the post – May 2009 phase. – See more at: http://www.dailymirror.lk/49301/birth-and-growth-of-nexus-between-the-tna-and-the-ltte#sthash.s81Ln4yY.dpuf
Do we have one occasion to showcase of Jaffna University, TNA, ITAK, Wigneswaran coming out against the LTTE demanding that they stop child recruitment, enforced recruitment of adults or even unjustified killing of Tamils for going against LTTE dogma? No… that tells all where we are heading having these being the 'mouthpieces of the 'Tamil people'.
So who is fooling whom we ask?
Shenali D Waduge