OMP Bill will be nullified under JO Govt: Dinesh
Posted on August 12th, 2016
Courtesy The Daily Mirror
The joint opposition said yesterday it would consider the Office of Missing Persons Bill invalid because the due procedure was not followed in passing it and as such it would be nullified under a future government headed by it.
JO parliamentary group leader Dinesh Gunawardane said the Bill was put to a vote when a group of MPs were demonstrating in the Well of the House and that the quorum bill was not rung for the members to arrive in the Chamber to participate in the vote and under such circumstances the Bill could not be considered has have been enacted.
MP Vasudeva Nanayakkara said he was a member of the Oversight Committee that considered this Bill.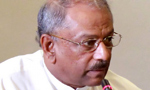 "I was opposed to the Bill being taken up for debate. Yet, my position was ignored. The committee used the majority approval to present its report in Parliament. There were two amendments proposed by the Committee. All of a sudden, we found 17 amendments by the government. I sought more time to study them. It was not given," he said.
Mr. Nanayakkara said the Bill would be declared null and void under a government headed by his party in future.
He said the Bill would provide for a hybrid judicial mechanism proposed by the government and though the findings of this Office would would not lead to criminal liability, its findings based on international expertise, would set the stage for action through such a mechanism in the near future Mr. Nanayakkara said the Office of Missing Persons would exercise police and judicial powers in one form or the other. (Kelum Bandara and Yohan Perera)
– See more at: http://www.dailymirror.lk/114000/OMP-Bill-will-be-nullified-under-JO-Govt-Dinesh#sthash.jnq9eYFD.dpuf