We have a problem – Can the same ethnic group demand Homeland/Self-determination in 2 different countries?
Posted on October 7th, 2016
Shenali D Waduge
 There are 72million Tamils living in Tamil Nadu, India. There are less than 2million Tamils living in Sri Lanka. Self-determination for Tamils started first in Tamil Nadu demanding a separate homeland and secession when the British were about to give independence to British created India and then the pillow of secessionism was passed on to Sri Lanka. Those demanding separatism using all types of words in circulation have been the Tamil political parties, LTTE, LTTE Diaspora in Sri Lanka while in India it originally started as a Dravidian movement then went on to We Tamil Movement for secession until it was passed on to Sri Lanka by the Indira Gandhi government. The question is can the same ethnic group using virtually the same demands claim 2 Homelands in two different countries? Isnt this creating an ugly precedence and likely to create chaos when the same ethnic groups in other parts of the world start demanding homelands citing they have been historically living in an area?
Let's first look at the definition
Homeland
Cambridge dictionary  – the country you were born in
Oxford dictionary : A person or a people's native land.
Wikipedia :  country of origin, native land, country in which a particular national identity began.
In short we shall connote Homeland to mean the country of one's birth and from where one originates.
Self-determination
Self-determination originated during decolonization. Let us not forget that people and territories were divided or created by former colonial invaders/occupiers who with a pen created new territories and divided people as they deemed fit. If people were divided by tribes, culture, religion and ethnicity it was by the Western Christian colonials and it is these same nations who are now politically using the term to further carve out nations. Today the word has become a battering ram for political correctness and phony liberal experiments riding on people's sentiments for geopolitical profits and political mileage. The plethora of opinions and notions have thrown the word into an open
Starting initially with demands for a Dravidian Federation by T M Parthasarathy combining Tamil Nadu, Kerala, Karnataka and Andhra Pradesh, the quest for self-determination became Tamil Nadu for Tamils in 1939 after the other states chose not to separate. Yet in 1940 Dravida Nadu Independence Movement was launched with a resolution and a map of the proposed Dravida Nadu. DM Dravidar Kazhagam was launched in 1944 promising to fight for a separate Tamil Nadu for which both Jinnah and Gandhi disagreed in 1947.
It was in 1949 December that the ITAK was formed in Ceylon calling for separate Tamil Nation in Sri Lanka.
In 1962 DMK went from house to house calling for a separate Tamil Homeland. However, separatism in Tamil Nadu was quelled with the 16th amendment in 1963. That did not stop the Tamil Nadu Liberation Army forming in the 1980s. It was in the late 1970s that the Indira Gandhi Government trained Sri Lankan Tamil youth clandestinely in Tamil Nadu and sent them under tutelage of Indian intelligence to carry out a guerilla warfare on ethnic lines against the Sri Lankan government. Prabakaran formed Tamil New Tigers in 1972 the same year that the Vaddukoddai Resolution calling for separatism in Sri Lanka. In 1975 Prabakaran killed a Tamil Mayor Alfred Duraiappah and then in 1976 May 5 Prabakaran re-named TNT as the LTTE.
Take a good look at the demands of the Tamil political parties, the LTTE, the other LTTE militant groups, the LTTE fronts operating from overseas and their demands are identical calling for separatism. The same separatism that Tamil Nadu was calling for – but in two different countries.
The similarities in the separatist chants by Tamil Nadu Tamils against Hindi India and Sri Lankan Tamils against Sinhalese in Sri Lanka is also noteworthy.
While Tamils opposed post-independent Hindi rule and Hindi domination, Ceylon Tamils opposed Sinhala rule as it reversed all the preferential treatment Tamils had been enjoying pre-independence as part of British divide and rule strategy.
While Tamil Nadu opposed the 16th amendment prohibiting separatism by the Indian Government the Tamil political parties also objected to the 6th amendment introduced by the Sri Lankan Government. Racist parties in both India and Sri Lanka won with landslide victories with the Sri Lankan Tamil party even becoming the Main Opposition Party.
The main difference in the two separatist calls is that Tamil Nadu separatism stems from the fact that there was no India until the British cobbled together independent territories and princely kingdoms to make one administrative unit called British occupied India and this is the basis of Tamil Nadu demand for separatism. In Sri Lanka's case we are an island nation and it was under Sinhale kings until the advent of colonial invasion and occupation.
Tamil leaders in both countries claim they wish to look after 'their people' – however Dalits in Tamil Nadu are treated worse than slaves while the Tamil Northern province does not even spend the money they request to look after their province and instead enjoys going round the world complaining.
The other difference is that pre-independence Tamils were the bulk of indentured labor transported to all corners of the world to work on the plantations and were treated like shit by the British, however the minority Tamils in Sri Lanka later known as Ceylon Tamils since 1911 were given preferential treatment as part of British divide and rule policy.
Now we come to the problem
How can the same ethnic group use the same slogans to demand self-determination in two countries?
Tamil language, Tamil heritage, Tamil culture, Tamil traditions, Tamil physical appearance etc are COMMON to Tamils in both Sri Lanka and Tamil Nadu.
How can the SAME ETHNIC GROUP claim to EVOLVE in TWO COUNTRIES to use criteria of language, culture, native land to demand for a separate state (or any of the other terms now being used)?
If Sri Lankan Tamils instead of referring to themselves as Tamils claimed self-determination in view of living in the north for a long period, that argument could have been at least debated, however when Tamils in Tamil Nadu and Tamils in Sri Lanka are demanding homelands using the same criteria – we are a bit confused.
Tamils cannot have evolved in two different countries. A race evolves in one country and then by migration spreads. This is why we continue to say that Tamils in Sri Lanka came from South India and that is why South India has over 70million Tamils and Sri Lanka less than 2million Tamils.
The Sinhalese evolved in Sri Lanka – there are no Sinhalese anywhere else in the world except those who migrated from Sri Lanka. Sinhalese language is spoken only in Sri Lanka. There are enough of proof to show a civilization existed in North Sri Lanka and despite 17 invasions from South India who destroyed most of the Buddhist architecture, when Cyril Mathew compiled the report to UNESCE in 1983 there were significant remains still – all these highlights that the Sinhalese have every right to claim self-determination themselves using the same criteria that is being used afterall Sri Lanka was also colonized, the majority were marginalized and divide and rule policies affected the majority Sinhalese which demands reverse discrimination.
The crux of the problem is this – the same ethnic group cannot use terminologies in vogue and in the UN system to claim homeland for the same reason in two different countries. We are not saying that Tamils cannot demand a homeland what we are saying is that a Tamil homeland is where the original Tamils were born and it is certainly not in Sri Lanka's North. The original quest for a Tamil Homeland began in Tamil Nadu, using the same demands it began later in Sri Lanka.
This will be the first time the same ethnic group is calling for homelands in two different countries for the same reasons. We wait to see the theories the UN and other local lackeys will come up with to get away with this lie. The same ethnic group cannot evolve in two different countries. This is no laughing matter. If allowed it will only create a precedence where the same ethnic groups will start demanding homelands in all parts of the world as well. The same ethnic group cannot have homelands in all parts of the world citing the same reasons!
Therefore, the Tamil homeland in Sri Lanka quest does not have historical basis in Sri Lanka it has no real argument either. To overcome this we now see the demands of a Greater Eelam comprising entire Tamil Nadu and North and Eastern parts of Sri Lanka. Is this the gameplan riding on lies?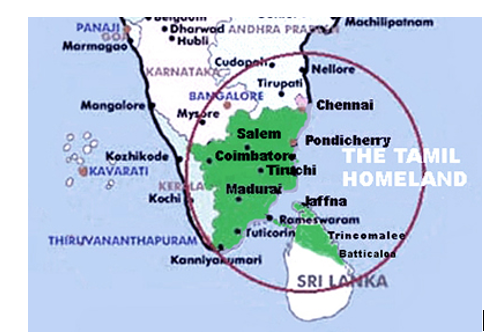 Shenali D Waduge
Demand for Dravida Nadu – http://tamilnation.co/heritage/aryan_dravidian/dravidanadu.htm