The Realities Of The Dhammika Prasad Issue
Posted on October 28th, 2016
Top Spin by Suni – Oct 28th 2016
Sadly the realties of  Sri Lanka's key strike bowler Dhammika Prasad who was injured during Sri Lanka's tour of England last year seem to be somewhat misrepresented by some of the the media and sympathetic sources who seem to think he was given a raw deal which seems to be the furthest from the truth looking at the facts involved.
Indeed he had  a remarkable year of cricket in 2015 but the fact of the matter is he was injured preventig him functioning  in his role as Sri Lankas no 1 seamer although to all intents and purposes the Sri Lanka Cricket Board has looked after him to the best of its capability.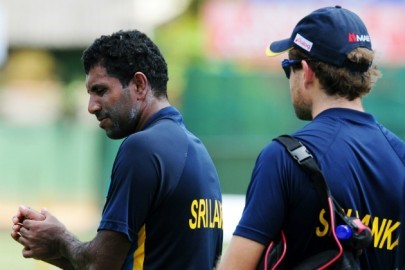 So it seems unfair to say " Dhammika Prasad received probably the unkindest cut from his employer Sri Lanka Cricket (SLC) when he was overlooked for an annual contract for the 2016/2017 period after a spate of injuries kept him out of cricket for over a year."
Despite the fact that In 2015 he took 38 wickets in eight matches at an impressive average of 22.92 his best year in international cricket  the nature of his injuries undoubtedly influenced the Cricket Board's decision not to grant him a contract until he was fully fit to return as a player and there seems no injustice  about this as it stands to reason and makes no sense if it was to the contrary as it is the fitness and performance capability that governs the awarding of contracts and Prasad did not fully meet ths requirement.
That the Board with its Chief Thilanga Sumathipala and Chairman of Selectors Sanatha Jayasuriya have taken necessary steps while also seeing to it that Prasad was not unfairly treated becomes obvious as the details unravel as follows, quoting from the latest media reports which hopefully will appease the critics who have vehemently suggested Prasad was wronged which seems the furthest from the truth .
It says that quote "He last played for Sri Lanka in October 2015 against West Indies at home and even though he was part of the New Zealand (December 2015) and England (May 2016) tours, a back injury and a shoulder injury forced his return home without playing any part in the above tours.
Prasad was not among the 17 players announced for annual contracts last week and, according to the Chairman of Selector Sanath Jayasuriya, the 33-year-old seamer's status quo will remain till he recovers from the shoulder surgery performed last month in Melbourne, Australia.
We are not sure whether he can play for the whole of next year. Of course, he was our strike bowler but he is injured and done a shoulder surgery. This means he will be out for at least six to seven months. We will give him a contract after he recovers," Jayasuriya told journalists at a press conference held on the eve of the National Team's departure to Zimbabwe.
Prasad, who toured England in May as the country's pace spearhead, returned home without playing a game with a shoulder injury that he had sustained during training. He was advised to take rest and undergo rehabilitation by the team physiotherapist early on. But a MRI scan confirmed substantial damage and immediate surgery was recommended. He underwent surgery in Australia late last month and was advised to take at least three months rest before bowling again.
When contacted, a Board official has said  they had not cold-shouldered the seamer and had, in fact, borne all expenses relating to his surgery.
As Sanath had said, we will offer him a contract once he's fit to play but as for now his name has not been recommended by the selectors," a top Board official said.
However, SLC's decision has come under heavy criticism from the sports fraternity who voiced their support on various social media platform for the injured seamer.
When horses get injured, you put him down with a gun as they often cannot recover from injuries. This ironically appears to be exactly what happened to Prasad. He was excessively used as there was no proper player management in our system and when he breaks down, they have just abandoned him. He got injured while on tour and it's the responsibility of the Board to look after him till he recovers. I can understand if he was left out due to poor performance or if the injury was caused outside the cricket field," a concerned cricketer voiced his support, requesting anonymity for obvious reasons." end quote
In the face of all this it seems appropriate that  SLC Chief Thilanga Sumathipala  addressing a media conference on Monday. commenting on injuries  has blamed poor player management for the number of injuries in the National Team  at the moment as further testimony to the related issues He has been quoted as saying We have not managed our players properly for the last three years. We are experiencing good cricketers who have come in from Under-19, 23 and club level that once they reach the top level they can't sustain their physical condition because they have been badly managed," said S.
While it appears that Dhammika Prasad has been given a raw deal by the Cricket Boad, it is not entirely true where hopefully with all the attention and care extended to him he will return to the squad post haste as Sri Lanka is dearly missing bowlers of his calibre where he is also a useful batsman.