HAMBANTOTA PORT AND THE 'KRA CANAL' OF THAILAND.
Posted on November 21st, 2016
KAMALIKA PIERIS
When you look at the map of the world  you immediately see that   ships travelling from  Indonesia to Africa or vice versa, would have found it  helpful to  visit Sri Lanka's fat bottom  if they needed  a port or harbor.  It was   impossible for ships to make the long east-west journey without stopping somewhere in between, during the 'ancient period'. Today also, Sri Lanka continues to be   located at the midpoint of east and west shipping routes  and is   well placed to offer harbor facilities.
By the end of the twentieth century, it had become clear that a second harbor was badly needed in Sri Lanka. Colombo port was declining, mainly because it lacked the necessary depth and had to be continuously dredged. Bigger ships were not coming to Colombo and the ships of the future were going to be even bigger, experts observed in 2000. 'A modern harbor down south is a better alternative', they said, 'there is plenty of undeveloped land there. Cost also will be lower.  The obvious location is the 6 kilometer stretch between Devinuwara (Dondra) and Hambantota.' Interestingly, the ancient ports of Ambalantota and Godawaya are also within this segment, close to Hambantota.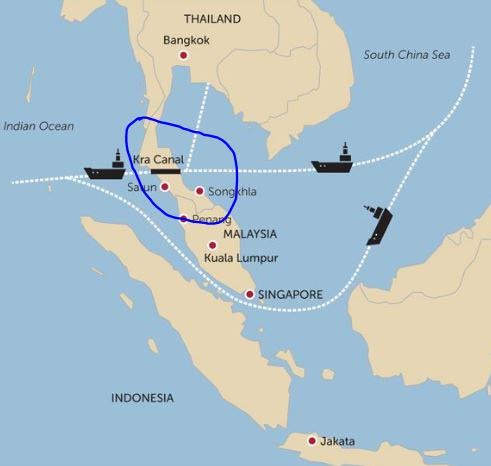 It turned out that Hambantota itself was ideal for a new harbor. It was close to the sea lanes and   ships came within six to ten nautical miles (19 km) south of Hambantota every time they went from east to west.  Around 200 ships did so every day.  Hambantota had the three main attributes needed for a modern port, natural depth in the sea, a good mainland position close to shipping lanes and   thousands of acres of bare land.
A modern harbor has to have a depth of 20 meters to cater to deep draught ships and the ultra large container vessels. Hambantota had water depth of 16 to 18 meters at the entrance to the bay. This depth was available for 700 meters beyond so there would be no dredging after the port was built. Hambantota also had over 200 hectares of bay and over       5000 hectares of land that could be converted to a major industrial or port city. Hambantota, unlike Colombo, had no monsoon effects or environment problems either. Hambantota had 'all the attractions of a major hub port'.
Hambantota port was ideally located for ship repairs, ship building, bunkering and off shore services, said the experts. Off shore services could be started straightaway using the private sector.  Several companies, operating from Galle port were already serving    the ships that went past, with spares, bunkers, ship stores and crew changes. These   companies said that Hambantota was more suitable than Galle, for expanding their services. They were even prepared to consider the construction of a quay for this purpose.
Hambantota could function as a transshipment harbor as well. 70% of the volume handled by the Colombo port at present was transshipment of goods imported by India,   Indian ports did not have adequate depth.  But Colombo port got only 10% of India's goods, the rest went to Singapore. Hambantota could transship the lot.  A network of feeder services could also be developed connecting Hambantota not only with the Indian sub continent but also Australia, New Zealand, Philippines and Indonesia. Mega vessels are reluctant to call at the ports of these countries due to low cargo volumes, high port costs and the diversions involved.
A modern cost efficient harbor would attract these ships. This was the view of P &O Ports experts, as well, when they looked at Galle in the late 1980s. Hambantota port could also stimulate a major industrial complex in the area. Hambantota district would then emerge as another growth centre, creating employment and improving the social standards in the south.
Despite the perfect positioning and natural depth of Hambantota, the politicians looked elsewhere. Studies were made for Galle, which was absurd due to the rock patches in the sea bed in Galle, said experts. The two harbors that could be turned into international ports were Trincomalee and Hambantota. Trincomalee was not on the main sea lane and therefore a commercial harbor could be built only at Hambantota. We have ignored Hambantota because we were imitating the Dutch and the British, who for historical reasons were forced to use Colombo and Galle.  Observers noted that money spent on Colombo port was better spent on Hambantota.
On his journeys to Kirinda fisheries harbor in the 1970s Ariyaseela Wickremanayake had noticed the natural harbor at Hambantota lying vacant and unattended. Wickremanayake went to the 'politicians', complete with plans and maps. The 'politicians' he spoke to were interested in the idea of a harbor at Hambantota. By 2000 Hambantota's potential was accepted, it only needed the finance.  'Who is going to give the money'?
It was President Mahinda Rajapakse who took the initiative on this matter. He obtained the support of    China, and started to build the Hambantota port in 2008, funded by China's Exim Bank and executed by two Chinese construction firms. The first phase of the port was completed by 2010 and the harbor was formally declared open.
The port earned Rupees 750 million through fuel bunkering in 2014. Japanese, South Korean and Indian car makers used the port for transshipment of vehicles.  In the first nine months of 2014, the number of vehicles handled at Hambantota crossed the 100,000 mark. Tata and Maruti sent its vehicles. The biggest user of the port was the Hyundai plant near Chennai. All Hyundai vehicles made in South Korea, China and India would in future be transshipped through Hambantota.
The Yahapalana government criticized Rajapaksa's Hambantota port loudly, but ended up signing a further contract with China in 2016, to complete the port. Hambantota port will eventually cover 4,000 acres of land and accommodate 33 vessels at any given time, making it the largest port in South Asia  It will be able to accommodate the new generation of mega ships, and is to include four terminals (12 berths,) bunkering and refueling facilities, liquid natural gas refineries, aviation fuel storage facilities, bonded export processing zone and dry docks.
Hambantota will serve as a key transit point for oil and gas tanks accessing the Red Sea, Persian Gulf, Malacca straits, Gwadar in Pakistan and Sitwe in Myanmar. Hambantota will also serve as a key maritime transit point to China's expanding investments among Indian Ocean island nations.  'Hambantota port is your property and a good one. It is important to Sri Lanka' said China. 'It is now necessary to create economic activity near the port.   Sri Lanka can attract at least five billion USD from Chinese investors in the next three years to five years'.
Hambantota is starting a career as a tourist embarkation port as well. MS Rotterdam, a luxurious Netherland owned cruise ship, belonging to the American Line shipping company with 1,400 passengers and 600 crew arrived at Hambantota in February 2016 from Cochin and passengers embarked to tour Sri Lanka.
Hambantota is ideally placed to benefit from Thailand's Kra canal when it is constructed. The king of Thailand entertained a proposal from France In 1677,   to construct a canal across the Isthmus of Kra where the Isthmus narrows to just 75 miles. This could save 1500 nautical miles for ships on the Asia -Europe sea route and trillions of dollars on fuel. But nothing happened. In 1882, Ferdinand de Lesseps, who did the Suez Canal, visited but he was not allowed to study Kra.
In 1897 Britain persuaded Thai king not to build the Kra canal so that Singapore could continue to be an important shipping hub. Singapore was the main port in the Malacca straits and   was of great importance to Britain. The Thai king needed the British to help neutralize the French power in Indochina and maintain the independence of Thailand. He could not antagonize Britain. In 1909 Britain obtained for Thailand the rights over the north Malaya states of Kelantan, Terengganu, Kedah and Perlis.  In 1946, there was a highly secretive peace treaty with Thailand in Singapore. Article 7 of this treaty says Siam undertakes to construct no canal linking the Indian Ocean and Kra canal without British consent.  One purpose was to protect Singapore.
Currently 50% of all oil imports and 80% of China's exports pass through the Malacca straits. Shipping in this strait is extremely crowded and it is a haven for pirates and terrorists. The Kra canal would help ships avoid this 'choke point'. It would also shorten transit time for shipments of oil to Japan and China by 1200 km, saving much time and fuel. China has therefore revived the Kra canal project as a part of the China's Maritime Silk Belt.  China released details of the project at the 2015 Boao Forum. It was assumed that China was going to build the Kra canal straightaway, but China and Thailand denied this.
Wall Street Journal,   January 2016, predicted that sooner or later, the Thai government will agree to this project. The economic opportunity to become a regional maritime center, surpassing Singapore and Malaysia, is going to be too good to pass up. And China is patient enough to wait for Thailand's approval, it said.   In September 2016, the media reported that China had obtained the contract to build a shipping canal across the Kra isthmus of Thailand. The canal will be 135 km long 400 meters wide and 30 meters deep and is expected to be completed within ten years. The width of the Kra Isthmus at its minimum is only 44 km but the height of the interior mountain chain is 75 m (246 ft).
The Kra canal will benefit Sri Lanka, Thailand and Malaysia. Singapore will be the main loser. USA's Pentagon 2008 'Joint Operation Environment Report' said Hambantota and Kra canal were part of China's shipping lane strategy. Hambantota will benefit only when Kra canal starts.   Cargo from India and Bangladesh to the Far East, for instance, which presently goes through Singapore,   will be diverted to Hambantota. Kra Canal will place Hambantota direct on the Asia- Europe sea route. That will be even better than the existing route.