Fake news & belated truth – Serbia's similarities with Sri Lanka
Posted on November 27th, 2016
Shenali D Waduge
An interesting article was written by Nenad M Stevanovic in 2004 titled All the American lies about Serbs – Little use from belated truth'. The author highlighted the 'sea of misinformation' by Western media during the Yugoslav disintegration operation wherein Serbs in particular were accused of atrocities that never happened or had been committed by others. Sri Lanka can align with these sentiments. Sri Lanka suffered the same demonizing. It has taken decades for the truth to emerge as to the real version of what happened to Yugoslavia and Serbia which means Sri Lanka will have to similarly wait decades. By that time the damage has been done. When you analyse conflicts and the players, the media and associated 'rights activists' have done greater damage than the terrorists for the objectives of these terrorists have succeeded as a result of the lies and fabrications concocted. Without the support of the media lies the terrorists could not have achieved what they did and the leaders of nations who had been defending their nations against the terrorists would not have been unnecessarily demonized.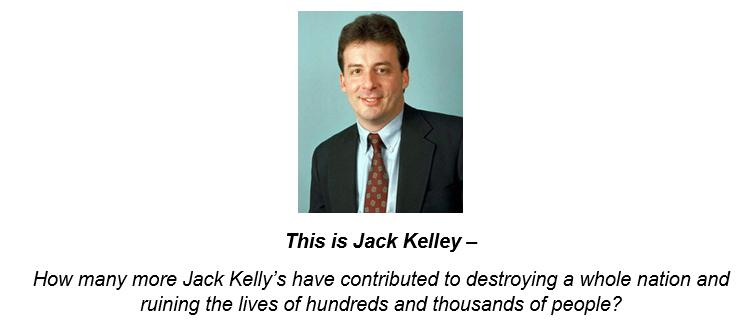 The author brings out several examples
Jack Kelley – a correspondent of USA Today resigned after being investigated for a report filed from Belgrade on 14 July 1999 UN: Reports connect Serbs to War Crimes". No different to reporters reporting on Sri Lanka – Kelly had spoken to 'human rights activists', who claim they had received 'confessions from soldiers' who had been 'ordered' to commit ethnic cleansing. The drill sounds so familiar. Investigations have no revealed that Kelly did not interview any activists, there was no translations of any conversation supposed to have taken place, and moreover he had even lied by producing a friend who passed off as his 'witness'. USA Today editors claim that Kelly had deceived them and fabricated information. This fits too well into Sri Lanka's picture and we can just imagine how many Jack Kelly's fabricated similar stories!
http://usatoday30.usatoday.com/news/2004-01-13-reporter_x.htm
Kelley issues apology as more fabrications emerge
  Next the author brings out the capture of British mercenary Robert Allan Lofthouse in February 1993 at Mt. Majevica. He had confessed to Serbian intelligence agents to having satellite communications with a US reporter – Roy Gutman, former Reuters correspondent in Belgrade. Gutman had told Lofthouse that he was a CIA agent. Gutman's report in 1991 covered the Serbian destruction of Old Town Dubrovnik as if it had happened in front of his eyes. His other reports on Serb 'massacres' and 'mass rapes' in Bosnia were similar.
Also arrested by Serbian intelligence was another American reporter – David Rohde who was deported in 1995.
Rohde was working for the Boston-based Christian Science Monitor. He was always sent to countries where America defended its national interests – Cuba, Syria, USSR, Estonia and Bosnia. He arrived in Serbia with falsified documents and no reporter ID. His predecessor Jonathan Landay was expelled after he was caught sending information to the CIA. Rohde's reports are interesting – he covered 'blood on walls and scattered documents of the missing' but no mass graves!
He was presented to the world as a victim of the Serbs after returning to the US and for that won the 1995 Pulitzer Prize for reporting on mass graves in Srebrenica – which mind you were never found. Shouldn't this remind you of the many reports on Sri Lanka's 'genocide', 'ethnic cleansing' – has anyone got any international awards for these lies???
Even the more famous reporters have been exposed – US Army analyst Lt. Col John E Sray's war time diary mentions famous reporters like Christiane Amanpour and Peter Jennings using Muslim propaganda as truth. You will recall similar famous reporters sourcing their news from terrorist propaganda in Sri Lanka too including the Ban Ki Moon expert panel!
Lt. Col Sray writes that both reporters claimed 'Serbs are devastating the town, house by house' deliberately omitting that Muslim troops had mined the houses and then left, abandoning civilians. Col Sray says that CNN correspondents assassinated the character of Gen. Michael Rose accusing him of being a 'Serb-lover' and the media campaign against him resulted in having to leave Sarajevo in disgrace. This was how good soldiers were thrown out of the combat zone so that the truth would be kept hidden!
The author asks the Western public why they are ignoring how reporters from Western news agencies have won prizes and advanced their careers slandering Serbia. Is it no different to their coverage of Sri Lanka wherein everything they wrote became 'credible evidence' and not 'allegations'! When they wrote and showed footage of 'starving Bosniaks in Serb concentration camps' do you recall the 'internment camps' stories relayed on Sri Lanka when the IDPs were put into refugee camps? The Western media confessed that the footage was nothing but deception only in 1997. We have to wait several more years to be told Sri Lanka's footage were lies too!
If these reports led to sanctions against Serbia from 1992 onwards there is no need for second guesses as to what contributed to the resolutions against Sri Lanka!
It took a decade for the UNPROFOR commander British General Michael Rose to write in his memoirs that the Serbs were falsely accused and that the shelling came from the Muslim positions. We are counting the decades to be told that it was the LTTE that lied and not the Sri Lankan Army!
The author says that then US Secretary of State Madeleine Albright lied and deceived the world about the 1993 supposed massacre at Sarajevo Markale marketplace and declared evidence as 'classified'. It has turned out that Bosnian Muslims butchered their own people to win world sympathy. This immediately brings to mind how the UNHRC and its head along with so many other 'human rights' groups went to town about 'massacre of civilians' by the Sri Lankan Army totally ignoring that LTTE were firing at fleeing Tamils. The similarities are shocking.
The author says CNN's star report Christiane Amanpour was reporting from Pale but claiming to be reporting 'live from Sarajevo'. '50,000 Bosniak women' were said to be 'raped'. In Sri Lanka the story was '40,000 to 125,000 killed by Sri Lankan soldiers'. It has turned out that one of the Bosniak women who was raped and given asylum in Switzerland delivered an African baby! Need we say more!!! Yet both Serbs and Sri Lankan soldiers were demonized.
It was not only then US Secretary of State Madeleine Albright who lied but US Secretary of Defense William Cohen who said that Serbs had killed 100,000 Albanians" in Kosovo – and hold your breath, less than 3000dead and one-third of which are Serbs after sending so many teams to find the mass graves! The 1999 supposed 'massacre' in Racak accused Serbs of executing 45 Kosovo Albanians. US Ambassador William Walker of the OSCE mission thrice prevented Serbian forensic pathologist Dr Marinkovic from investigating the scene. Ambassador Walker had told media that the massacre was 'the most horrific thing he has ever seen'. The world forgot how NATO & US bombe Yugoslavia for 78 days costing the US taxpayer billions!
This brings memories of another William – William Blake the US Ambassador to Sri Lanka. He too told the US Congressional Hearing that 40,000 died in Sri Lanka – no proof of course.
In case people have forgotten let us recall the accusations against Sri Lanka
Ban Ki Moon's personally appointed 3 member panel sourced their information from LTTE propaganda sites and calls LTTE 'disciplined group'. One panellist became a regular invitee to LTTE fronts who referred to her as 'comrade'. She has been since writing reports in favour of the terrorists!
US Ambassador Robert Blake quoted 40,000 dead
UK Labor MP Siobhain McDonagh said 100,000 dead and 40,000 civilians – how did she count the dead from England?
Amnesty International 2011 report said 10,000 civilian deaths
Gordon Weiss former UN official originally quoted 7000 dead then inflated the figure to 40,000 and made it 10,000 for his book launch.
Charles Petrie of UN quoted 70,000 dead ignoring the UN local team estimate of 7721
LTTE propaganda Tamilnet claimed 7398 deaths
Survey by Government in North claimed 7400 deaths including LTTE killed in combat with 2600 missing of which 1600 had been with LTTE.
Satellite analyst report by American Association for the Advancement of Science identified 3 graveyards of which one had 1346, and one was a LTTE graveyard with 960 bodies.
Tamil teachers of the North did a population survey in 2011 covering period 2005-2009 of migration, deaths and untraceable persons – their report reveals 7896 dead including LTTE while deaths from natural illness and sickness was 1102
UNICEF sponsored Family Tracing & Verification Unit in 2011 listed 2564 untraceable persons out of which 676 were children (64% had been kidnapped by LTTE)
Reports by UN, Government Agents, WFP, doctors and civilians indicate figure of 300,000 corresponds with figure SL military saved and anomaly matches numbers quoted by UN country team as being dead – 7721
University Teachers for Human Rights – Jaffna in Special Report 32 of 10 June 2009 and Special Report No 32 of 13 December 2009 placed dead between 20,000 and 40,000
Dr. V Shanmugarajah – says death toll closer to 1000
Times of London newspaper – 20,000 dead
Bishop of Mannar, Rayappu Joseph who opened LTTE office in UK says 147,000 missing though he has not given the names of the missing to the Presidential Commission on Missing Persons.
Alan Keenan Project Director of International Crisis Group, Sri Lanka says civilian deaths are between 40,000-147,000
The Institute of Conflict Management, Delhi – 11,111
Independent Diaspora Analysis Group, Sri Lanka – 15,000-18,000 deaths
Rajasingham Narendran – my estimate is that the deaths – cadres, forced labor and civilians were very likely around 10,000 and did not exceed 15,000 at most'.
Muttukrishna Sarvananthan of the Point Pedro Institute says 12,000 without counting armed Tiger personnel'
Dr. Noel Nadesan roughly 16,000 including LTTE natural and civilians'.
Data compiled by South Asia Terrorism Portal – primarily based on figures released by pro-LTTE website Tamilnet' puts casualty figure for civilians inside Mullaitivu at 2972 until 5 April 2009.
UNHRC head Navi Pillay on 13 March 2009 press release as many as 2800 civilians' 'may have been killed'.
Guardian UK editorial (Sri Lanka: Evidence that wont be buried – 15 June, 2011) says 40,000 dead
Editorials of The Times and Sunday Times UK in late May 2009 more than 20,000 Tamil civilians were killed in the final war.
Publication titled Genocidio: (Primera entrega) – La masacre de los Tamils en Sri Lanka," [Genocide: (First Delivery) The Slaughter of Tamils in Sri Lanka], the Argentinean periodical La Tarde (diario)in a Spanish language article – 146,679 Tamils disappeared or killed between 2008 and 2009, of which 40,000 deaths occurred in the 48 hours of the final assault
Arundhati Roy, Indian commentator –"Government of Sri Lanka is on the verge of committing what could end up being genocide" and described the Sri Lankan IDP camps where Tamil civilians are being held as concentration camps. April 2009
Prof. Michael Roberts based his estimates between 10,000 and 18,000
ICRC press statementof 21 April 2009 declared that their estimates of Tamil civilians inside the no fire zone was 50,000 (In other words upto 21st April 2009, the ICRC did not know that LTTE had 300,000 people with them.  www.dailynews.lk
The UN High Commissioner for Refugeesin November 2008 claimed there were 230,000 IDPs in the Vanni (Sri Lankan forces saved close to 300,000 – this continues to raise the question of how can we differentiate civilians and LTTE)
The International Crisis Groupquoting ICRC says 150,000 were in the NFZ in early March 2009.
UN estimated on 13 May 2009 that about 50,000 civilians were trapped by the conflict, in a 300sq.km strip of land www.dailynews.lk
Indian embedded journalist Murali Reddy reported that from 13 May 2009 there were no civilians in the 1.5sq.kmstrip LTTE was restricted to.
Please remember these figures and who said what when decades later the truth will emerge – but too late. What good is belated truth. We have seen how Yugoslavia has been disintegrated. How Kosovo was created. How independent Kosovo is today suffering and the people who fell for the lies and were part of the lies now feeling sorry for what they helped create but without any ability to reverse the status quo. However, lessons are never learnt. The liars and lies continue to prevail.
Its tragic how false propaganda can ruin entire nations and demonize people unjustly and the culprits have the audacity to say the news was false but not even offer any apology.
Shenali D Waduge
Reference:
http://global-politics.eu/2016/11/26/american-lies-serbs-worst-war-crimes-committed-reporters/
http://verysmartbrothas.com/jack-kelly-of-the-pittsburgh-post-gazette-is-a-fucking-disgrace-and-probably-needs-to-get-fired/ (looks like Kelly hasn't learnt lessons)