Kick out Tami political extremists : Take a lesson from Tamil civilian response to Chavakachcheri accident
Posted on December 23rd, 2016
Shenali D Waduge
On 17 December 2016, a bus-van collision led to the deaths of 11 Sinhalese travelling to Chavakachcheri, North Sri Lanka. The incident has become an excellent eyeopener ahead of the end of the year and before the beginning of a new year. It has showcased that the stereotype scenario media projects of people being disunited to be false. It has given momentum for hope and the need to remove all elements that are trying to divide the people.  
When the accident occurred in the heart of the North. the people who came running to the scene were not Sinhalese but Tamils. The victims were Sinhalese. The Tamils who arrived did not walk away because the victims were not Tamils. They did not walk away because the victims were Sinhalese. They did not shout hurrahs or clap because 11 Sinhalese had died. They all rallied together and did their best to take out the mortally wounded from inside the crushed van. The videos of the scenes will reveal the horrifying sight. The bodies of the dead were airlifted to Ratmalana for final burial in Kalutara.  
These Tamils did not stop there. The Tamils in the area did what media would never showcase and not many western diplomats or media would like to mention and not many politicians from all colors would also chose to highlight. These Tamils put up banners with teary eyes condoling the dead, they lit candles, placed flowers and offered prayers. It was a stark contrast to the Tamil academics and students who commemorated the LTTE dead inside the Jaffna university.
The incident spelled out many messages all of which are valuable in the context of efforts to project the notion that people are divided. People are not divided. It is the politicians and others with vested interests who use media to project a wrong notion.
We reiterate again that the majority and minorities live harmoniously however there are a handful of groups who are tasked and paid to cause disharmony and these groups are all tied to powerful sources either locally or external forces. The media also controlled by them are used to project a wrong notion and that in turn is fed into our minds for us to feel we are disunited when we are not.
It takes a brave few like those who helped the victims and those who held candlelit vigils and made posters for us to wake up to reality and start questioning the wrong status quo.
At this important juncture where politicians are telling us we are disunited and trying to divide the country so that they can continue to rule over us, it is now time for the People to rise against these divisive acts and tactics.
The reaction and action of the Tamil people was a stark contrast to the Tamil politicians like Sambanthan, Sumanthiran, Senathirajah, Sivajilingam, Wigneswaran spewing venom and racism against the Sinhalese while living among the Sinhalese and being guarded by Sinhalese while LTTE prevailed. The manner they are using their caste and elitism to destroy people's minds by filling them with hatred is unforgiveable. These old men have destroyed the good things that Tamils and Sinhalese have shared over the years. Tamil people are even scared to share an idli or dosa with the Sinhalese because they feel that they will be discarded from their community for doing so. Only a handful of brave Tamils have and are questioning this status quo. Some Tamils are now openly advocating against the Tamil caste and elite system that is dividing Tamils more than what is alleged against the Sinhalese. When Tamils do not entertain low castes even to give a cup of tea to a dying man because of his caste what is this discrimination by Sinhalese the Tamil politicians are ranting about!
Ours is a small island nation. It belongs to all of us. No politician has any right to be dividing it or allocating land to people they are personally benefitting from.
The world is in turmoil. All the parties that claim to have solutions have only aggravated the problem and they should not be allowed to do the same to Sri Lanka. Our problems are ours to solve. We do not need external players. We certainly need to tell the people we elect some of whom we have not elected that they have no business to be demanding the separation of our country, separating people on bogus and fictitious assumptions.
We must all realize that we are living, working, eating, shopping, playing together as communities. Of course there are ups and downs but you don't make constitutions each time there is an issue if so then families will have to make constitutions every single day!
The Chavacachcheri accident is an eye opener to people not to allow politicians to harm our island nation by dividing us, dividing our small island and handing bits and pieces to other countries to turn Sri Lanka into a battleground for their geopolitical agendas.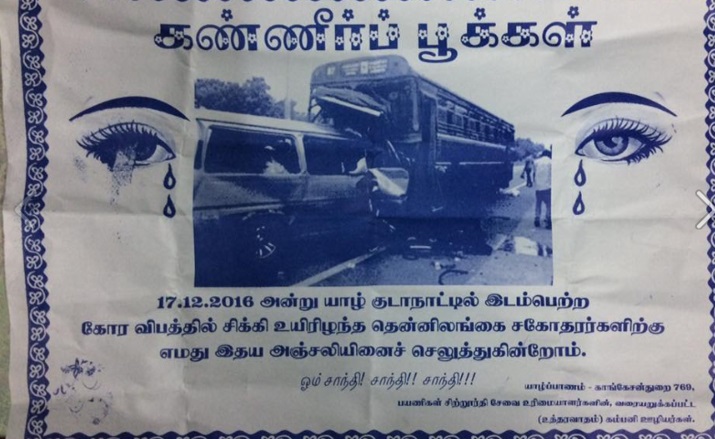 Translation – On the 17th December 2016 an accident occurred in Jaffna peninsula. Our tears and heartfelt condolences to the South SriLankan people who lost their life.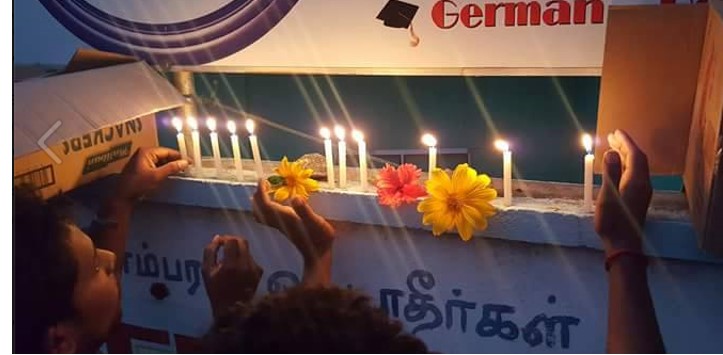 https://www.youtube.com/watch?v=WRQDTnmoO88  
https://www.youtube.com/watch?v=gi6c2Eqoe9g
https://www.youtube.com/watch?v=LedX0N24JTI
Shenali D Waduge