President a prisoner of UNP— the Joint Opposition (JO) said
Posted on January 11th, 2017
by Dasun Edirisinghe
January 11, 2017,
President Maithripala Sirisena was the head of state and government, but Prime Minister Ranil Wickremesinghe and his small cabal ruled the country, the Joint Opposition (JO) said yesterday.
Colombo District Parliamentarian Bandula Gunawardena said the President, the PM and ministers issued contradictory statements on the Hambantota Port and land deals.
Former Minister Gunawardena was addressing the media at Vajirashrama Temple at Punchi Borella.
Gunawardena said the President and the PM laid the foundation stone for a car assembly factory in Kuliyapitiya recently claiming it was a Volkswagen investment and it had now been revealed that they sought to dupe the people.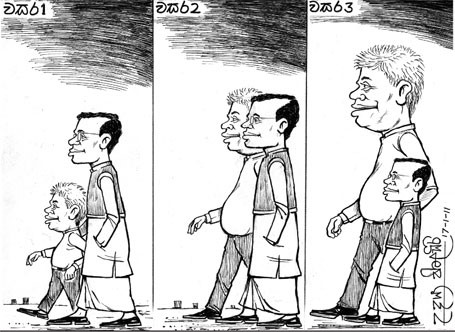 He said the President had not yet ordered a probe against the company which had earned a Rs. 23 billion profit through Central Bank bond frauds.
Former Minister Wimal Weerawansa had been remanded till Jan. 24 on charges of misuse of state vehicles, but culprits of Central Bank bond scams, who caused losses running to billions to the government, were still at large just because they were friends of Wickremesinghe, Gunawardena alleged.
Finance Minister Ravi Karunanayake had made a preposterous allegation that Rs. 5,000 notes amounting to Rs. 13 billion had been stolen from the Central Bank on the eve of the 2015 presidential election, but the President had not ordered an investigation into the serious allegation yet, he said.
Former External Affairs Minister Prof. G. L. Peiris said President Sirisena, misled by PM Wickremesinghe, had laid the foundation stone for a car assembly plant in Kuliyapitiya thinking it was a Volkswagon factory
He said it was a land belonging to the Department of Public Trustee had been earmarked for being handed over to the Wayamba University for its medical faculty.
Prof. Peiris said the 50-acre land would be taken back by a future government under the leadership of former President Mahinda Rajapaksa.