WHILE SINHALESE SLEEP THEY CREEP
Posted on January 18th, 2017
LUXMINDRA JAYASEKARA
Discussions have taken place to field him under Mahinda's Sri Lanka Podujana Peramuna (flower bud symbol), but president Maithripala Sirisena has agreed that he should contest as the SLFP candidate.
The main among the LG bodies in Sri Lanka, the CMC's dealings are second only to parliament and it has long been considered a fortress of power of the UNP. Kamil was its mayor representing the UNP. First elected its member in 1979, he counts a longstanding service and is a very popular figure in the municipality area. Mahinda appointed him as the key administrator in 2006 and 2009 as the municipal commissioner in 2010.
At discussions among Mahinda loyalists about their candidate for the CMC, most proposed the name of Gotabhaya Rajapaksa. However, Mahinda opposed, saying We are not the majority community in the Colombo municipal area. It is the Muslims. All the Muslims are against Gota. Muslims Will Vote for a Muslim Therefore, Gota will not do. We should field Omar Kamil."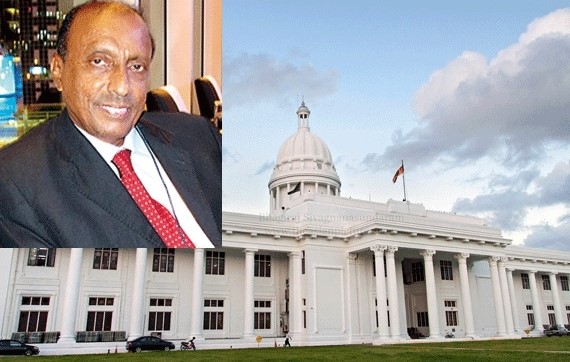 The UNP is reportedly going to field former Mrs. World and ex-MP Rosie Senanayake as its Colombo mayoral candidate. Political analysts say the UNP will ask for it by fielding her against a  Muslim figure like Kamil.
SINHALESE ARE A MINORITY IN THE CAPITAL CITY OF THE ONLY COUNTRY THEY CAN CALL THEIR HOME.TIME TO WAKE UP OR GO DOWN UNDER.
COLOMBO  BATTICALOA MANNAR  JAFFNA KALMUNAI  VAVUNIA  CHAVAKACHERI  PUTTALAM   KATTANKUDY ERAVUR AND  THE LIST OF TOWNS AND CITIES TAKEN OVER  AND WITH NO GO AREAS KEEP RISING. WHILEST TOWN AND CITIES DENIED TO  SINHALESE  KEEPS GROWING.
WITH MANY MORE MATALE MAWANELLA KEGALLE WELIGAMA GAMPOLA KURUNEGALA ON THE DANGER LIST.
SINHALESE SACRIFICED THEIR LIFE AND LIMB  AND LIBERATED THE COUNTRY FOR OTHERS TO REAP THE BENEFITS.