Biswal, Power, Malinowski replaced, a slap in Govt's face: JO
Posted on January 31st, 2017
Courtesy The Daily Mirror
 The replacement of key US State Department officials such as Samantha Power, Nisha Biswal, Tom Malinowski and Susan Rice who were 'interested' in the internal affairs of Sri Lanka, is a slap aimed at the Sri Lankan Government, the joint opposition said today.
National organiser and MP Dullas Alahapperuma said this move shows that new US President Donald Trump had no intention of interfering in the internal affairs of other countries.
Biswal and Malinowski were frequent visitors to Sri Lanka. Samantha Power was behind the US resolution on Sri Lanka on war crimes charges. The resolution was co-sponsored by Sri Lanka and approved at the UN Human Rights Council. These envoys spent more time here instead of attending to State Department work," he told a news conference.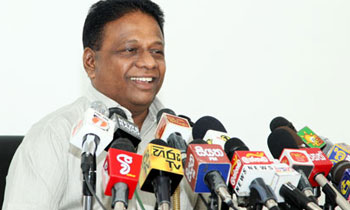 Samantha Power served as the US Ambassador to the UN from 2013 to 2017. She was replaced by former South Carolina Governor Nimrata "Nikki" Haley.
Nisha Desai Biswal was the Assistant Secretary of State for South and Central Asian Affairs.
Tomasz P. Malinowski served as Assistant Secretary of State for Democracy, Human Rights, and Labour. He was replaced by Virginia L. Bennett.
Susan Elizabeth Rice, the 24th US National Security Advisor was replaced by Michael T. Flynn who is a retired Army Lieutenant General.
The MP said US Ambassador Atul Keshap should pay close attention to new developments arising from President Trump's decisions in the wake of assuming office.
We urge the Ambassador to respect our sovereignty and understand the change. President Trump has clearly stated that he has no interest in the internal affairs of other countries," he said.(Lahiru Pothmulla)
– See more at: http://www.dailymirror.lk/article/Biswal-Power-Malinowski-replaced-a-slap-in-Govt-s-face-JO-123047.html#sthash.2nKwXFPB.dpuf