OUR POOR EXECUTIVE PRESIDENT HON MAITHREEPALA SIRISENA.   SIMPLE LIFE OF A GREAT PRESIDENT
Posted on April 12th, 2017
By M D P DISSANAYAKE
When the Holy Pope  Francis visited Sri Lanka, he said the simple habits and unpretentious nature of President Maithripala Sirisena was similar to his life style. When the Holy Pope said 'President Sirisena is just like me' I said 'no you are just like President Sirisena," Archbishop said.
Maithripala Sirisena says " on elected as the president he would not move into official residence Temple Trees but would live in his own simple house. He has also declared his assets for everyone to see. He is keen on leading a simple life and serving the people of all communities.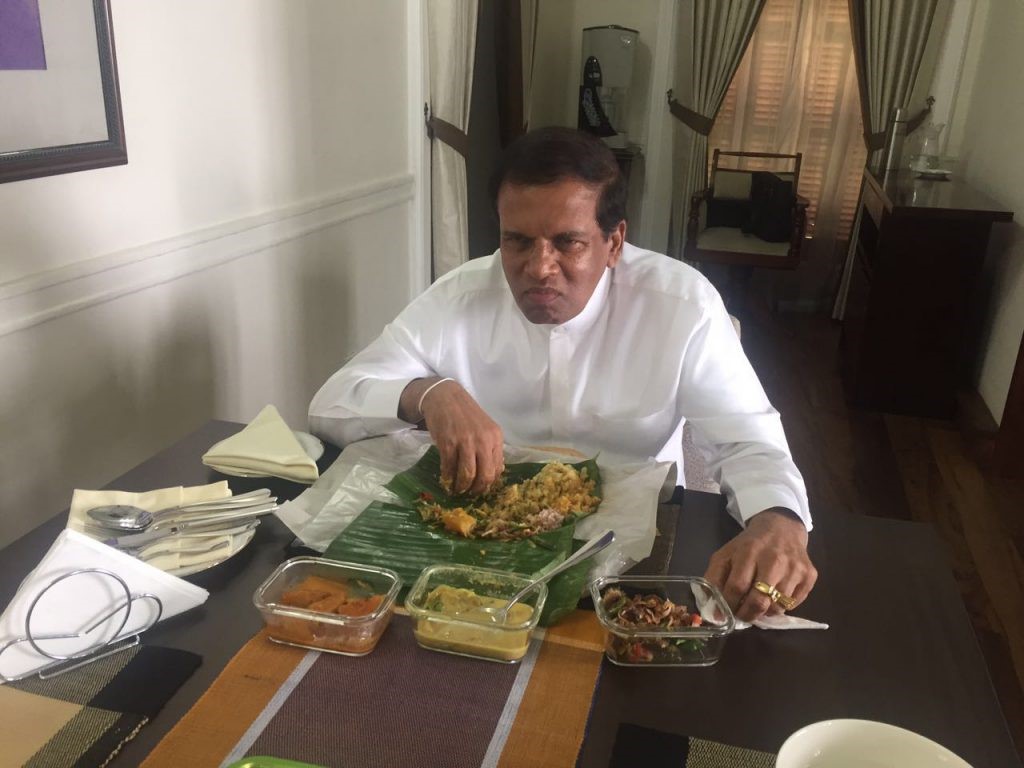 Photo via President's media director Dharmasri Bandara Ekanayake's Facebook Page" Colombo Telegraph November 10, 2016
It was unimaginable for either the President or the Prime Minister of Sri Lanka to eat his lunch on Banana Leaves.  Our President is committed to simple life.  Extravagant lifestyle is not his cup of tea.   It is possible that our President has no proper cutlery otherwise why should he eat his lunch through plastic containers in  Parippu and Lunumiris.  A simple man like this cannot afford Porcelain, at least some Stoneware  must be provided to our poor President. Otherwise how can he keep his status?
In fact, the government must provide a Rickshaw for the President.  The Rickshaws are freely available in India and his Tamil friend Sambandan can donate a Ricksaw.  Ricksaw and Banana leaf lunch goes well together.
Our President need not have Mercedes Benz Cars.  It will be humiliating for him to eat his lunch on banana leaf and travel in an air conditioned, chauffeur driven Limousine S600 Mercedes Benz with Biturbo Engine, Magic Body Control.  Extended Length with Handcrafted Luxury Finished Cabin, Heated Power Seats, Multi Contour Seats with Massage, Cabin Automizer Frangrance, 20 inch 10 spoke Alloy Wheel.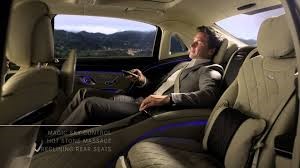 All Sri Lankans must admire this great personality.  He defeated a Maha Raja.  He defeated poverty of Sri Lanka. He allowed national Anthem sung in Tamil.  He made a Tamil an Alternative Prime Minister. He does not waste public funds by conducting Elections.  He travel overseas  in Economy Class.   He is committed to a simple life.  He wears traditional leather sandals, like Mahatma Gandhi.  His next lunch ought to be also on Banana Leaf, with Rice, Dhall, Chapati, Yogurt and Brinjal, just like Mahatma Gandhi.
Our Great Illustrious President must be nominated for the next Nobel Prize and he should be our President forever for these exceptional qualities.